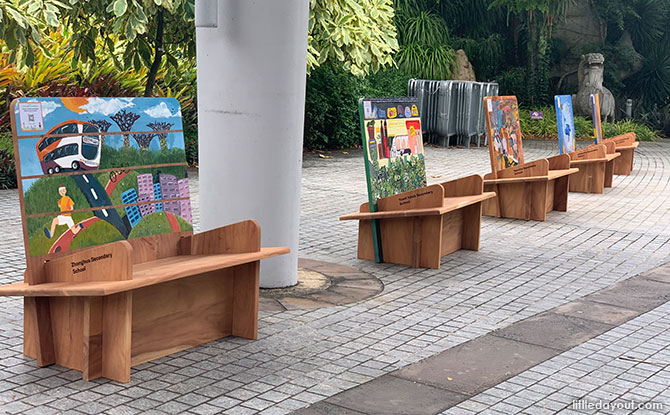 A series of painted benches and pop-ups resembling supermarket shelves will be making their way around parks in Singapore over the next few months. These are part of Nodes at Parks, part of the National Library Board's efforts to extend the library experience into the community.
---
Nodes at Parks by National Library Board
Nodes at Parks is made up of two installations, the Sustainability Showcase and Sustainable Benches.
---
Sustainability Showcase
The Sustainability Showcase resembles supermarket shelves that are filled with products, such as exercise mats made from shoe waste, and cultivated meats.
These products have been contributed by community partners and green entrepreneurs, such as The Plastic Project, ChopValue SG, Confetti Snacks, Insectta and students from Nanyang Polytechnic.
---
-- Story continues below --
The Sustainability Showcase aims to inspire visitors to embrace sustainability as a part of everyday life and actively co-create sustainable ideas for the future.
There are also QR codes where the public can gain access a list of National Library Board-curated e-resources that will offer different perspectives to eight sustainability-themed "Big Questions".
A book exchange corner also encourages people to donate and recycle books. They can also contribute their personal memories at a memory booth.
---
Sustainable Benches
Parks at Nodes also features 16 Sustainable Benches. They were produced from recycled wood. 14 of the benches have been adopted and painted by students from seven secondary schools based on theme of sustainability. A QR code on each bench allows visitors to access resources on sustainability and the environment, and a series of videos produced by Republic Polytechnic students.
The students are from Admiralty Secondary School, Chua Chu Kang Secondary School, Kuo Chuan Presbyterian Secondary School, Ngee Ann Secondary School, Spectra Secondary School, Yusof Ishak Secondary School and Zhonghua Secondary School.
The benches will be placed at the schools at the conclusion of Nodes at Parks.
---
Where to Nodes at Parks will Be
Nodes at Parks is currently at Gardens by the Bay, before moving on to Jurong Lake Gardens, East Coast Park, and Pasir Ris Park, in the coming months.