McDonald's Singapore has launched a new book series, Treetop Twins Wilderness Adventures, as part of its Happy Meal Readers Programme. The McDonald's-exclusive, 12-book series is about two pairs of twins who travel across the globe and go back in time with their scientist parents to discover the world of endangered and extinct animals.
New Happy Meal Readers Programme Books – Treetop Twins Wilderness Adventures
Treetop Twins Wilderness Adventures was specially written and illustrated by Cressida Cowell, who also wrote and illustrated the How To Train Your Dragon series. Through the books, readers will learn more about animals such as Polar Bears, Pink Dolphins and Woolly Mammoths.
They are part of the Happy Meal Readers Programme launched in 2019 and available with the purchase of a Happy Meal.
The individual books from the Treetop Twins Wilderness Adventures series will be released every four to five weeks. They will also be made available digitally through the McDonald's Happy Studio app.
---
-- Story continues below --
Storytelling Sessions
[Editor's Update, 4 Feb 2020: In light of the recent Novel Coronavirus outbreak, all McDonald's Singapore in-store storytelling sessions will be postponed indefinitely for the safety and well-being of customers and employees.]
What's more, the books will be brought to life with storytelling sessions held in selected restaurants over the weekends.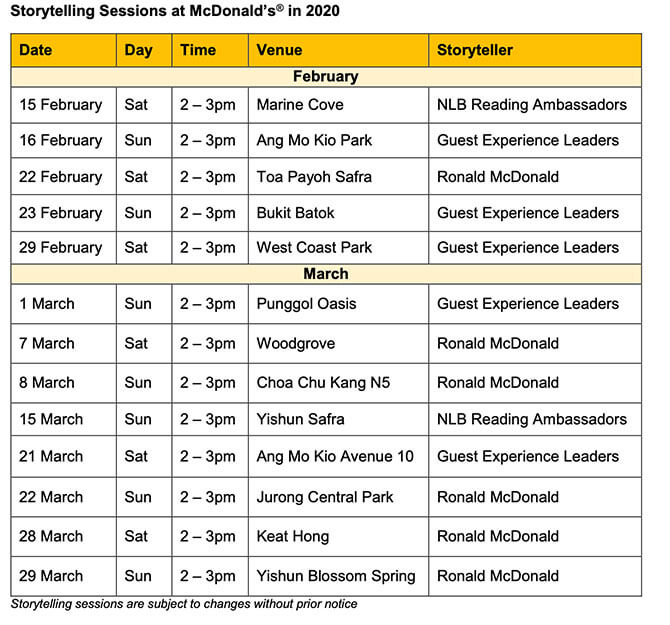 The storytelling sessions will feature a variety of activities which include storytelling time by Ronald McDonald, McDonald's Guest Experience Leaders and National Library Board's Junior and Teen Reading Ambassadors. Each session will also include craft activities hosted by McDonald's Family Ambassadors.
For more details on the storytelling sessions and events, especially those planned for the March and June school holidays 2020, keep a look out for details at the McDonald's Singapore website, Facebook and Instagram page.
"We're delighted to connect with families through our Happy Meal Readers programme, and are thrilled to see ardent fans in parents and their children for the exclusive book series by Cressida Cowell," said Linda Ming, Director, Brand Communications and Customer Care, McDonald's Singapore. "Our bigger purpose is to promote the joy of reading – and we truly hope everyone will enjoy the new book series and learn something valuable about the animal world."
[Editor's Update, 4 Feb 2020: In light of the recent Novel Coronavirus outbreak, all McDonald's Singapore in-store storytelling sessions will be postponed indefinitely for the safety and well-being of customers and employees.]