Watching TV in the future may no longer be a purely one-way activity if Netflix has its way. Newly launched interactive content from Netflix now puts the viewer into the middle of a show's storyline.
Its first interactive "branching" content, Puss in Book: Trapped in an Epic Tale, was launched globally on 20 June 2017. The episode, created by Dreamworks Animation Television, puts kids in the director's seat, prompting them to make decisions during the show that affect the direction of the story.
Choose Your Own Adventure
Puss in Book: Trapped in an Epic Tale starts off with Puss in Boots being trapped in a magic storybook. Egged on by the narrator, he has to find his way out of the book while traversing various fairytale scenes.
At key points of the show, the narrator also elbows the viewer to make decisions between different available options. These choices include ludicrous options such as, "Should Puss fight 'em valiantly or chit-chat with them over tea?"
The format of the interactive show also allows viewers to go backwards in the storyline to explore the consequences of the options they did not originally pick. It all comes together with a combination of Puss' sass and the narrator's bumbling humour drawing in the viewer.
In a blog post, Carla Engelbrecht Fisher, Director of Product Innovation at Netflix said, "It's really about finding the right stories – and storytellers – that can tell these complex narratives and bring them to life in a compelling way."
More to Come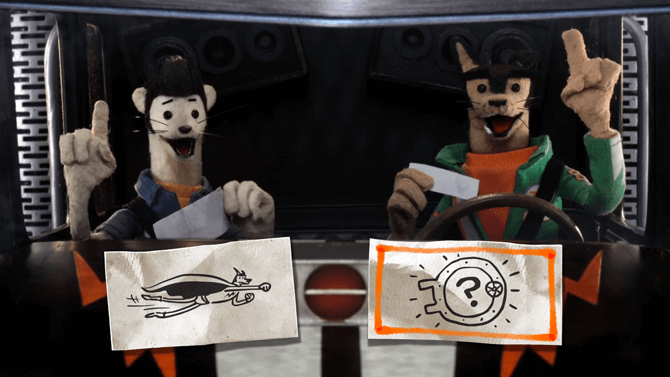 The next interactive title that Netflix will release is another children's animation, Buddy Thunderstruck: The Maybe Pile. This will be made available worldwide on 14 July 2017.
A third branching narrative show, Stretch Armstrong: The Breakout, is in the works and will be released in 2018.
Netflix's interactive content is currently available on smart TVs, streaming media players, game consoles and iOS devices.
"Content creators have a desire to tell non-linear stories like these, and Netflix provides the freedom to roam, try new things and do their best work," said Ms. Fisher. "Being an internet-based company enables us to innovate new formats, deliver at scale to millions of members all over the world on multiple device types and, most importantly, learn from it."