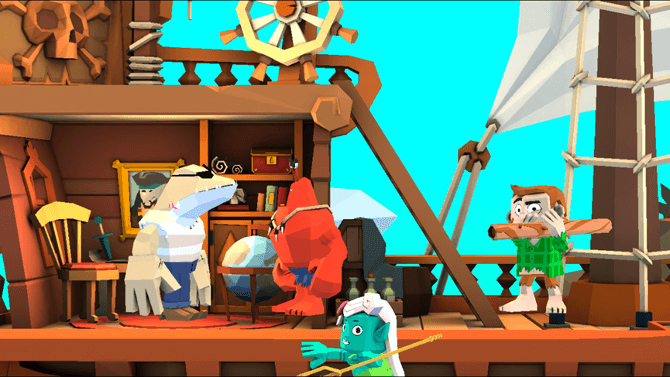 Last week, Google launched Toontastic 3D, a free animation app for kids (and even adults) to create and tell stories. Designed to encourage creativity, Toontastic 3D is a simple-to-use app designed for kids. Using the platform, a child can bring his or her imagination to life – in 3D.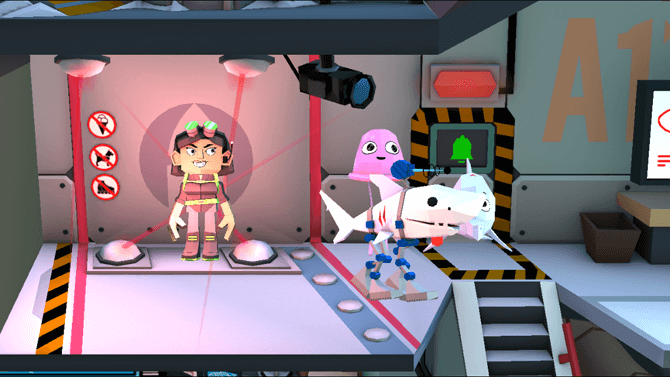 Toontastic 3D is intuitive and straightforward; children can be expected to get up and running on the app very quickly.
Using Toontastic 3D
It starts with the story outline. This lays out the major sections of the story. There are three options to choose from – Short Story, Classic Story and Science Report.
Short Story is the simplest outline and consists of 3 parts – the beginning, middle and end.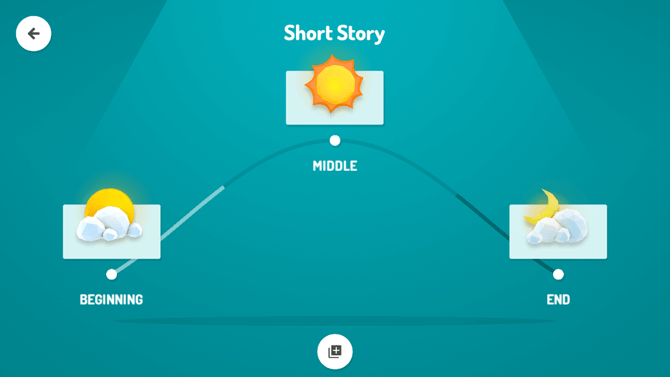 The Classic Story format is slightly more sophisticated with 5 parts – setup, conflict, challenge, climax and resolution.
With each story outline, there is a visual representation of the "story arc", showing how the story develops, reaches a climax, and closes off with a conclusion. It is also possible to add more parts to a storyline, affecting the arc of the story.
The third format story option is Science Report. This provides a way for kids to present "findings" using the following sub-sections – question, hypothesis, experiment, result and conclusion.
After the story outline has been selected, the next step is to develop each individual section. This involves picking a setting for the story to take place. Among the 3D scenes that young animators can choose from are a pirate ship, space, an underwater city and a classroom. Kids even have the option to draw their own scene on a blank canvas.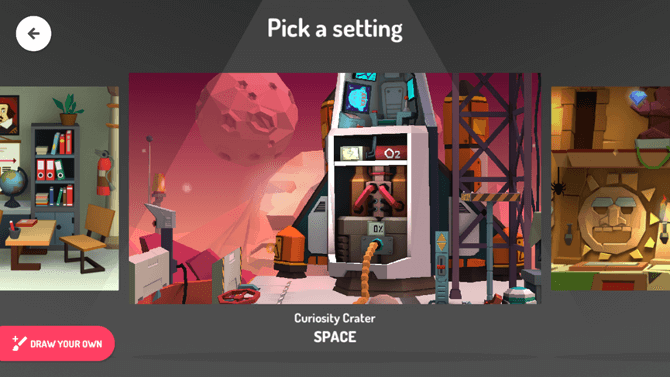 Once the scene is set, it is time to choose the cast of characters. There are more than 50 characters to choose from. With spiffy names like Robo Roto, Notorious F.O.O.T and Jeremiah Jetfuel, each character can be further personalised with different colours. Some characters even allow a snapshot from device's camera to be superimposed on its face.
Ready, Set, Play
Now, it is time to get creative with the storytelling.
There is a simple record button at the top of the screen. Once activated, kids can move the characters around the scene using their fingers, manipulate the scene around (like a camera operator) and record narration through the device's microphone. Tapping on the characters in Toontastic 3D with the fingers will activate individualised character animations as well. These range from spinning pirouettes to shooting a gun, depending on the character.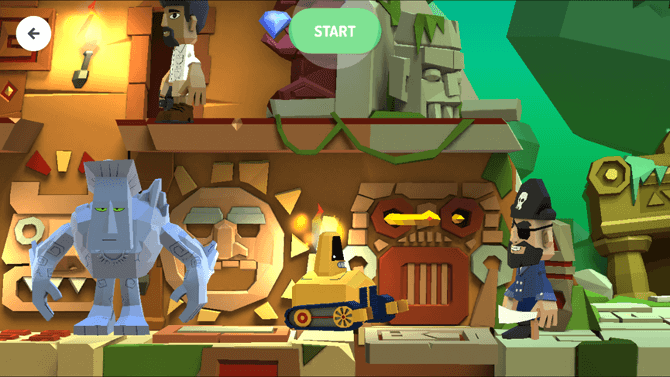 After the child is done directing the action, simply hit the same button to stop recording.
It is "Lights, Camera, Action" in a simple interface.
There is even a "post-production" facility where young filmmakers can add background music to set the mood. The range of music available includes sad, inspired, puzzled and more.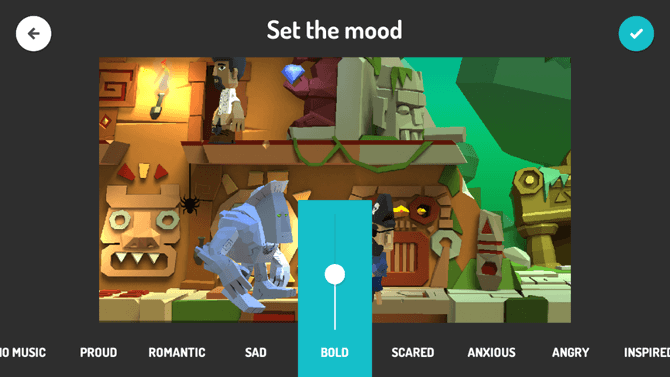 Once all scenes have been recorded, hit "Finish" to save the animated movie, complete with rolling credits. The finished product can even be exported from the app to the device's media library.
Learn from a Story Artist
Need more inspiration? Toontastic 3D comes with an Idea Lab that includes a video by Pixar Story Artist Austin Madison whose credits include Toy Story and Wall E. He shares on how to create interesting characters and memorable stories.
Kids can also browse through examples of others' Toontastic 3D creations.
The possibilities with Toontastic 3D are vast. Described as "digital puppet theatre", it enables kids to unleash their creativity and ideas, producing animated cartoons that can be shared with others.
We are excited by Toontastic 3D because it is an app where kids can learn to structure their thinking and exercise their creativity – all while having fun. Not overcomplicated, it never lets technology get in the way of serving its main purpose – creative storytelling.
Here is an example of what an eleven-year-old was able to do with Toontastic 3D within fifteen minutes of picking up the app.
Toontastic was originally released in 2011. Back then, it was a 2D animation app for the iOS platform created by San Francisco-based startup, Launchpad Toys. The original Toontastic app was named as one of the top apps of the year by the New York Times and received accolades for its ability to help students develop their creative and communication skills.
In 2015, Google acquired Launchpad Toys and this is Google's first update to the Toontastic, bringing the digital storytelling app into the 3D realm on both Android and iOS platforms.
Download Toontastic 3D for free from the Google Play Store and Apple App Store.