Are new cheese tea stores still popping up? Well, we aren't complaining, especially when the new resident is Nayuki, widely known as the pioneer of the "fruit tea and soft euro bread pairing" concept. Cheese tea is already pretty great on its own, but imagine pairing it with a soft, fluffy fresh cream bun – a heavenly indulgent treat. You won't have to imagine any longer when you try it out for yourself at Nayuki's first overseas outlet, opening at VivoCity in early December 2018.
If a wide collection of colourful and delicious fruit-based cheese teas paired with some super cute soft-euro bakes doesn't sound convincing enough, Nayuki also has some really refreshing Cold Brew Tea with a unique packaging and filter. The bottles and the cups have all been uniquely designed by Nayuki's founder for smaller hands, allowing them to comfortably hold a cup of bubble tea, and enjoy it without the use of straws (yay, save the earth).
Fresh Fruit Teas and Cheese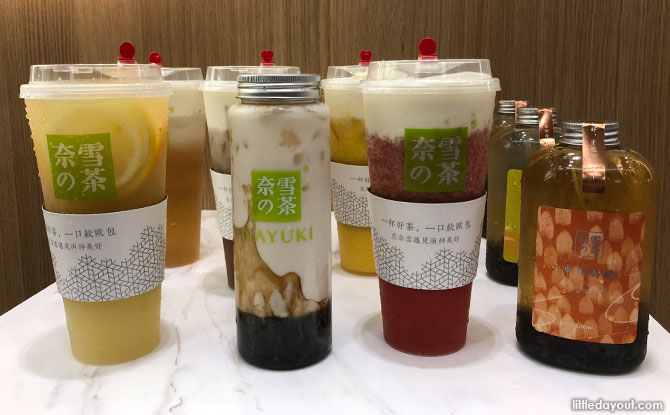 The signature drinks at Nayuki are the Supreme Cheese Strawberry and the Supreme Orange Fresh Fruit Tea, both of which have been long-running favourites. Both teas have the fragrant "Jasmine Tippy tea" as the drink base, and are made with only the freshest fruits. In fact, the strawberries in the fruit teas are freshly picked from the Nayuki's own strawberry field, assuring consistent quality.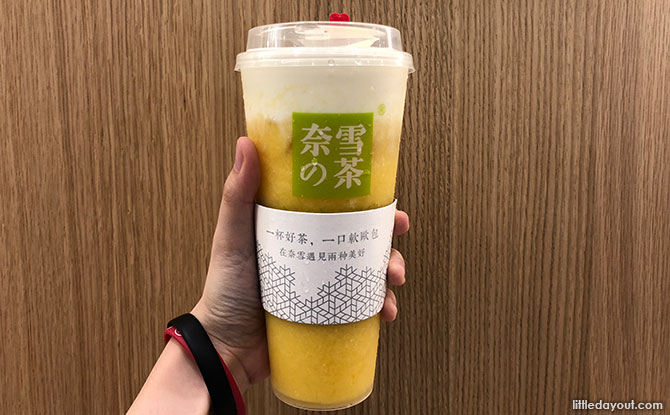 We personally had a preference for the Supreme Cheese Mango and really loved how fresh and sweet the mangos were.
---
-- Story continues below --
Another favourite and must-try, in our opinion, is the Cheese Rose Oolong. This is really unique and the floral rose after taste in the tea was super pleasant. Other ones worth mentioning would be the Cheese Ali Mountain Dew made with Nayuki's Award-Winning Alisan Mountain Dew Tea and also their Fresh Milk Black Pearl.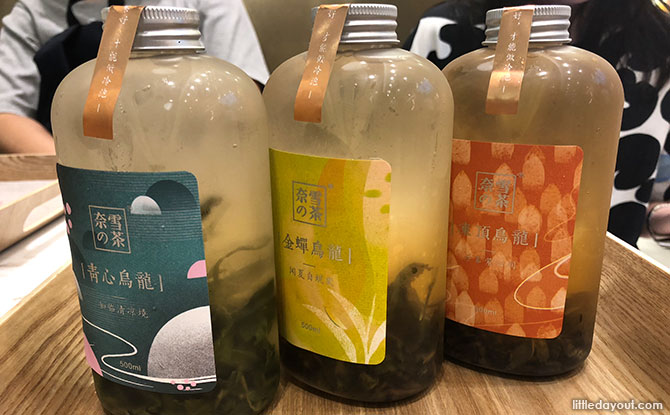 If you aren't a fan of cheese teas, one tea worth queuing for would be the Cold Brew Tea. Each batch of tea is infused for 8 hours and sold within 24 hours. Be sure to grab them while you can! (Psst, there's also a secret poem hidden within the tea! Drink it all up to see it!)
There are three different teas to choose from: Green Oolong, Golden Cicada Oolong and Frosted Cap Oolong. The Frosted Cap Oolong was the sweeter one amongst the three, while the Golden Cicada Oolong had a more roasted taste. The Green Oolong was more of a classic, but all three had their own unique aromatic aftertaste and it was not overly bitter at all.
Beautiful Bakes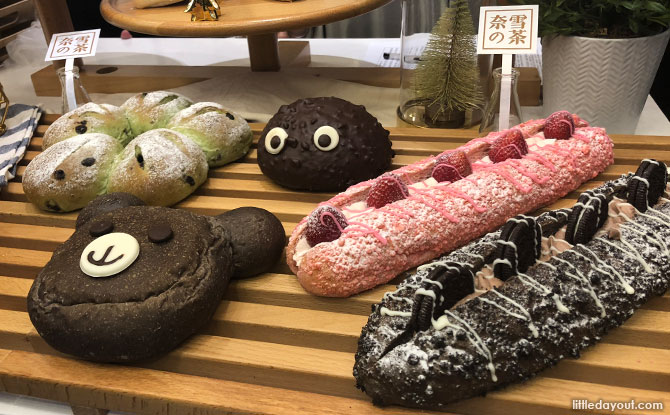 Our eyes were also drawn to the beautiful bakes that paired with the drinks. Popular ones include the iconic Strawberry Blush Mystique and Dark Oreo Mystique. For those who want something a little less creamy, the Pitaya Strawberry Cheese and cute Silly Choco Sesame are the ones you should go for.
Unique flavours include the Mao Shan Wang Supreme bread – something which we highly recommend for durian lovers.
Nayuki officially opens doors early this December. Keep an eye out on their Facebook page for the latest announcements.
Nayuki Tea @ Vivocity
Vivocity, #01-207
1 Harbourfront Walk, Singapore 098585
Opening Hours: 10 am to 10 pm
Official Facebook Page: Nayuki 奈雪 Singapore (www.facebook.com/nayukisg/)