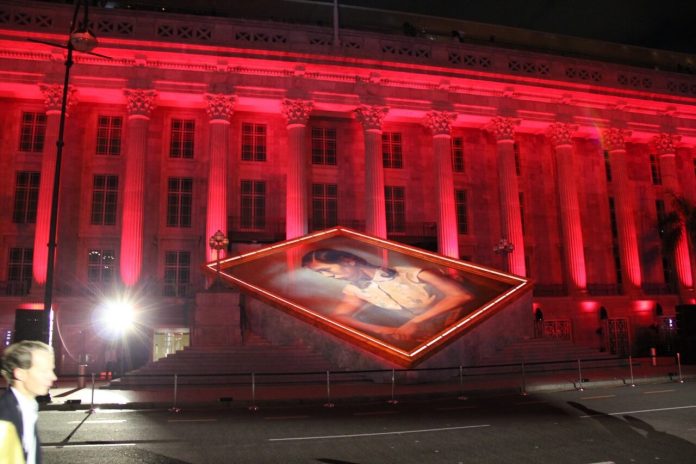 Visual arts and the National Gallery Singapore's historic façade came to life with the Share the Hope Façade Show on 27 November 2015 as part of the National Gallery Singapore's opening celebrations.
Thousands who had gathered at the Padang for the opening celebrations watched the stunning eight-minute display of light and sound set against the former Supreme Court and City Hall building exterior. It features artworks such as Cheong Soo Pieng's Drying Salted Fish and Chua Mia Tee's National Language Class.
Sponsored by Cartier, the Share the Hope Façade Show will run for three nights only till 29 November, with performances at 8 pm, 9 pm and 10 pm.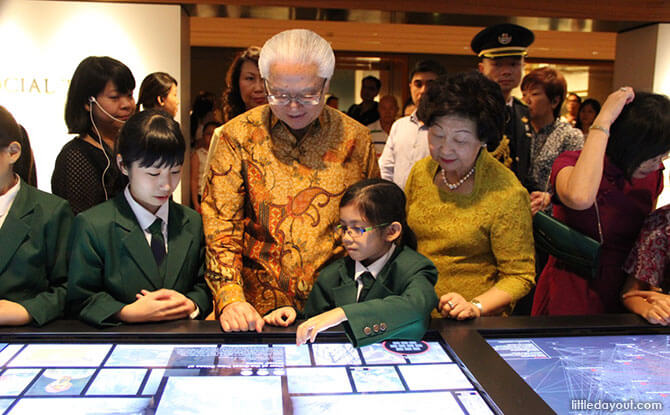 Singapore's President Tony Tan Keng Yam unveiled a commemorative plaque at the Gallery's Atrium and inaugurated the Share the Hope art carnival at the Padang.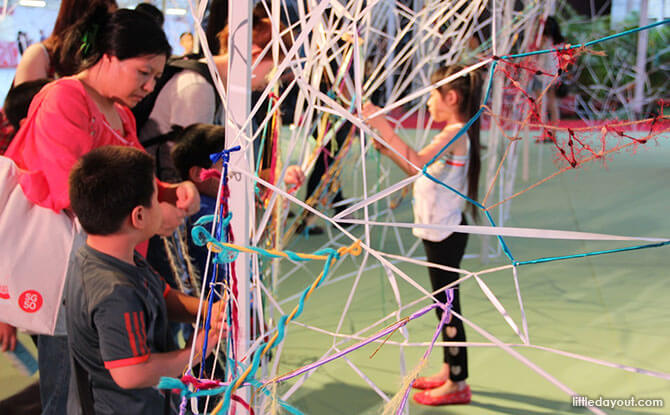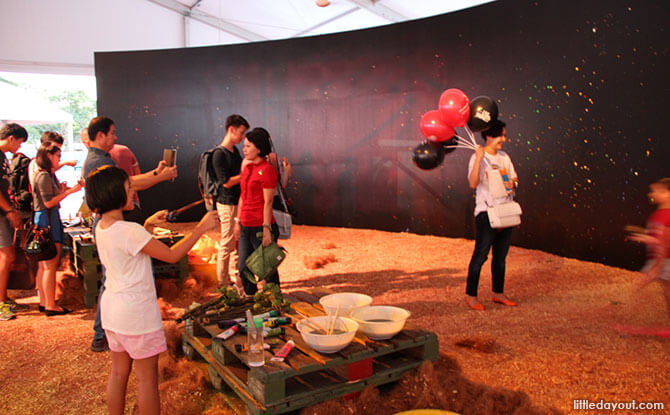 The massive art carnival, held from 27 to 29 November with immersive art-related programmes housed in five large tents, is an extension of the Gallery experience. National Gallery Singapore houses the largest public collection of modern art of Singapore and Southeast Asia.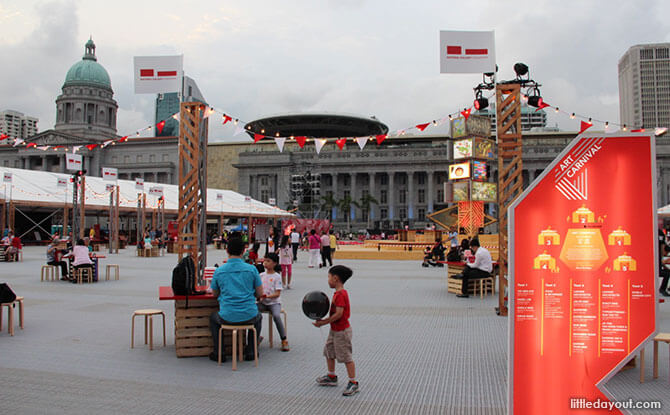 Aside from the free admission to the exhibitions at the two permanent galleries – the DBS Singapore Gallery, the UOB Southeast Asia Gallery, and the special exhibitions of ink masters Wu Guanzhong and Chua Ek Kay, you can also take part in a diverse array of free activities that includes art forums, film screenings, music and dance performances as well as art workshops.
HIGHLIGHTS AT SHARE THE HOPE ART CARNIVAL
SHARE THE HOPE FACADE SHOW
Fri 27 – Sun 29 November 
8pm, 9pm, 10pm | 10 minutes | Building Façade 
Share the Hope is a grand audio visual production designed with inspiration from the art in the Gallery, sponsored exclusively by Cartier. For three nights only, be captivated by the stunning displays of light, sound and visuals set against the backdrop of the newly transformed National Gallery Singapore.
FAMILY FUN AT THE PADANG ART CARNIVAL 
Fri 27 – Sun 29 November 
5pm – midnight | The Padang 
The iconic Padang transforms into a block party with thematic landscapes for artists and art lovers. Experience the rich heritage and history of Singapore and Southeast Asian art beyond the walls of the Gallery with a weekend of interactive art installations, community art workshops and artisanal treats.
TENT 1: FAMILY & COMMUNITY
Draw, Weave, Knot 5.30pm, 7.30pm, 9.30pm | 30 minutes 
Artist Tay Bee Aye's Draw, Weave, Knot explores the beauty of the creation through thread, yarn and rope.
Looming Isles 
6.30pm, 8.30pm, 10.30pm | 30 minutes 
Join artist Hazel Lim and explore a tapestry of abstraction and projection within the confines of a tent canopy. Inspired by paintings such as Chen Wen Hsi's Herons and Seah Kim Joo's Log Factory, abstract lines and forms traipse across planes and dimensions to create mystique and wonder.
TENT 2: FOOD & BEVERAGE
5pm – midnight 
Fuel yourself with a wide selection of gastronomic delights inspired by popular Southeast Asian dishes!
TENT 3: ADVERSITY & CONFLICT
From the Ground Up 
5pm – midnight 
From the Ground Up is an installation that immortalises the struggle and hope of survivors in the Bukit Ho Swee fire.
Superfarmers 5.45pm, 7.15pm, 8.15pm | 10 minutes 
In just 10 minutes, Superfarmers teach life-saving tips like how to find edible plants and forage for food in a simulated war scenario.
TENT 4: PASSION & LOVE
Room For All 
5pm – midnight 
Room For All is an interactive labyrinth that explores the range of human passions and interests.
Makan Memories 
7.30pm, 8.30pm, 9.30pm | 30 minutes 
Makan Memories distils the fond memories associated with Singaporean dishes into a series of short monologues and playlets.
Empty Frames 
Various timings 
Empty Frames is a series of choreographic works inspired by the Gallery's collection.
TENT 5: REBIRTH & PEACE
Edible Gardens 
5pm – midnight 
Edible Gardens presents an oasis of urban growth. The immersive pop-up garden invites visitors to experience urban farming.
VISITOR INFORMATION FOR NATIONAL GALLERY SINGAPORE'S OPENING CELEBRATIONS
24 Nov to 6 Dec 2015
Mon to Thu: 10 am to 7 pm;
Fri, Sat & Sun: 10 am to 11 pm
Entry to the Gallery building by tickets only.
Tickets are available online from 5 Nov, 10 am onwards till 6 Dec through https://tickets.nationalgallery.sg
Each booking will provide a maximum of five tickets at a time.
AFTER OPENING CELEBRATIONS
7 Dec 2015 onwards
Mon to Thu, Sun and Public Holidays: 10 am to 7 pm;
Fri, Sat & Eve of Public Holidays: 10 am to 10 pm
Free admission for Singapore Citizens and PRs and children six years and under (except for selected exhibitions)
$20 for non-Singaporeans
$15 for concession holder and children between seven and 12 years old.
Related Articles