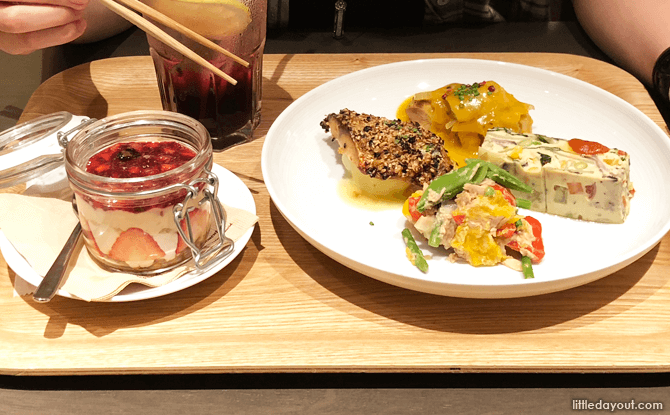 Especially for the Spring season, Café&Meal MUJI has introduced several new dishes to their menu, providing a variety of new tastes for their deli meals and desserts.
These new menu items were carefully chosen by the restaurant's chefs to represent the "flavours of the festivity" and to meet the promise of honest and healthy foods.
Café&Meal MUJI's Chinese New Year Menu
For Chinese New Year, there are two new cold deli dishes at $2.80 per dish (à la carte) and two new hot deli dishes at $4.80 per dish (à la carte).
These dishes draw inspiration from a mother's love and make use of "auspicious" ingredients. We love how the Chinese New Year menu is "kid-friendly" as it uses healthy ingredients, is low in spice but packed with unique flavours.
---
-- Story continues below --
Cold Dishes
Among the cold dishes is Smoked Duck with Garden Potato Salad. This consists of smoked duck breast on top of a baked crushed potato salad. It is accompanied by a mix of Japanese cucumber, capsicum, baby radish, onion, cherry tomato and haricot bean.
For a light salad option, try the Black Fungus Hijiki Salad with sesame dressing garnished with bits of Japanese cucumber and carrot.
Hot Dishes
Looking for something savoury? There are chicken meatballs cooked with braised bonito bamboo shoots in a sesame ginger soy stew.
The Baked Salmon Vichyssoise is a baked salmon fillet set in a creamy potato and leek puree. It is accompanied with Pommery Mustard.
Pineapple Dessert
End your meal with Café&Meal MUJI's Chinese New Year dessert, a Pineapple Coconut Gateau. Bite into fresh pineapple chunks in Swiss meringue butter cake with a layer of soft coconut mousse.
Spring Menu from 1 March 2018
From 1 March 2018, Café&Meal MUJI will also be launching four new deli dishes, two cold and two hot, a new drink and new dessert. These will provide additional wholesome options for Deli meals at Café&Meal MUJI.
The cold deli dishes include a Spring Vegetables Tuna Salad with Tonnata Dressing and a cold Spinach Potato Omelette.
The new hot deli dishes include Baked Chicken with Orange Fennel and Sesame Saba with Potato Fondant, the latter with a crisp crust of toasted sesame.
For a sweet finish, there is Strawberry Fraiser, a heavenly combination of strawberry salsa with rich Mascarpone Cream and Vanilla custard and almond praline at the bottom.
Wash it down with Red Shiso Soda, a unique drink that makes use of the Shiso leaf and its refreshing fragrance.
Read more about the dining experience at Café&Meal MUJI.
Media invite.