Muji's flagship store on the first floor of Plaza Singapura has plenty to satiate fans of the minimalist Japanese brand. From furniture to clothing to stationary, there is plenty to see and browse through at this 1,640 square metre outlet. And once you get tired of browsing, there is the Muji Cafe at Plaza Singapura, Cafe&Meal, to stop at for a break.
The Muji Cafe at Plaza Singapura with its warm wood tones reflects the sophisticated minimalism Muji is known for. It is a calm relaxing space – at least when it isn't meal times and packed with diners.
Set up cafeteria-style, you will have to queue up at the counter to place your order.
Deli Delish
Its deli dishes are a popular choice.
Single hot deli dishes cost $4.80 a serve. These include small bites such as Beef Patty with Yuzu Mushroom Sauce and Saba Fish with Japanese Yuzu Sauce.
Cold options include Smoked Salmon & Fennel Salad and Triple Nut Roasted Pumpkin & Capsicum Salad and cost $2.80 a plate.
Combine the various deli dishes with white rice or bread and create a set that ranges between $8.80 to $16.90.
Dishes Exclusive to the Muji Cafe at Plaza Singapura
The Cafe&Meal Muji Cafe at Plaza Singapura exclusively offers two hot dishes – Pork Katsu Donburi ($15.90) and Cheese Baked Butter Curry Chicken Rice ($17.90).
We gave them a try.
The Pork Katsu Donburi's sliced up cutlet comes dressed with Japanese mayonnaise and Tonkatsu sauce. It is presented with a side of leafy greens and comes with a nice oozy onsen egg. The cutlet we tried was nice and crispy but we felt that the sauce made it a tad bit too salty.
We had to wait around 15 minutes for the Cheese Baked Butter Curry Chicken Rice. The chicken pieces were accompanied by chunks of carrot and zucchini. Melted Mozzarella cheese blanketed the dish. The butter curry rice was very mild and balanced out the richness of the cheese and the chicken.
Dessert & More
For dessert, we had the Streusel Choux Puff with Matcha Cream ($6.90). Basically, it is a cream puff with green tea flavoured cream. It was a light and flavourful end to the meal.
Other dessert options include Purple Sweet Potato Cake ($7.90) and Hokkaido Citrus Panna Cotta with Mixed Berries ($8.90) amongst others.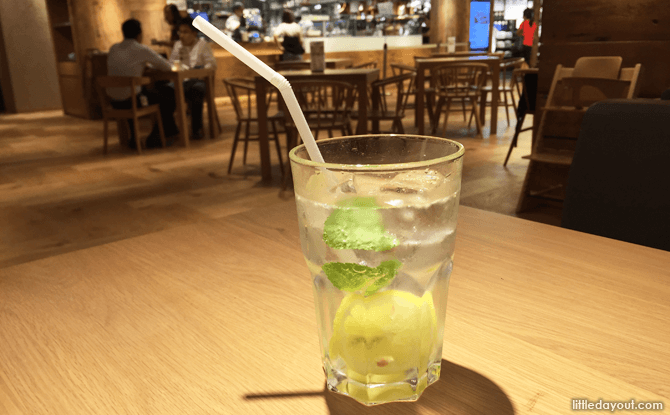 The beverage menu includes Iced Mojito Squash ($6.50), Iced Ginger Ale Squash ($5.90), organic apple and mulberry juice ($4.90 each) and others.
Cafe&Meal at Plaza Singapura is a nice spot for morning break or mid-afternoon tea. At lunch and dinner, you can expect hordes of crowds, but that is only to be expected as it just opened and because the seats aren't as tightly packed as with some other restaurants. Our advice is to arrive early to get a seat. After that, you can relax and enjoy your meal.
Oh, and the rest of the Muji store is pretty sweet to check out too.
Cafe&Meal Muji Cafe at Plaza Singapura
Location: Inside the Muji Store at Plaza Singapura. It is located at level one.