With lanterns, mooncakes and exciting workshops, there are many events to look forward to this Mid-Autumn festival. There are both on-site events for you to soak up the festive atmosphere and online events for you to enjoy the celebrations from the comfort of home. Here's a round-up of some of the Mid-Autumn Festivities 2021 to mark your calendars for.
---
Things to do for Mid-Autumn Festival 2021 in Singapore
Singapore Discovery Centre's Moon-LIT!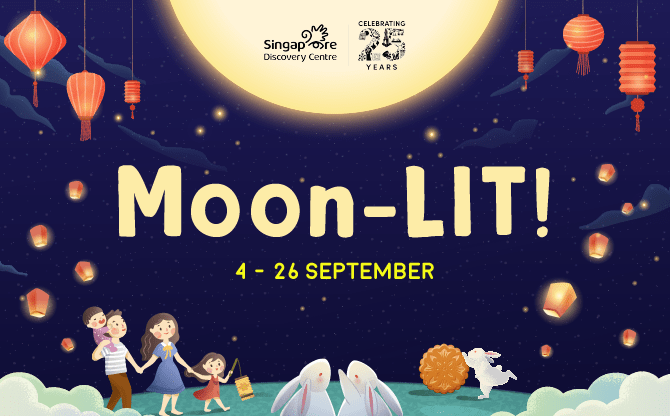 From now till 26 September, hop over to the Singapore Discovery Centre (SDC) for a celestial line-up of exciting Mid-Autumn Festival activities for you and your family. Visitors can revel in the floating lights of the 'Moon Mirrors' installation, participate in art and craft sessions to create a rabbit lantern and participate in the free-and-easy Moonwalk trail activity.
On 11 and 12 September, join their Nightscape Watercolour painting workshop at the Function Room with local artist, Ong Lai Art to learn how to create your own moon portrait for $22 per person for 1.5 hours.
---
-- Story continues below --
Just in case if you miss the watercolour workshop, join this easy watercolour painting session instead on 18, 19 and 21 September as you explore simple watercolour techniques to create a unique art piece while moongazing by the Discovery Lake or listen to some Mid-Autumn themed stories as you light up the lanterns and go on a walk around SDC under the moonlight. There are also traditional Mid-Autumn games and activities like guessing riddles during this period.
In collaboration with the Movement for the Intellectually Disabled of Singapore (MINDS), they are also selling Moon-LIT! Gift Sets come with a 2-piece traditional mooncake set, 2 packets of Chinese tea, Lantern Walk (Storytelling) for 1 family (up to 5 persons) and 2 Rabbit Lantern Crafts! Pre-order opens until 17 September 2021! Order them here at $49.90 each before they sell out! (Psst! SDC members get a 20% discount.)
Get the full details of the Mid-Autumn Festival activities at Singapore Discovery Centre here.
---
Gardens by the Bay Mid-Autumn Festival 2021
Based on the theme of "Blessings", Gardens by the Bay hopes to bring tidings of good health and better days ahead to visitors through the lantern displays at this year's Mid-Autumn Festival.
Want to enjoy the atmosphere of the Mid-Autumn Festival 2021 in Singapore? Take in highlights such as sky lanterns "floating" up a Supertree against a scenic mountainous backdrop with animals and plants. Or, visit the "Rabbits Forest" where adorable rabbit lanterns spreading festive cheer in Flower Dome.
Besides lantern displays, there are also cultural performances on-site on weekends, which will be live-streamed on Gardens by the Bay's Facebook. Read more here.
---
Chinatown Mid-Autumn Festival 2021
The Chinatown Mid-Autumn Festival 2021 is being conducted in a hybrid format based on the theme of "Celebration of Tradition". The iconic Chinatown Street Light-Up will be centred around the theme of "reunion" to pay tribute to how Singaporeans have stood together to overcome the challenges brought about by COVID-19. While in Chinatown, you can also check out the "lantern house" display outside Chinatown Point.
Other events being organised as part of the Chinatown Mid-Autumn Festival 2021 in Singapore include a mooncake-making workshop, a heritage tea workshop and upcycling workshops that teach participants how to upcycle used plastic bottles into lanterns and a post on how to repurpose mooncake boxes. Read more here.
---
Mid-Autumn Festival at Rainforest Lumina
Celebrate Mid-Autumn Festival at Rainforest Lumina from now till 26 September as a line-up of mid-autumn festive treats and activities await. There are fun activities like lantern designing and riddle-solving as well as lots of photo opportunities at the Moon Bridge, LED Playground and lantern zones. Visitors can also immerse themselves in solving riddles and redeem complimentary tea sachets and cookies at the end of the walk to enjoy at home.
Visitors can also capture and share their special moments using the hashtag #rainforestlumina to redeem a free gift at the Mid-Autumn Giveaway Booth that is available on 3 to 12 and 17 to 19 September only. Read more details here.
---
Esplanade's Moonfest: A Mid-Autumn Celebration
Esplanade's Moonfest returns from 17 September to 3 October 2021 with a variety of ticketed workshops and free programmes for the Mid-Autumn Festival 2021 in Singapore. Free programmes include a Moon Quest where participants go on a self-guided tour to learn the origins of the Mid-Autumn Festival while exploring the various sights and sounds of Esplanade.
There is also a free performance, The Tiger Hero, by Paper Monkey Theatre, storytelling sessions and more. Get more details here.
---
Lanterns at Jewel Changi Airport's Shiseido Forest Valley
Jewel invites all visitors to celebrate Mid-Autumn with them this year and marvel at the beautiful lanterns on display at the Shiseido Forest Valley. From now till 3 October, admire the colourful lantern display amongst the elegant orchids planted around the Shiseido Forest Valley and the Vortex Waterfall that is located in the centre.
The animals at the Topiary Walk are also dressed for the occasion and visitors can take the opportunity to snap some cute festive #OOTD shots with them at Canopy Park. Read more here.
---
Organise Your Own Lantern Walk at Atmospheric Parks
Exploring the moonlit night with a lantern is one of the iconic activities to do during the Mid-Autumn Festival. While almost any park makes a great location for an evening sojourn, we staked out a couple of atmospheric public parks where you can enjoy lantern walks in Singapore during this festive period.
Some spots include the Pang Sua Pond which sits beside the Senja-Cashew Community Club that provides a pretty reflection of lights when the sun sets, and Toa Payoh Town Park with its stone arch bridges, geometric footbridges and large, over-hanging trees. Read more here.