The Chinatown Mid-Autumn Festival 2021 returns in a hybrid format following the theme of "Celebration of Tradition". Visitors can admire the streets of Chinatown that will be aglow with lanterns from now till 5 October and participate in a line-up of virtual festive events
---
Chinatown Mid-Autumn Festival 2021 Street Light-Up
The iconic Street Light-Up will be centred around the theme of "reunion" to pay tribute to how Singaporeans have stood together to overcome the challenges brought about by COVID-19 and bring festive cheer to the streets of Chinatown.
The Chinatown Mid-Autumn Festival 2021 Street Light-Up concept was designed in collaboration with students from the Nanyang Academy of Fine Arts.
---
Street Light Up 2021 At Chinatown
---
-- Story continues below --
The Street Light Up spans 880 metres with 900 lantern pieces that combine traditional elements with contemporary designs that are sure to delight. The highlight of this year's lantern display is a 12-metre-tall centrepiece of Chang-E, also known as the Chinese goddess of the Moon.
It is located opposite Chinatown Point and visitors will see the classic scene of Chang-E ascending to the moon.
---
Street Light Up At Eu Tong Sen Street and North Bridge Road
There will also be other lanterns at the centre divider between Eu Tong Sen Street and North Bridge Road. The display at the centre divider will feature scenes of family reunion which represent three values – Honouring the Wise, Harmony and Happiness. Visitors can look out for sculptured lanterns that feature icons such as the jade rabbit, mooncakes, pomelos, and the full moon.
Mooncakes and jade rabbit lanterns with Osmanthus flowers will also be hung along the stretch of road between Eu Tong Sen Street and New Bridge Road, while South Bridge Road will be decorated with snow skin mooncakes.
The Osmanthus flower, which typically blooms during the Mid-Autumn Festival, symbolises prosperity and longevity.
As part of the hybrid format of the festival, the lantern light up can be enjoyed either physically or through a 360 virtual tour.
---
Mid-Autumn Festival 2021 Online Activities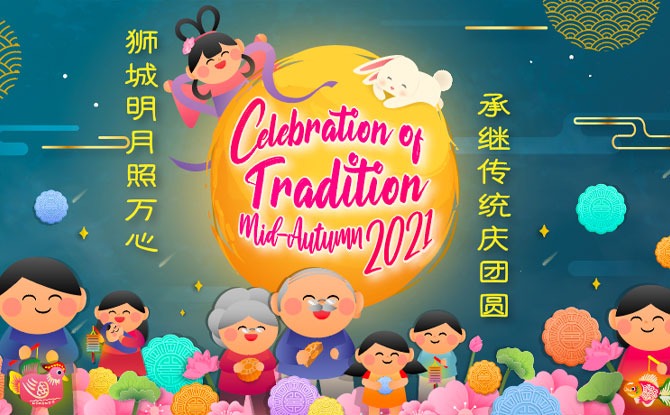 The Mid-Autumn Festival Committee has also organised a series of online activities and virtual tours for local and international audiences to celebrate and bond with family and friends from the comfort of their homes.
Participate in the lantern riddle video series that will test a player's knowledge of Chinese traditions during this festive period. The videos will be screened every Wednesday in September on Chinatown Festivals' Facebook and Instagram pages.
Those interested in learning how to make mooncakes can join Kele's Head Chef, Chef Yong Leong Hung in the Mooncake Making Online Workshop on 5 or 12 September 2021. Participants will be taught step-by-step how to make some Lychee Osmanthus snow skin mooncakes using the baking kit curated by Kele which can be purchased at S$14.90 at the site here.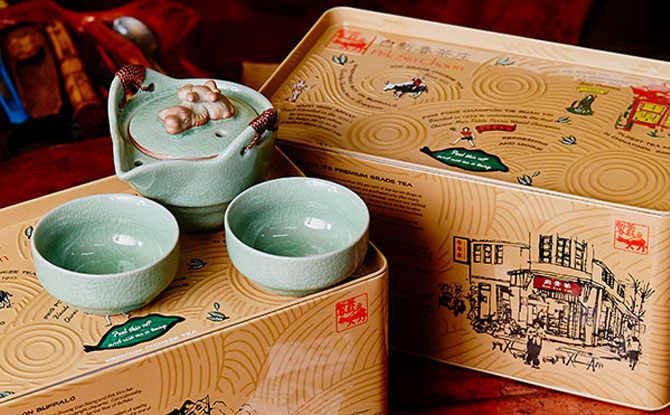 Participants will also be able to learn about heritage tea blends in a sharing session by one of Singapore's oldest tea specialist companies, Pek Sin Choon. The workshop will be live-streamed on Zoom for participants who have purchased the baking kit, and on Chinatown Festivals' Facebook page for free.
As a way to support the ongoing sustainability efforts, there be an online video on how to upcycle used plastic bottles into lanterns and a post on how to repurpose mooncake boxes,
More information on this year's programmes can be found on the Chinatown Festivals website, Facebook and Instagram pages.