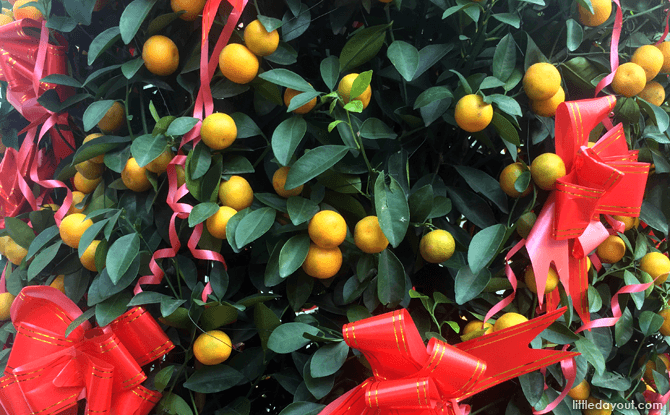 It has become quite a tradition to have auspicious Chinese New Year plants in Singapore such as pussy willows, and kumquats for the Lunar New Year. Many families will welcome the Chinese New Year with new live plants in hopes of having a good start to the year.
To the Chinese, these auspicious plants and blooms are believed to draw in good luck and blessings. Symbolising prosperity, abundance and good fortune, colourful plants and flowers are a must-have in your homes during the festive season.
In addition to gifting friends, family, and clients with food and drink hampers, many people now send their blessings and well-wishes in the form of Chinese New Year plants which are unique and often take pride of place on the dinner table.
If you'd like to adorn your home with some live plants this festive season, here's a round-up of 8 nurseries or florists to visit to purchase your Chinese New Year plants in Singapore!
Where To Buy Chinese New Year Plants In Singapore
---
Singapore Florist
Singapore Florist has been in business since 1987 and now enjoy a flourishing business online.
If you're looking for Chinese New Year gift hampers or lovely auspicious floral arrangements – like Curly Bamboo in a glass vase or a 2-feet high Money Plant – Singapore Florist is a convenient one-stop online shop for your festive needs.
---
Toh Garden
For close to two decades now, Toh Garden is one of the most established tropical orchid growers in Singapore. In fact, they are the ones tasked to maintain the orchidscapes of the National Orchid Garden, the only attraction in the world that has 365 days of orchids showing.
To usher in the Lunar New Year in Singapore, Toh Garden has a great selection of lucky plants available, from the usual Four Seasons Lime Plant, to the Lucky Oncidium Golden Shower Dancing Lady Orchid Pot which is truly a wonderful spray of sunshine in a pot we ever did see!
---
Little Flower Hut
Little Flower Hut is a homegrown florist that will see to your gifting needs on any special occasion. Think Diaper Cakes, Birthday Cake Flowers, and even Chocolate Hampers.
Their unique arrangements of Pussy Willows, Chrysanthemums and Bamboo, or baskets of Gerberas, Orchids, and Mandarin Oranges will certainly convey your blessings for a great new year ahead to any recipient this Lunar New Year!
---
Far East Flora Garden Centre
"Huat" your way through the Chinese New Year with blossoms of abundance from Far East Flora Garden Centre, a must-visit for most Singaporeans this time of the year!
You'll have your pick of Four Seasons Lime plants, Pussy Willows, Phalaenopsis or Empress of the Orchids, and even potted Cherry Tomato plants.
With four retail garden centres in Singapore – two along Thomson Road, one in Queensway and one in Bedok – get yourself to one soon to reserve your auspicious plant of choice!
Prices for their Four Seasons Lime Plants start from $38. To find out more about their Chinese New Year plants in Singapore, visit them online or call 6472 5365.
---
Candy Floriculture
Established since 1981, Candy Floriculture is a floral wholesaler and distributor of many floral products, located along Thomson Road.
If you're looking to gift mum a beautifully delicate pot of Lucky Bamboo or Cymbidium Orchids, look no further than Candy Floriculture. These lucky plants would look perfect on any dining table alongside a Chinese New Year feast.
---
Prince's Landscape & Construction
Create a beautiful festive atmosphere in your home with Prince's Landscape & Construction's wide array of Chinese New Year plants that are all ready to bring you luck and prosperity this season!
A simple pot of pink Chrysanthemums start at just $6.80 but if you're really looking to splurge, you could consider a 7 feet tall Mandarin Orange plant at $1388!
---
Island Group
One of several nurseries in the Thomson area, the Island Group's Garden Centre is another must-visit during the festive season.
With 6 feet tall Four Season Lime plants and 8 feet high Pussy Willow floral arrangements, your home will definitely be dressed to impress this Chinese New Year.
---
Eco-Scape
In 2004, Eco-Scape was established to provide landscaping services. Located in Jalan Eunos, their retail garden now boasts a wide and diverse range of ornamental plants, freshly cut flowers, DIY and garden products for your homes.
From the gorgeous Azalea Bonsai to the exotic Pomegranate plant, you'll definitely find something at Eco-Scape to suit your fancy.
Prices for their Chinese New Year plants in Singapore start as low as $28 for a small pot of Four Season Lime.