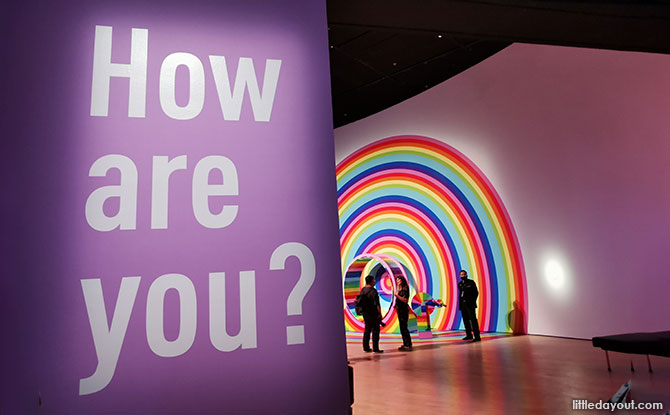 How are you feeling? Have you checked in with yourself today? ArtScience Museum's latest exhibition – MENTAL: Colours of Well-being is dedicated to mental health, welcoming all to an interactive playground with 24 exhibits by international and local artists.
Co-curated with Science Gallery Melbourne, MENTAL aims to showcase different perspectives and stories across the mental health spectrum through art, science and technology.
---
6 Reasons to Check out MENTAL: Colours of Well-being at ArtScience Museum & Check-in with Yourself
1. Self-Awareness and Better Understanding of Mental Health
The focus on mental health in recent years have accelerated because of the pandemic. It is timely to put the spotlight on these issues that are so personal, private yet important to recognise. MENTAL presents over 20 dynamic exhibits that are based on lived experiences of young adults. Run on a rainbow wheel, have your thought printed out, experience what it's like to have a neurological disorder "Visual Snow", interact with a lonely smartphone or pick up the payphone to speak to a stranger.
MENTAL gives visitors the opportunity to get in touch with their emotions and mental health while getting into the shoes of young adults and perhaps gain empathy for other struggling individuals.
---
2. No Fixed Route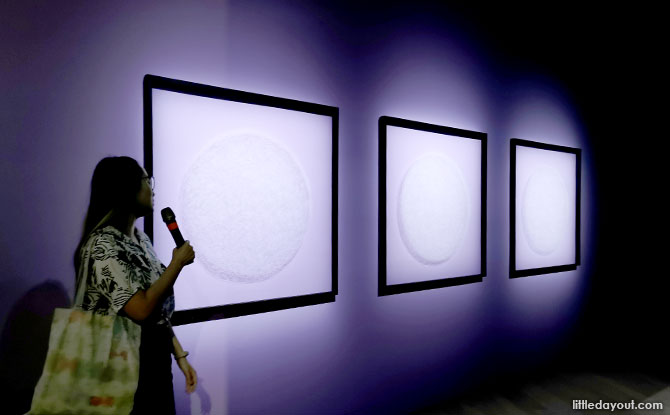 Unlike other exhibitions, MENTAL has no recommended flow nor fixed narrative. Visitors are encouraged to gravitate to whichever artwork they choose. Everyone can take different routes, just as each person's journey is different from another's.
---
3. Singaporean and Southeast Asian Perspectives on Mental Health
Seven artwork presentations by Singaporean and Southeast Asian designs included at MENTAL are never seen before. These artists and designers included perspectives of caregivers, siblings with mental health issues, even their take on therapy sessions to uncover the subject of mental health.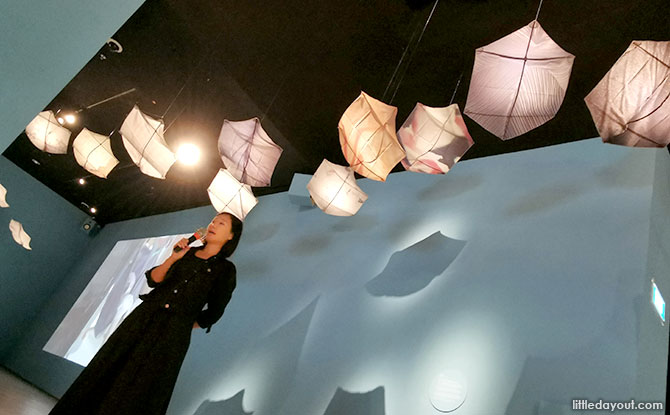 Alecia Neo's Between Earth and Sky highlights the weight of caregiving. She collaborated with caregivers who harnessed their experiences culminating in a self-choreographed dance performed in public spaces. The kites hovering above were made with clothes from the caregivers and their loved ones, symbolising vulnerability and freedom.
YANGERMEISTER and Yunora's Scenes from Therapy will pique your curiosity about psychotherapy. The work shows a highly personal and vulnerable peek into therapy from the inside from receipts from each therapy session, the harsh reality of monetary cost and moving wigs representing emotions during therapy: Breakthrough, Confusion, Static, Clarity and Exhaustion.
---
4. Feel Your Emotions
A few exhibitions provoke you to recognise your emotions. Even in Fear features a weather balloon in a pink cage building up pressure slowly. When an explosion seems imminent, it deflates. Can you take the pressure from watching the process? Are you feeling anxious? Even in Fear evokes anxiety and mimics the stress from everyday life.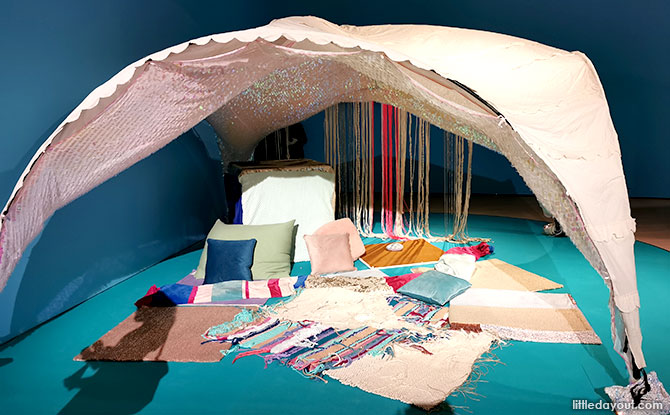 Feeling exhausted? Head to the large tent full of fabric and tactile materials. Portal is designed to help you relax and be comfortable. It encourages you to engage in tactile play and combat anxiety and sensory overload.
---
5. Immersive & Uplifting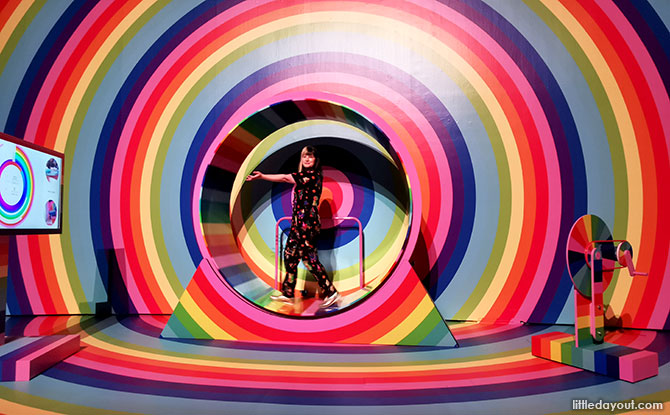 The mental image of the words "mental health" could be dark, gloomy and perhaps intimidating. MENTAL will encourage, uplift through its immersive exhibits. Wheel, for instance, is a giant "hamster wheel" that will encourage you to get on your feet to run, walk, crawl or use your hands to clock as much distance as possible. Consistent effort is required to keep your mental health in check and improving – move well, feel well.
Look into the mirror, what do you see? This mirror will generate a poem using AI, based on your facial expression! Each new gaze at Mirror Ritual generates a new poem.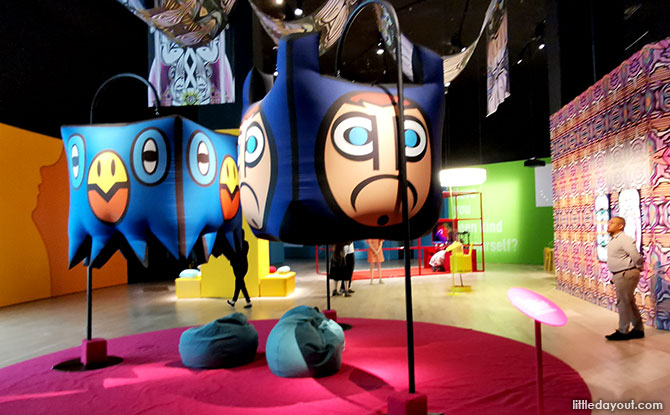 Go Mental will probably catch your eye and that of your child's. The floating inflatable heads: Telly Birdie and Teddy are part of a surrealist dreamscape examining the Josh Muir's personal experiences of night terrors, his history and his future. Pop your head inside the characters to hear soundscapes of Josh's mind created by University of Melbourne students.
"Have you eaten?" is probably your Asian parent's way of caring for you. Step into the kitchen, open the refrigerator, look into the sink at Divaagar's Model:Kitchen. This space unpacks the intimacy of food preparation, familial dynamics and care in the home. Think of how you were cared for by the loving labour in your family's kitchen.
---
6. Just Slow Down, Sit & Observe
MENTAL is a chance for you to slow down, kick off your shoes, sit and observe.
Apart from the many video shows such as animated reels on the topic of anxiety, you can pop into a photobooth to listen to someone's story, check out a dancing AI robot and watch (and listen) how music affects fermentation.
Try printing out your thoughts at Thoughtforms with a 3D printer. Label them and hang them up at the thought gallery.
You might gain new perspectives, come up with a refreshing self-care routine or just learn more about yourself.
---
MENTAL – How is Everyone doing?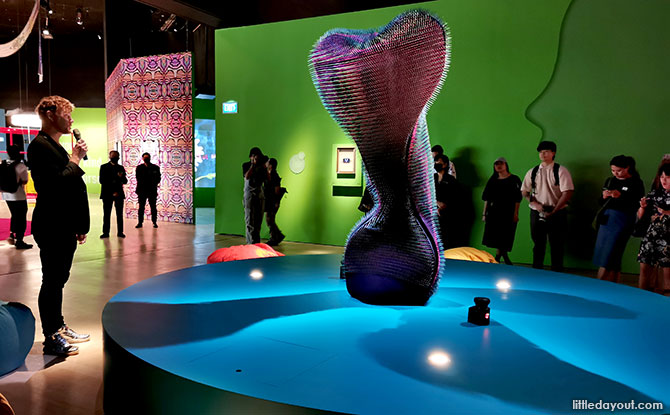 Our take on MENTAL – it's a fun exhibit to get your hands full and hearts lighter. Bring your children and friends along, it would be an enjoyable activity plus an enriching outing.
MENTAL: Colours of Wellbeing opens 3 September and ends on 26 February 2023. For more details, click here.