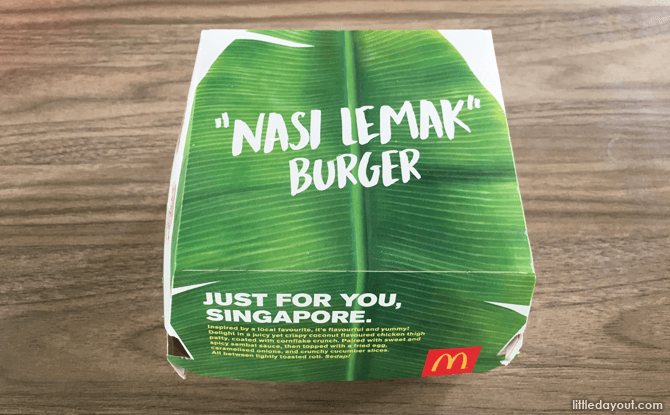 McDonald's Nasi Lemak Burger has been launched in conjunction with the Singapore Food Festival and as a lead up to Singapore's National Day 2017. It is available from 13 July onwards for a limited time only.
Also on the special locally-inspired menu are Chendol McFlurry and Coconut Pie for dessert and Bandung McFizz.
If you are thinking "wait what?", so were we.
How can you even call it a Nasi Lemak burger without any Nasi in it? Does McDonald's Nasi Lemak Burger do justice to one of Singapore's favourite dishes?
To satisfy our curiosity, we popped in to West Coast Park's McDonald's to give the new burger a taste test.
McDonald's Nasi Lemak Burger
The Nasi Lemak Burger is made up of coconut-flavoured chicken thigh patty, fried sunny-side-up egg, caramelised onions and cucumber slices. It comes with sambal sauce and is served between semolina buns.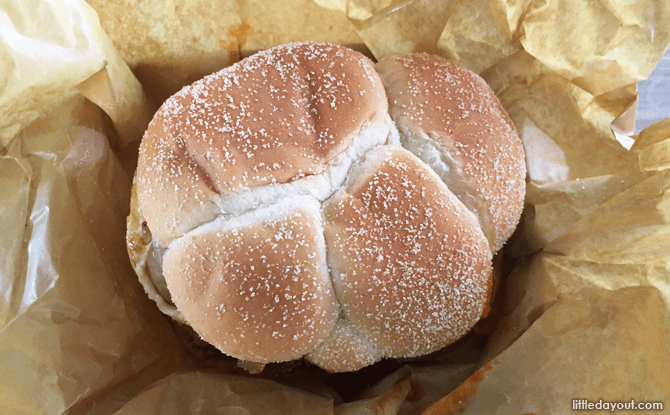 The Nasi Lemak burger comes wrapped up in brown paper and with the stack of contents inside, it looked pretty loaded.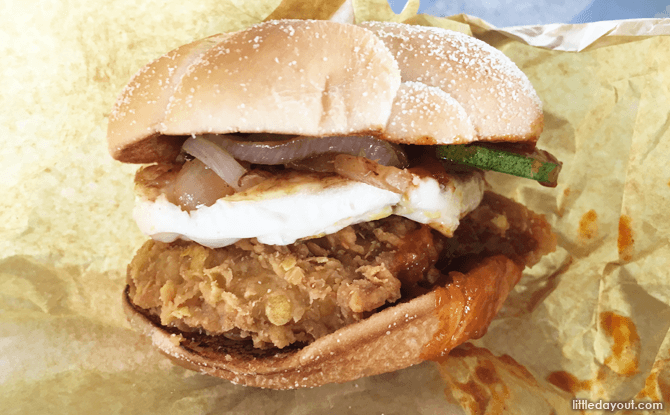 When we bit into the burger, we were surprised by the crunch of the patty. There was the tinge of coconut on the cornflake-encrusted chicken patty, making it taste like a plate of nasi lemak.
The fried egg was a nice touch and we liked the sweetness of the sambal sauce. The two slices of cucumber seemed a bit odd but, hey, they can be found on every plate of nasi lemak, right?
Bandung McFizz and the Desserts
Next up was the Bandung McFizz.
There are two camps when it comes to bandung. Those who love it and those who don't.
We belong to the group that loves bandung. It reminds us of childhood memories sipping away on a glass of it at Whampoa market.
The Bandung McFizz is a mixture of pink milky bandung with Sprite.
The last milky drink that we had which agreed with us was Calpis Soda. This remains the case. The combination of bandung and Sprite didn't suit our palate.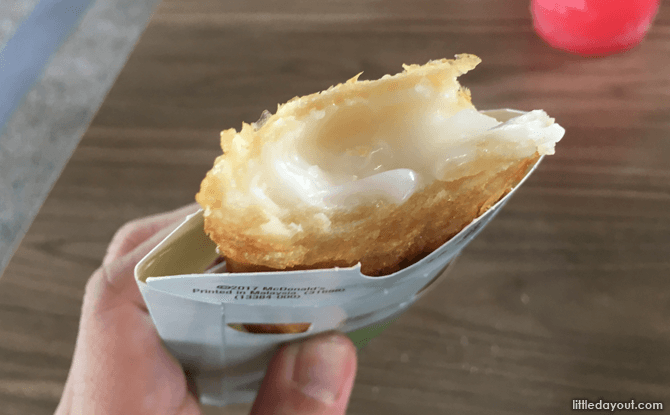 The Coconut Pie consists of a warm coconut filling and nata de coco inside the usual McDonald's apple pie crust.
Chendol McFlurry was our favourite. It includes green Chendol jelly "worms", coconut bits and brown gula melaka sauce mixed together with vanilla soft serve ice cream. Gula melaka and vanilla ice cream is a dream combination, albeit a tad sweet.
Verdict
Would we order it again?
There are some folks who may find the Nasi Lemak Burger a tinge odd but we would probably order it, together with the Chendol McFlurry, again.
Other items from the locally-inspired menu we'd try the next time around include Chendol Melaka Cone and Chendol Melaka Twist.