If there is one pool you must visit, it would be the Marina Bay Sands Infinity Pool which sits atop Marina Bay Sands Hotel. It is the world's largest rooftop infinity pool and boasts awesome views of Singapore's spectacular skyline.
---
5 Things to Note about MBS Infinity Pool
1. MBS Infinity Pool is only accessible to hotel guests

To access the pool, you must be a hotel guest as the pool can only be entered with one key card per guest. It's an essential part of an MBS Staycation, so bring along those waterproof casings for selfies and capturing panoramic views.
Hotel guests are allowed one 1 hour 15-minute slot per day of stay. Since it's a first come first served policy, do get your fingers ready at 12 midnight the day before check-in! The most popular slots for sunsets are usually taken very quickly.
If you're concerned about cleanliness and hygiene, there are limited slots a day and it was definitely not crowded with the limits on visitors per time slot. There was also cleaning in between the timeslots for high touch zones such as the deck chairs.
---
2. Three Sections of the Infinity Pool, with a heated outdoor jacuzzi and kids' pool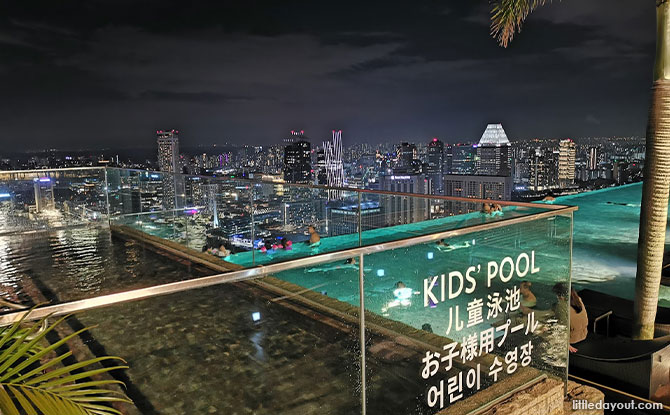 The iconic Marina Bay Sands Infinity Pool is divided into three sections according to Towers 1, 2, 3. Guests can choose which section to stay at. Once you have checked into the pool, you will need to remain at the section to minimise intermingling. This ensures crowd control as well.

For families with children, you can head to the kids' pool near Tower 1. The heated outdoor jacuzzi is also located near Tower 1.
---
3. Opening Hours of MBS Infinity Pool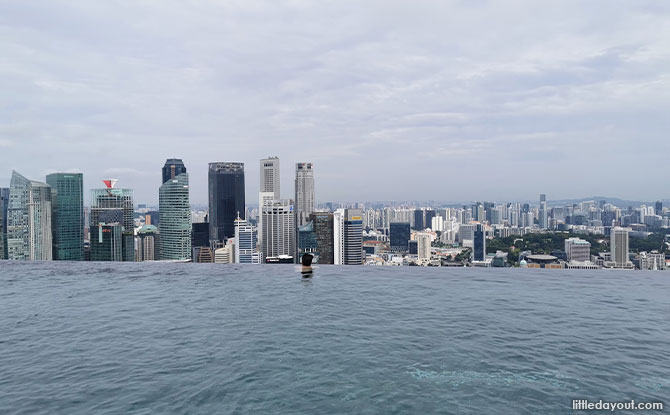 The highly coveted pool slots might be tricky to secure but you can opt for early morning or late night swims because the MBS infinity pool is open from 6 in the morning to past midnight! Heading to the pool at less popular timeslots meant fewer photobombers and views all to yourself, plus plenty of fun poses with no one looking.
---
4. Size and Depth of Pool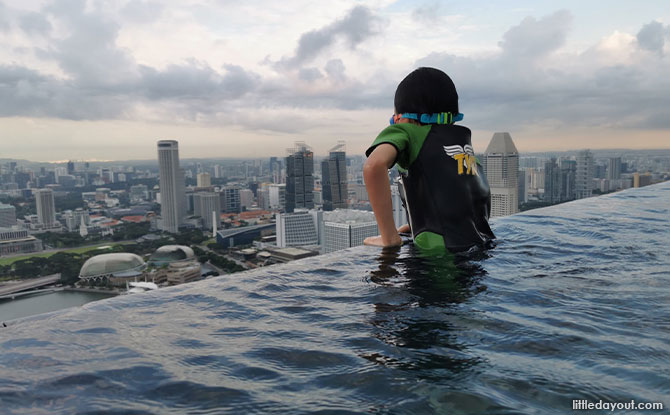 The entire length of the pool is 142m, each section is about 47m. This is a decent length for laps to be swum for the serious swimmers. Most visitors would probably be busy taking pictures. It is also a mere 1.2m deep while the kids' pool is 0.5m deep.
---
5. Which Section has the Best View?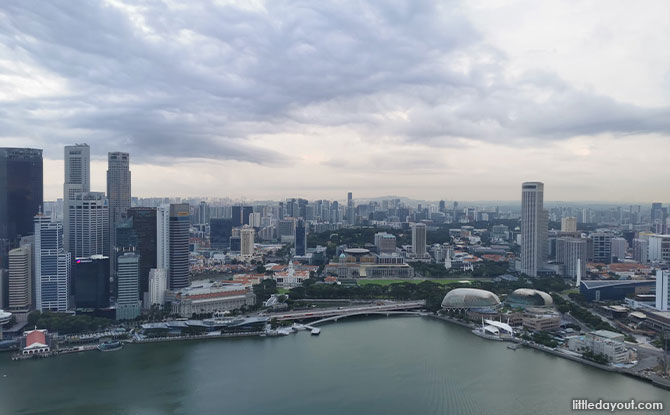 Possibly the most important question one might ask is – which pool has the best view?
The Infinity pool overlooks the city skyline spanning Raffles Place to City Hall. The panoramic view is available at all three pools, but the best in my opinion would be Tower 2. Being right in the middle gives you a peek into Marina Bay, the passing bumboats, the skyline, the Colonial buildings and more.
We enjoyed playing Eye Spy, trying to spot familiar heritage buildings and compared the heights of the various skyscrapers. We definitely felt like we were on top of the world!