There is a saying that good things come in small packages. That's certainly the case with the new LUMOS NANO Mini Portable Projector.
LUMOS, a homegrown Singapore company, is no stranger to innovative products. Its AURO and RAY short throw projectors combine functionality with design. We really liked how their "smart" projector models have a built-in Android operating system and apps like Netflix and YouTube. All that is needed is a wi-fi connection in order to start enjoying the projector.
The company's latest projector builds on this track record. We were impressed as we went about unpacking the LUMOS NANO Mini Portable Projector.
---
Highly Portable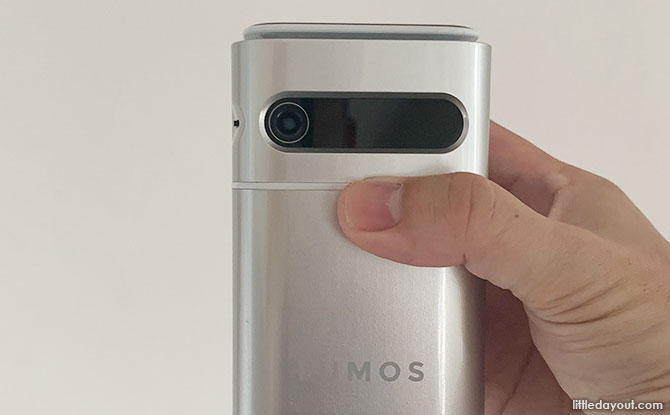 ---
-- Story continues below --
The LUMOS NANO Mini Portable Projector is smaller than the size of a drink can. With its stylish looks and grey skin, it almost reminded us of a droid from STAR WARS. It weighs in at only 400 g and can easily fit in one hand; it is both lightweight and portable.
The projector has a touch-sensitive control panel at the top surface. This means that there isn't even a need to use the provided remote control to navigate the menu.
What's more, it has an internal, rechargeable battery. When fully charged, you can use the projector on its own, even without the power adaptor.
---
Plug & Play with Apps like YouTube and Netflix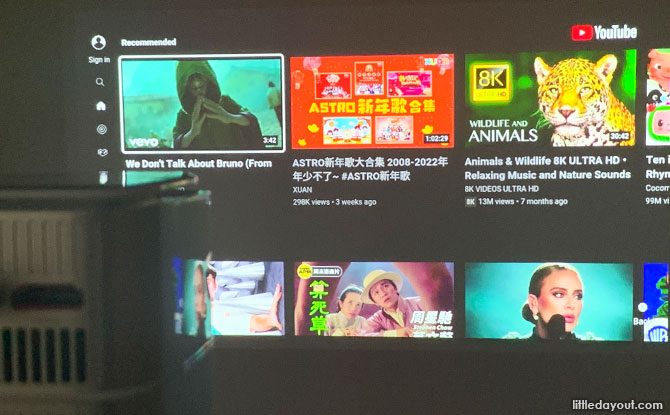 To put it through its paces, we plugged in the power adaptor and powered it up. Like its "smart" cousins, the LUMOS NANO comes with the Android operating system and has the Netflix and YouTube apps built in. We simply navigated to the wi-fi connection page, connected to the correct network and were up and running.
---
Up to 100" Projection Size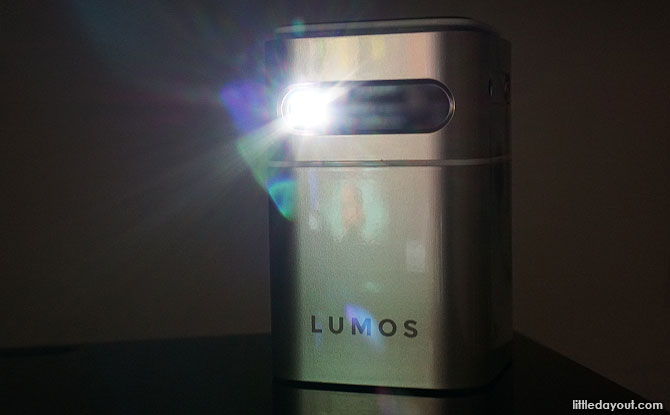 Despite its small size, the LUMOS NANO's picture quality is impressive. It makes use of DLP technology and has a brightness of 1,500 Lumens.
With a minimum throw distance of just 50 cm, it is ideal for tight spaces and small rooms. Setting it back 3 metres will result in a screen size of 100", making it adaptable to different situations.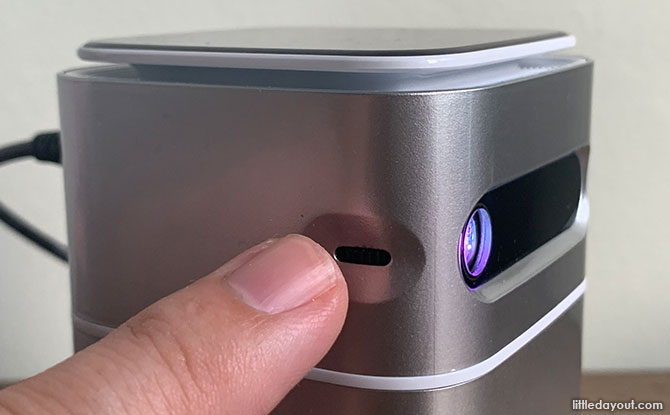 The picture focus can be adjusted via a scroll wheel on the side of projector. There is also an auto and manual keystone function which allows it to be placed at an angle to the projected surface.
The LUMOS NANO can even be placed "lying down" to project up onto the ceiling!
---
Multiple Connectivity Options
The LUMOS NANO comes with additional ports to allow devices to be connected to the projector. There is one USB port and one HDMI port. These allow the projector to be paired with game consoles like the Nintendo Switch and PS5, or a PC.
We think it is a perfect companion to a portable console like the Switch. It is small enough to take to a party and used to project visuals on a large surface for everyone to enjoy.
There is also a Phone Screen Mirroring option which allows for images from iPhones and Android phones to be cast on a big screen.
The LUMOS NANO can even function as a Bluetooth speaker, playing music from phone apps like Spotify.
---
LUMOS NANO Projector Review
Overall, the LUMOS NANO is a solid little projector that is great for meeting anyone's entertainment needs. We enjoyed its "smart" features and its different connectivity options. Most of all, we liked that it is highly portable and will easily fit into a bag or backpack and can be quickly setup and enjoyed.
The LUMOS NANO Mini Portable Projector is currently available at $599. Find out more about it and order it here.