The first thought that springs to mind when unpacking the LUMOS RAY is how cute it looks. The home cinema short throw projector by Singapore brand LUMOS is designed to look like a stylish cube.
Unlike its big brother, the LUMOS AURO, the LUMOS RAY is designed for smaller spaces such as the study or bedroom. Weighing in at just 1.2 kg, it is extremely portable, thanks in part to its leather carrying strap.
---
LUMOS RAY: Creating a Home Cinema Experience at Home
The LUMOS RAY has a native resolution of 720p and a brightness of 3000 Lumens. It has a lamp life of >50,000 hours.
As a short throw projector, the LUMOS RAY can be set back just 1.5 to 3 metres from the projection surface. This will result in projected screen size of between 50 to 150 inches.
It is a quick way to turn any blank wall at home into a cinema.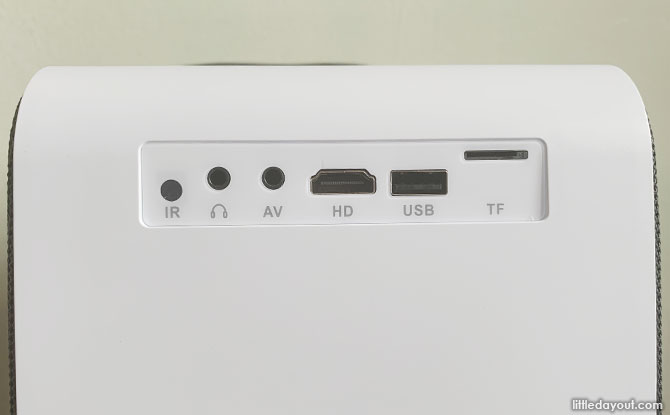 There are multiple ways to connect an external device such as a set-top box, computer or gaming console to the LUMOS RAY. These are an AV in, HDMI cable or USB.
However, if you get the RAY Smart version, you will find that you would have what you need to get a cinema at home going straight out of the box.
---
RAY Smart: An Out of the Box Experience
While the RAY Regular functions like a standard projector which requires you to connect a source into it, the RAY Smart comes with a built-in Android operating system and Wi-Fi so you can use it as a stand-alone device.
The apps available on RAY Smart include YouTube, Netflix and Disney+. There is also access to the Google Play store, so it is possible to install more apps.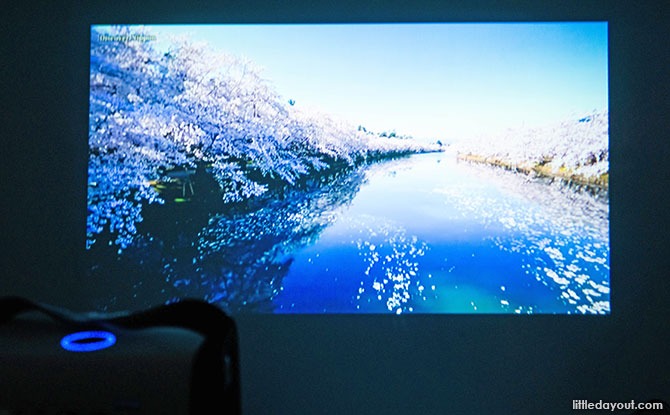 For the best viewing experience, it is best to watch in a darkened room. The size of the projector makes it ideal for smaller rooms where space constraints make larger projectors unsuitable.
The projector also has a pair of built-in speakers. The speakers can reach quite a loud volume, especially if used within a smaller room. They seem to have been tuned for speech, so you can listen to the dialogue of a movie or show better. If you want to make use of external speakers, there is an 3.5 mm audio out available too.
We were also surprised to find that the LUMOS RAY Smart has a Bluetooth speaker mode. This party trick allows it to function as wireless speaker when used together with apps like Spotify – a useful feature that turns it into a mini audio centre.
Another handy feature of the LUMOS RAY Smart is that videos can be streamed wirelessly to it from a device like a Mac, PC, iPhone, or Android phone via AirScreen or Miracast.
One thing we noted was that if you place the LUMOS RAY flat on a surface and if you sit directly behind the projector, the body of projector will obstruct the view of the projection. This means that you may have sit by the side of the projector, or have the projector placed lower down in order to not have the view obstructed.
Alternatively, you can set up the projector at an angle. While the LUMOS RAY does not have an in-built foot to angle the projector, this can be easily done with a book or two.
When this is done, you will have to use the digital keystone correction to straighten up sides of the projected image. Take note that this keystone correction is only available on the Smart version of the LUMOS RAY.
---
Overall LUMOS RAY Review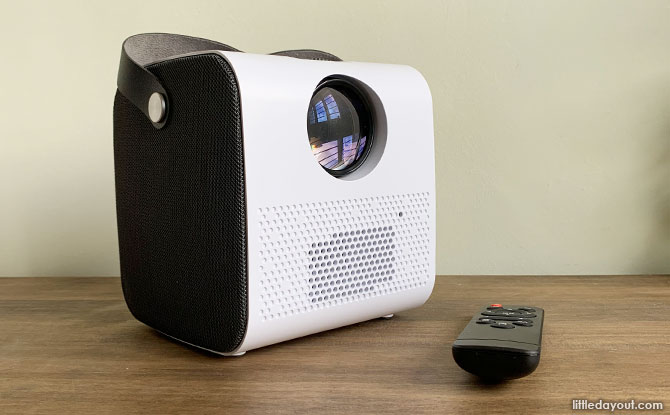 On the whole, the LUMOS RAY home cinema projector is an impressive little projector that is ideally suited for small rooms like bedrooms and study rooms.
We can see it being used in scenarios such as when friends with kids come over. It can be used to create a temporary entertainment area for the kiddos in a smaller room while the adults hang out in the living room.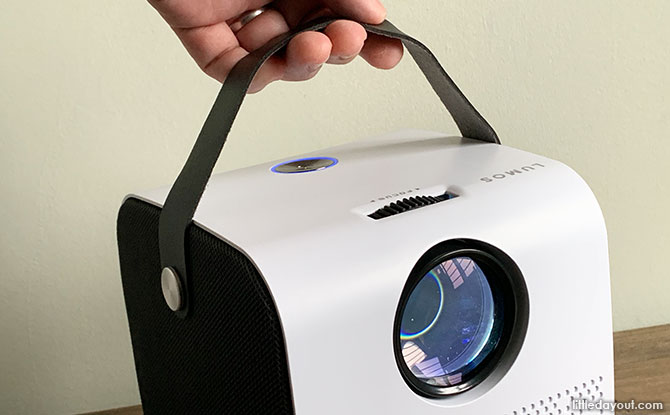 It is also portable enough to bring around, but you would want to get a nice padded case to protect it if you intend to do so.
The projector can be purchased online from LUMOS' Singapore website.
The standard version of the projector is priced at $199 with free local delivery. The Smart version (we recommend getting this version) is just $99 more at $298, inclusive of free local delivery too.
Find out more about the LUMOS RAY here.