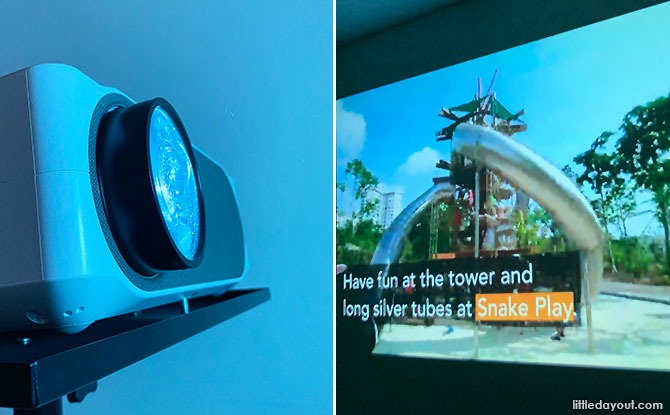 It is hard to imagine a home cinema projector for under $400, and much less one that has smart features like Netflix, YouTube and speakers built-in. That's why the LUMOS Auro Projector, which has been receiving five-star reviews and was developed by a local Singapore company, caught our attention.
The LUMOS Auro Projector is designed to be an affordable projector and it has an attractive price point to back up this claim. The basic model is priced at just $299 while the smart version with an Android operating system and apps is $398. It can only be purchased direct online, which cuts out the costs of a physical storefront.
We were given a chance to review the smart version of the LUMOS Auro Projector and decided to give it a spin.
---
Designed to Fit In Anywhere
---
-- Story continues below --
First impression of the LUMOS Auro Projector was that it had a nice, clean and elegant look. It's straight, modern lines would allow it to fit in easily with any décor. The front and rear of the projector have a grey "grill". The rear grill hides the projector's in-built speaker, but more on that later.
For many of us living in apartments, an issue with using a projector is space constraint. The LUMOS Auro Projector is designed with this in mind. It can be placed as close as 1.7 metres away from the viewing surface, and if you bring it back to a distance of 3 metres, can project an impressive 100-inch screen.
The projector's image can be inverted, allowing the projector to be both placed normally or upside down mounted on the ceiling.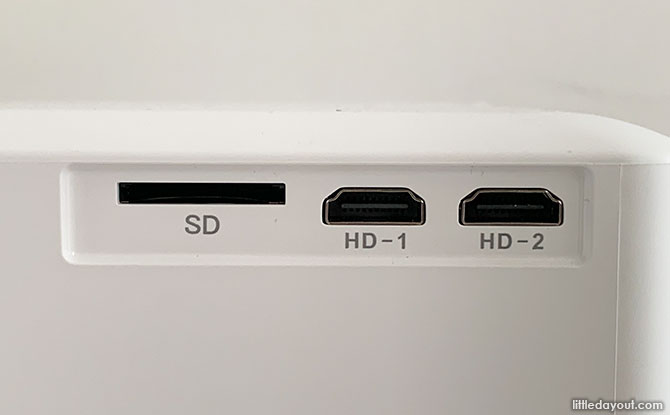 It accepts multiple inputs – these include a VGA connector for a computer and two HDMI inputs to plug in equipment like a TV set-top box or DVD player. It even has an SD card slot and USB inputs.
---
Smart Features: Ready to Go Out-of-the-Box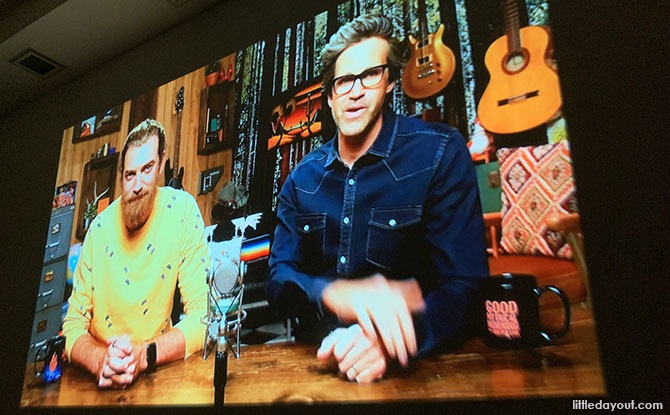 One of the exciting features of the smart LUMOS Auro Projector is that it comes with built-in YouTube and Netflix apps. Since the projector has its own loudspeaker, all we needed to do was to plug in the power, connect the projector to our Wi-Fi network and we were able to start viewing content straight out-of-the-box.
It was easy to setup and there was no need to fiddle with messy cables in order to immediately start enjoying the projector. There are focus and keystone rings at the lens. Twist them back and forth until you find the best image.
The picture quality is 1080p and its brightness is good for watching movies in a dark room. Using the LUMOS Auro Projector, you can quickly setup a cinema in your own home and, since it is projected forward, there is no need to worry about blue light going into the eyes.
Navigating through the projector's menu to get to the apps is straight forward. It is easily done with the projector's remote control.
One of the apps available is AirScreen. This wireless mirroring app allows you to send what is on your smartphone's screen to the projector. Ever wanted to share holiday photos or a video compilation of memorable moments with the kids? This unique feature of the LUMOS Auro Projector allows you to share them on a big screen so that everyone can enjoy them together.
We were pleasantly surprised that the projector's speaker carried across the dialogue clearly. It was loud enough to fill up the room we were in. Of course, you can't expect full blown cinematic sound from the in-built speaker, but you can choose to send out the audio to an external sound system using the projector's 3.5 mm output jack or wirelessly to a Bluetooth-enabled speaker like a soundbar.
---
Doing More with the LUMOS Auro Projector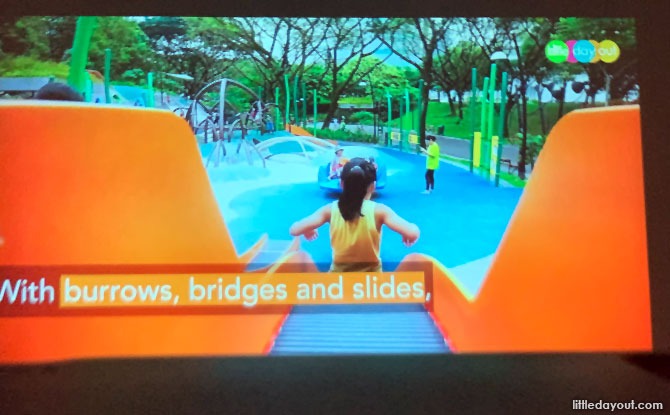 If most of your TV viewing experience is centred around YouTube and Netflix (which makes up around 90% of our own personal video consumption), the smart LUMOS Auro Projector is designed for you. With these two apps built-in, the projector has all you need to settle down and chill.
Besides amping up your family movie night, the LUMOS Auro Projector can also be used in other ways.
Our family has regular Zoom calls with our extended family overseas. We would normally crowd around the computer screen for the call but, with the projector, it is now possible to see everyone clearer on a larger projected screen.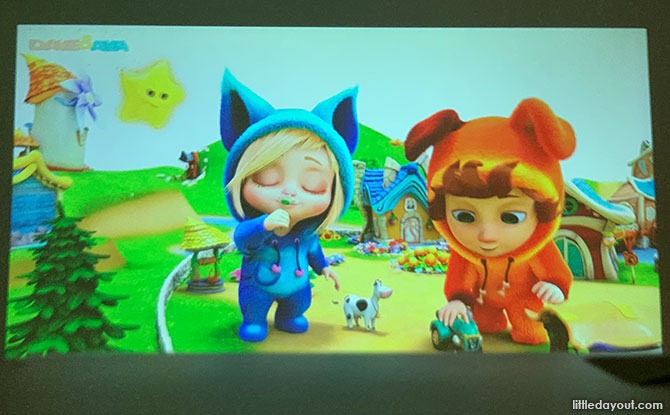 Want to tell a bedtime story or watch some educational content with your kid? Since the smart LUMOS Auro Projector has YouTube built-in, you can easily access the tons of children's video content online. Because there isn't even a need to plug in separate laptop, you can easily move it around the home if necessary.
One of our favourite things to do is to connect the Nintendo Switch to the projector and play Animal Crossing.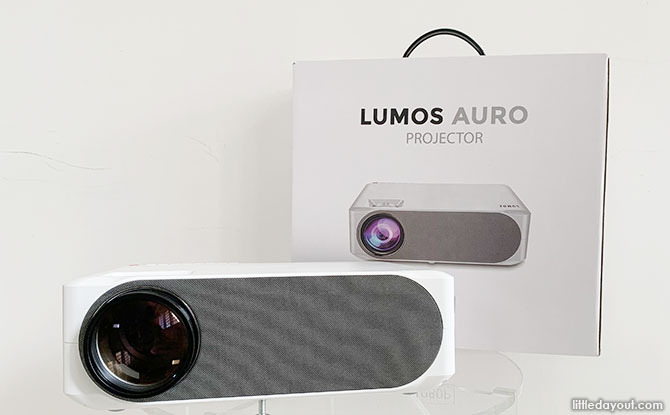 So, if you are looking for an affordable, fuss-free way to get the cinema experience in the comfort of your home and more, do check out the LUMOS Auro Projector.