Children's Day is a special day set aside to recognise our children.
In Singapore, it used to be celebrated on 1 October but now, Children's Day is celebrated on the first Friday of October. This alteration was made to allow Primary 6 children a 'last chance' to celebrate Children's Day AFTER completing their PSLE exams.
What this also means is that pre-school and primary school children now have a LONG WEEKEND on the first weekend of October.
With the kids at home, you may be looking at ways to celebrate Children's Day with them. Fret not,Little Day Out's handy Children's Day 2013 Weekend Guide will give you an overview of the many things to do, activities and events taking place around Singapore in celebration of Children's Day 2013.
Find out where to find FREE performances for children, special activities planned just for kids and, of course, where the Children's Day parties are taking place. Best of all, the Little Day Out Guide to the Children's Day Weekend, just like our other guides to the National Day long weekend and theSeptember school holidays, is FREE for all to download. We hope it helps you navigate the upcoming long weekend and find ways to make it meaningful for you and your kids.
The Guide is deliberately non-exhaustive. We try our best to curate the best. If you are looking for more events, do search through our event listings for other things to do.
Download the FREE and handy Little Day Out Children's Day Weekend Guide now!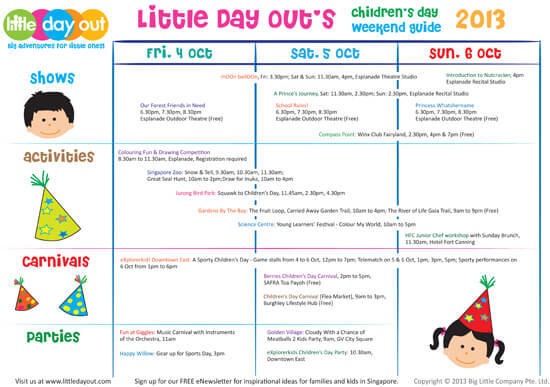 Find fun things to do this Children's Day 2013 in Singapore with our FREE guide. Download it now.
Related Article
Guide to Celebrating Children's Day 2013 in Singapore