Little Day Out is giving away a stylish JuJuBe Bag to one lucky winner! This highly sought after brand is known for it's versatile and fashionable bags that are both functional and easy to match with any outfit.
We did a review of three JuJuBe bags in our We Tried Three: JuJuBe Diaper Bags article, and since then they have come up with new designs as well as ways to better connect with their community. One such platform is the Jujube x Mothercare Closed Group Facebook Page, which is limited to customers who want to get JuJuBe products from Mothercare as well as the latest updates. You can find the link to the Facebook group here.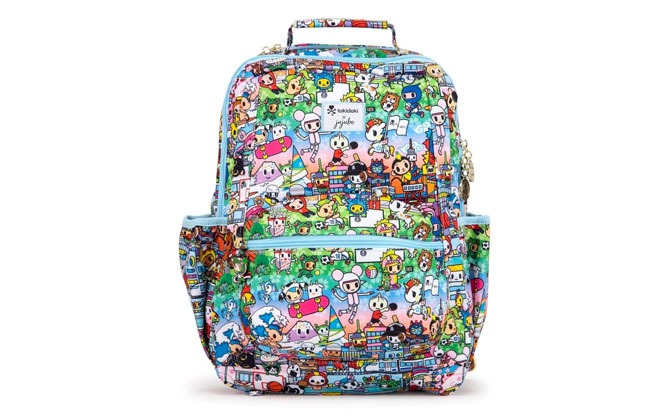 JuJuBe has also added two new designs to their fashionable bags. Fans who like all things colourful and cute can get the TokiDoki design complete with adorable unicorns and other fun characters.
To parents who like to carry a piece of magic wherever they go, JuJuBe has also released their Jujube Lumos Maxima design which has different constellations in the shape of Hogwarts houses, significant items mentioned in the books and more! Shop the range of JuJuBe products here.
Be it a first-time parent or a parent looking to get a new diaper bag, take part in our contest and stand a chance to win this attractive prize!
---
Win a JuJuBe "Vector" diaper bag!
This week, we are giving out a bag from JuJuBe's XY Collection. The Vector bag is the perfect choice for busy parents with lots of gear. It comes in neutral colours which make it suitable for parents of any gender. There are four mesh pockets in the main compartment as well as additional pockets protect your laptop, tablet or cell phone while on the go. Each bag also includes a sweat-wicking back panel to keep one comfortably cool and dry, even on the hottest of days. Stand a chance to win this bag the last JuJuBe bag we will be giving out as part of this giveaway.
---

To stand a chance to win this week's stylish JuJuBe Bag, do the following:
Follow us on Instagram (https://www.instagram.com/littledayout/)
Subscribe to our free Online Newsletter
Answer the questions in the form below.
This contest has closed. Watch this space where we will be annoucing the winner!
---
Week 1 Winner of a JuJuBe "Be Supplied" diaper bag: Congrats to Bee Chin Tan!
Week 2 Winner of a JuJuBe "Be Nurtured" diaper bag: TBC
Week 2 Winner of a JuJuBe "Vector" diaper bag: TBC