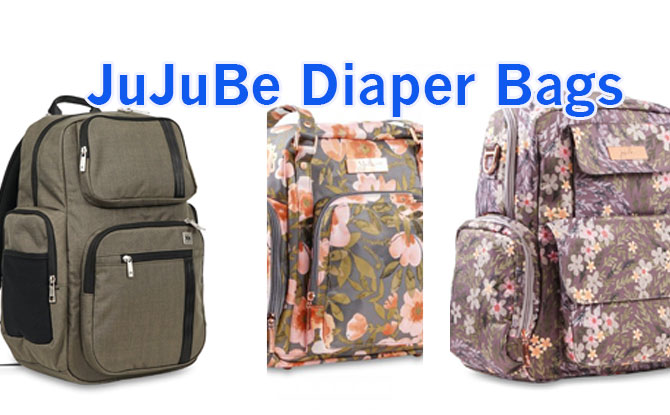 JuJuBe started in 2005 with the single belief that mummies deserve bags that are high on style, function, and intelligence.
Since then, JuJuBe has become a highly sought after brand of bags for the whole family. When you think diaper bag, JuJuBe often comes to mind.
For this round of We Tried Three, we've teamed up with Mothercare Singapore and we're super excited to be able to share our thoughts on three of JuJuBe's bags with you, namely Be Supplied, Be Nurtured, and Hatch!
Whether you're a first-time parent or another Mummy/Daddy looking to get yourself a new on-the-go bag, this review is for you!
---
-- Story continues below --
JuJuBe Diaper Bags
---
Be Supplied (Whimsical Whisper)
JuJuBe's bags are well-loved by families around the world as the brand always puts a lot of thought into the design of their bags, and there seems to be a spot for everything you could need.
In terms of functionality, JuJuBe's Be Supplied – which can be carried as a tote or messenger-style – is made up of 1 large breast pump pocket which fits most standard breast pumps; 1 mesh pocket and 1 zippered pocket within the main compartment; a zippered main compartment; a Mummy pocket with key fob; an open back pocket where you can keep a changing pad, diapers, or wet wipes.
At 30 cm in height, Be Supplied is the smallest of the three reviewed today, but it still packs a punch! Or a ton. Full-time working mums could quite easily take this one chic bag to work, instead of having to lug your work gear and pumping supplies separately.
When I gave Be Supplied a whizz, I was able to pack in a whole lot of essentials, like the Medela Freestyle Double Electric Pump, the Mini Fuel Cell from JuJuBe's Be Equipped collection, two Medela breastmilk bottles (150 ml each), my 13-inch MacBook Pro, a large packet of wet wipes, and of course, my wallet, mobile, and keys.
The multiple compartments in the Be Supplied make it easy to keep your belongings organised, separate, and hygienic – super important since we're talking about pumping supplies here.
What I really love too about all JuJuBe bags is that they are machine-washable. If you're going to be using your Be Supplied daily, you'll appreciate being able to put the whole bag into the washing machine at the end of the week, knowing that it's clean and sanitary for use again after!
The one thing that I wish Be Supplied has is a built-in insulated pocket for milk storage.
---
Be Nurtured (Sakura Dusk)
As with all other JuJuBe bags, Be Nurtured is designed with a ton of compartments, including two pockets in the front for all your on-the-go needs (money, cards, coins, and keys, for example), an accessories pocket on one side of the bag, and a very generous pump pocket on the other.
The designated pump pocket is the highlight of Be Nurtured because pumping mummies can keep the breast pump in here, and just leave the pump in the bag for a discreet pumping session.
The pump pocket is massive, by the way. I mean, I put my daughter's 350 ml Thermos Funtainer bottle in, and realised I could probably pack in another 2 more similar size bottles.
If you're not using the pump pocket, simply collapse it and you'll have even more room in the main portion of your Be Nurtured.
I never thought I'd have heart eyes for a diaper bag but JuJuBe's Be Nurtured in Sakura Dusk have done it for me, especially the Rose Gold hardware with the wee – almost unnoticeable – star accents!
Also, I love the detachable memory foam straps – they're super cushy and felt so good on my shoulders when I was carrying Be Nurtured as a backpack!
In fact, you could hang Be Nurtured off your stroller, carry it by the grab handle, or sling it crossbody in a messenger style! One bag, four ways? Yes, please!
My one gripe about Be Nurtured is that at 40cm tall, it's pretty large for my petite Asian frame, so I'll have to think twice about it if I'm after an everyday go-to bag. 
---
Vector (Forest Green)
Back in 2017 – after JuJuBe realised that there was a growing demand for stylish diaper bags for daddies – the JuJube XY Collection was launched.
Even though the Vector Diaper Backpack from the JuJuBe XY Collection isn't a pumping bag per se, we figured Daddy might like to get in on the action however he can to help Mummy out.
Plus, with JuJuBe putting Vector out in various awesome gender-neutral colours like Wheat, Gray Matter, Carbon and Forest Green, we can totally see Mums toting it around town too.
Rugged and finely tailored, Vector is a great diaper backpack for the modern parent on the go. Durable construction means JuJuBe's Vector can handle whatever your day of parenting throws at it!
Four mesh pockets in the main compartment will ensure your essentials stay organized. There are also two insulated bottle pockets, one on each side of Vector, and a mesh water bottle pocket; a quick-access pocket for keys and cards; a microfibre glasses pocket; and a zippered changing pad pocket.
Ergonomic padded straps and the sweat-wicking back panel ensures that the bag is comfortable for extended use, even on the hottest of days. Sounds like it'd be perfect for taking on holiday with the baby too!
At 45 cm in height, JuJuBe's XY Collection Vector Diaper Backpack is definitely too big for me to use daily but my husband's happy to carry this on the weekend when we're out with our daughter.
---
Final Thoughts
I personally love all three bags and would certainly recommend them to first-time mummies looking for a diaper bag because they're super easy on the eyes, and so thoughtfully designed.
However, if you're a Mummy who needs to pump on-the-go because of work, for example, my vote is for Be Supplied.
It's a great size for almost daily use, and it doesn't look like a regular diaper bag, so it's ideal for mummies who might like to take the bag to work or for meetings!
To view Mothercare Singapore's full range of JuJuBe's diaper bags, go here.