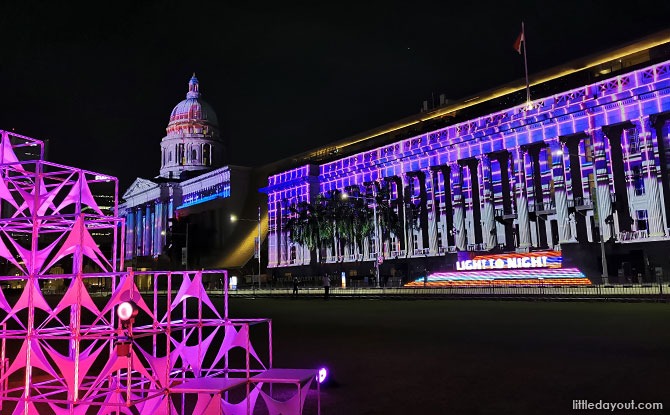 The annual Light to Night Festival is back starting Friday 14 January and will run for three weeks till 3 February 2022. Expect over 60 day and night experiences over the course of the three weeks, visit the Civic District with your family to enjoy the free experiences at the museums and malls!
---
About Light to Night Festival 2022 at Singapore Art Week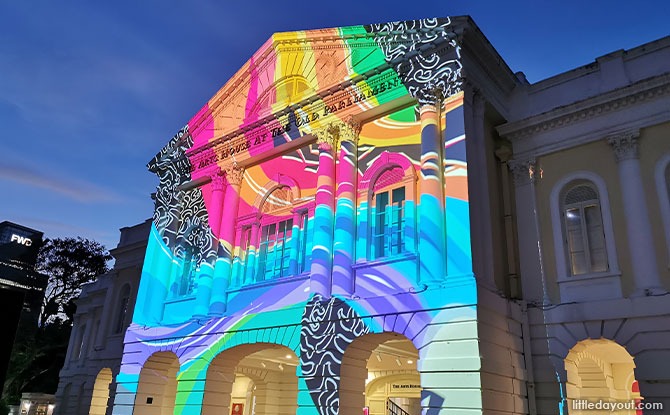 Watch heritage buildings in the city put on a some "skins" and let the colours, patterns and lights dazzle you with accompanying music – much of which created by locals. The Arts community was very much affected by the Pandemic and there was an open call for participation was well received with many entries from the local arts community.
The theme for the year "New Ways of Seeing, Thinking and Being" hopes to see everyone gain new perspectives and states of mind to see how the world has evolved. Bedtimes can take a backseat for an evening, enjoy the iconic light projections and installations that will take over the city for just three weeks!
---
-- Story continues below --
7 Highlights at Light to Night Festival 2022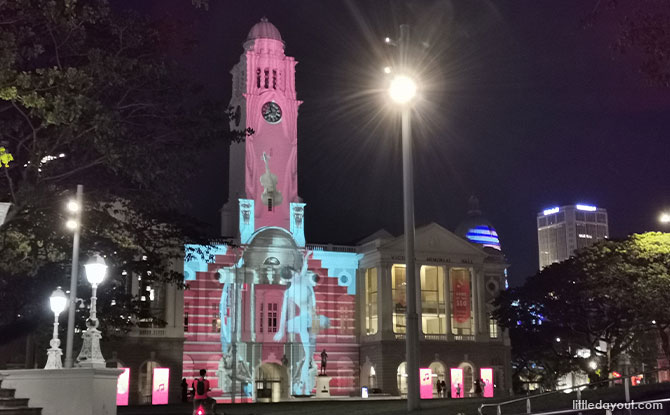 We give you seven reasons for you and your family to enjoy the sights at the Light to Night Festival 2022. Although installations can be seen in the day, we still recommend a walk at night as it is a rather different multi-sensory experience.
1. Art Skins on Monument and Light Installations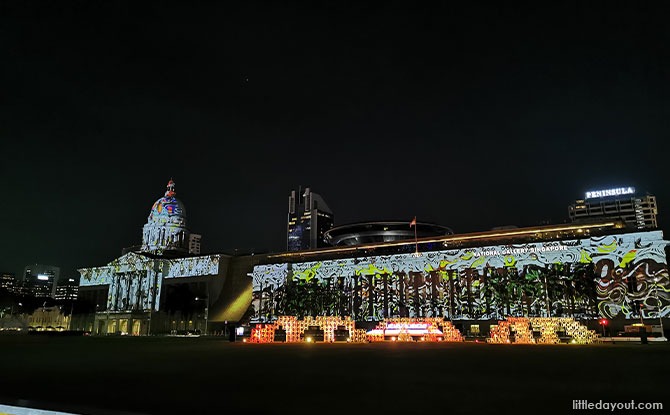 Watch the monuments and heritage buildings light up after 7.30 pm. National Gallery's façade projections are a reinterpretation of the iconic building.
The Arts House, Asian Civilisations Museum and Victoria Theatre and Concert Hall will feature unique projections on their facades created by students from Nanyang Polytechnic's School of Design and Media.
Enjoy the immersive audio-visual treat at the various monuments and treat your eyes to the rich kaleidoscope of colours and patterns.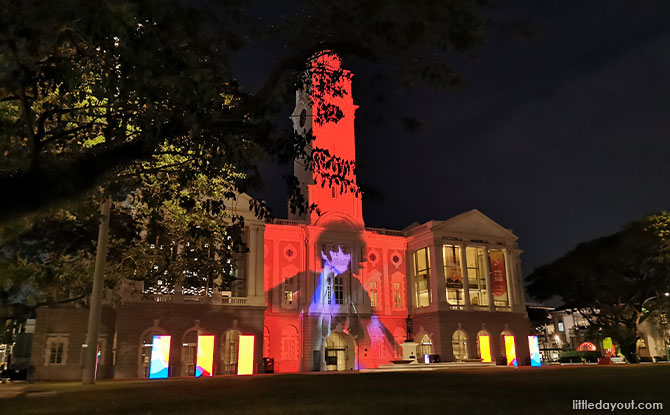 My personal favourite was the projection on Victoria Theatre & Concert Hall which was enchantingly beautiful, also created by NYP's Deign & Media students.
---
2. Multi-Sensory Art installation, collaboration with visually impaired community and other Exhibits
Look forward to pandemic-inspired art inside National Gallery with art installations as well as projections in the Rotunda Library & Archive.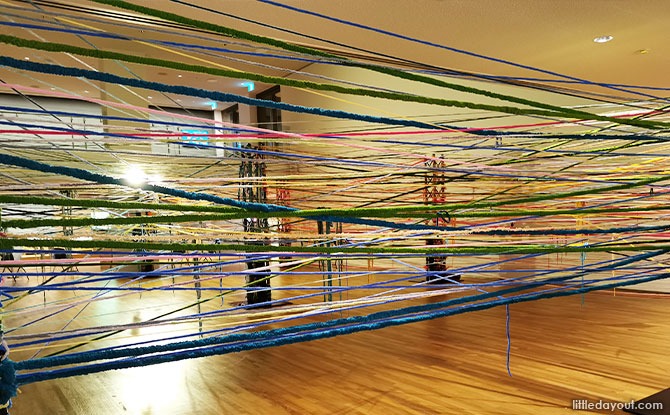 One art installation that is a must-visit is Move For?ward – a multi-sensory art installation spotlighting the differently-abled community. 12 stories from 12 individuals from the visually impaired community will be shared in this space through an audio or physical walk of the installation. Participants will need to navigate the maze made out of a web of strings and answer eight questions in the process.  Do note that this installation is suitable for children 12 and above.
Look up at The Gallery's Singapore Courtyard where the hanging installations are. Making Room is the title of the installation and it brings audiences to various vantage points and perspectives of pandemic living.
---
3. Outdoor Installations featuring Augmented Reality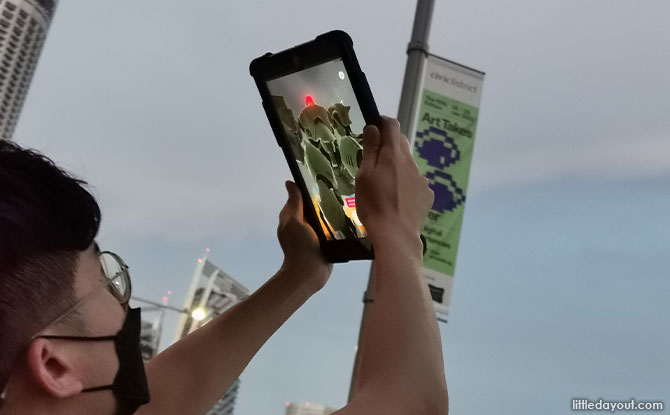 Step out to see outdoor installations sprinkled all around the Civic District. Don't miss the satellite installations at Asian Civilisations Museum, Esplanade Park, The Arts House as well as The Plaza at National Library Building.
For those who are fans of Augmented Reality, you would enjoy this interactive outdoor AR art exhibition featuring local artist Ho Tzu Hyen and global artists including Cao Fei, Olafur Eliasson and KAWS. Unlock the experiences outside National Gallery Singapore using your mobile device or tablet. This is accessible both day and night.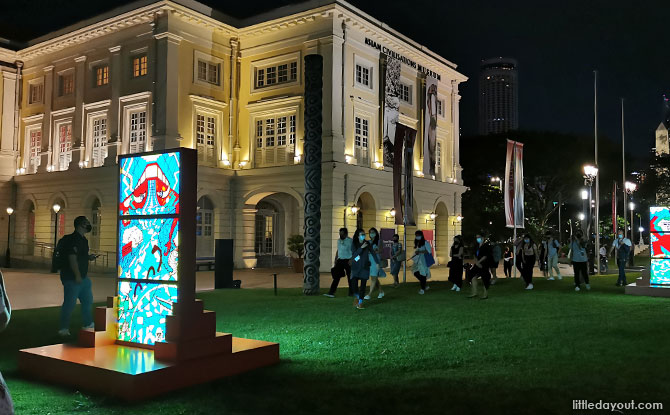 Walk towards Singapore River and search for Memory Portals an installation by Debbie Ding that captures alternate, fantastical realities of the Singapore River. Look out for the "Loch Ness Monster" equivalent.
---
4. Giant Sand Pit and a Flock of Birds at the Padang
Kids will love the chance to get into a giant sandpit at Fragment of a Shoreline. Sit at the reconstructed shoreline from 1843 and experience the soundscape of waves as you look around you to see the evolution of the area. Imagine what it was like sitting in the spot 179 years ago long before land reclamation and city building took place. You could even sit there and watch National Gallery's façade projections.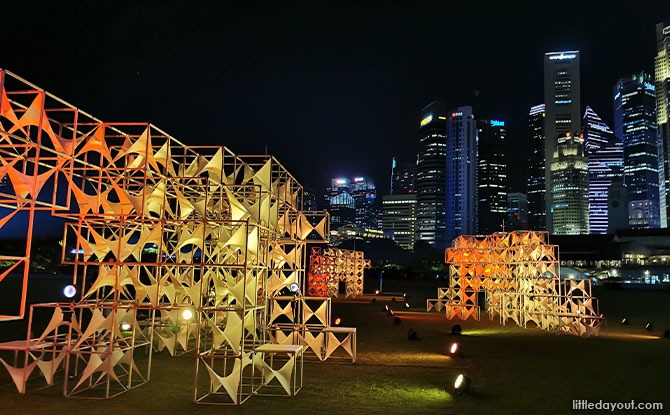 Located a stone's throw away is Flight – resembling a flight of birds in motion. It will respond to Bluetooth signals emitted from mobile devices to generate a symphony of light and colours.
---
5. Common Walkways – Underground tunnel & Linkway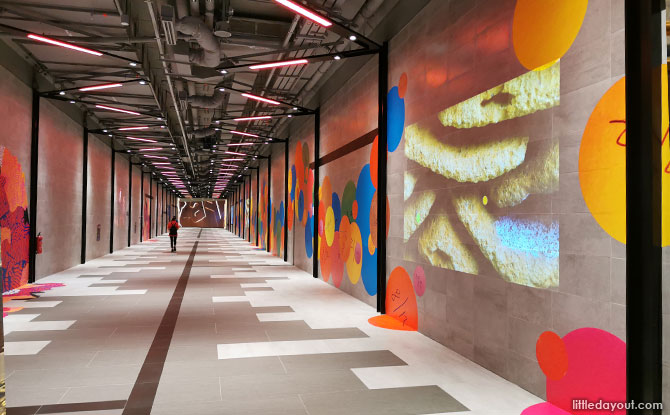 Don't forget to peer into common walkways. The new underpass connecting Funan, City Hall and Adelphi is open. This art-activated art tunnel will feature multimedia artwork by local artists. One of them was evidently inspired by pandemic practices of colour-coded stickers used so frequently when entering buildings. I loved this quirky one.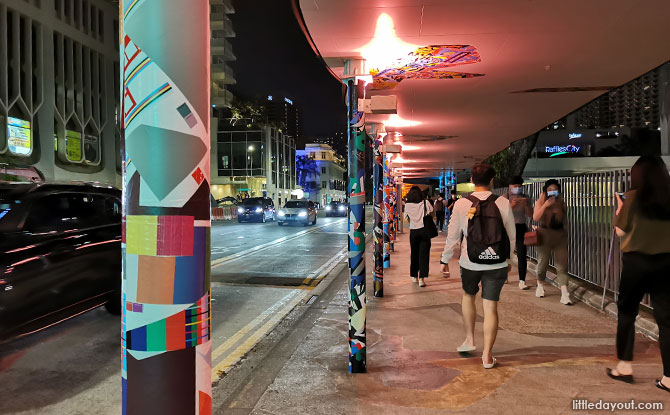 If you decide to go above ground, look out for a vinyl installation The Everyday Vinyl that made use of unwanted vinyl repurposed into art.
---
6. Live performances and Stand-up Comedies
Besides art installations and audiovisual presentations, there will be performances at various locations. Singapore Symphony Orchestra will be holding performances paying tribute to childhood games, lost forests and more.
Audiences can also tune into live music performances at the Esplanade.
Artists such as Kumar, Sezairi will be performing at National Gallery's Gallery Gigs. Look forward to stand-up comedies on Funny Fridays, live gigs plus a series of pre-recorded performances accessible online.
---
7. Museums After Hours
Your chance to spend an evening at the museum is here again. Get to explore Asian Civilisations Museum and National Gallery during the festival as they will be open for extended hours.
Asian Civilisations Museum will also be organising programmes such as guided tours, Drop-in craft activities for families to design their family crest on a ceramic plate and Barter Market for some old-time bartering.
---
Light to Night Festival 2022 Promises New Perspectives After Dark
Head down to the city for a visual spectacle and immersive art experiences from 14 January to 3 February. Walk off the Chinese New Year reunion dinner feasting or perhaps spend the windy evenings soaking in the richness of music, sounds, lights and animation. For more information, head to this site.
Light to Night Festival 2022 will run from 14 January Friday to 3 February Thursday.