"I miss Taiwan! I miss the whitewater rafting!" said our eight-year-old daughter. It was a sudden remark, unprompted, uttered more than a month after we had come back from our trip! The little one was referring to the rapids-themed ride that we took at Leofoo Village Theme Park – an amusement park, water park and safari zoo in one – located outside of Taipei in Hsinchu.
Having booked our tickets to Leofoo Village Theme Park on Klook, we enjoyed discounts of nearly 50% off the admission price! To get there, we rode the Taiwan High Speed Rail (THSR) from Taipei to Hsinchu, then took a taxi to the theme park.
Taiwan's largest theme park is divided into five zones, namely South Pacific, Wild West, Arabian Kingdom, African Safari and Leofoo Water Park (which was not open during our visit).
Leofoo Village Theme Park Rides
Adrenaline junkies will love this theme park for rides such as the 'Screaming Condor', the only U-shaped suspension roller coaster in Asia with a top speed of 122km/h; and 'Ring of Fire', which takes thrill-seekers on a 360-degree vertical rotation. 'Captain Cook's Swinging Boat', the largest Viking ship in Taiwan, is also very popular.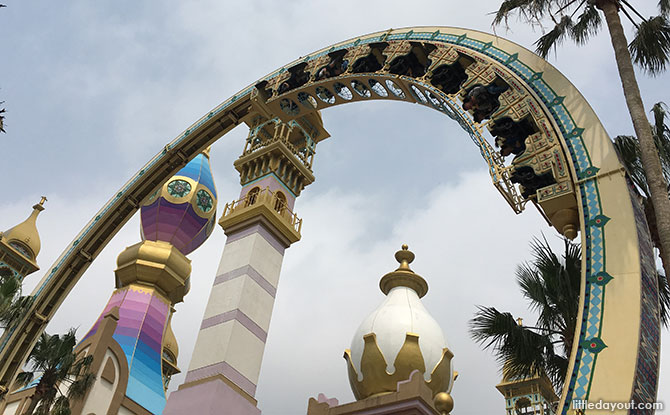 For the little one and her dad, the Jurassic-themed 'Mighty Mountain Flume Adventure' was a thrilling enough experience, with a three-storey plunge that was scary splashing fun! It was a good thing we had our disposable raincoats with us. That saved us from getting soaking wet!
Our little adventurer's favourite was the 'Big Canyon Rapids Ride', which simulates drifting down the rapids along the Grand Canyon in Taiwan's largest man-made canal.
I was the chosen one to accompany her. Thankfully, it was rather pleasant and relaxing with a few bumps and spins along the way, plus big splashes that might get your shoes wet even under the protection of a raincoat.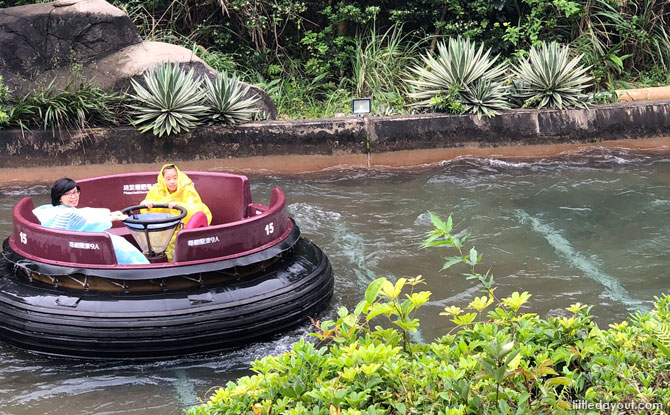 There are more than 30 rides at Leofoo Village Theme Park, including mild ones suitable for littler children such as the carousel, 'Flying Carpet' and 'Flying Horse'.
An interesting non-ride activity was the laser maze, in which we had to avoid laser beams by crawling under, jumping over or simply squeezing through them to touch three target points. There were various levels of difficulty and it was good physical fun!
You can also catch scheduled performances throughout the day at the theme park. We saw an Arabian-themed acrobatic act, a dance item that ended with all the little kids joining in, and a mini parade featuring a float and the theme park's mascots.
Safari Zone
When at Leofoo Village Theme Park, remember to save some time for the African Safari.
The zone starts out with a petting zoo. Besides buying carrot sticks to feed the goats, children can stick their heads into a transparent dome at the meerkats' enclosure to come "face to face" with the cute little creatures. We were really looking forward to this, but alas, the enclosure was under maintenance on our visit.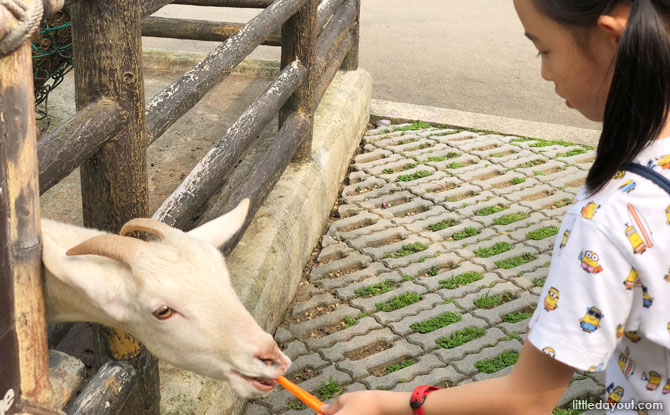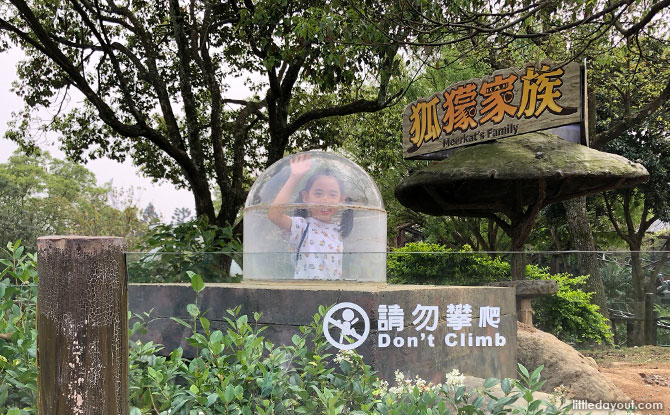 Deeper in, you can get close to herbivorous inhabitants such as the rhinoceros, bison and antelope via a vintage steam train ride. The train travelled slowly on an elevated track, and at some points, went down to ground level so we could get an even better view of the animals.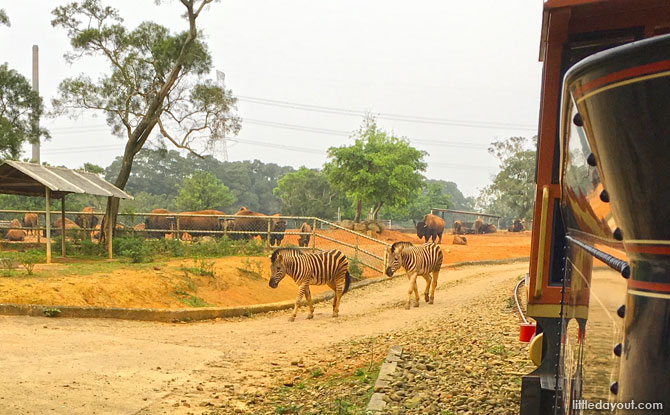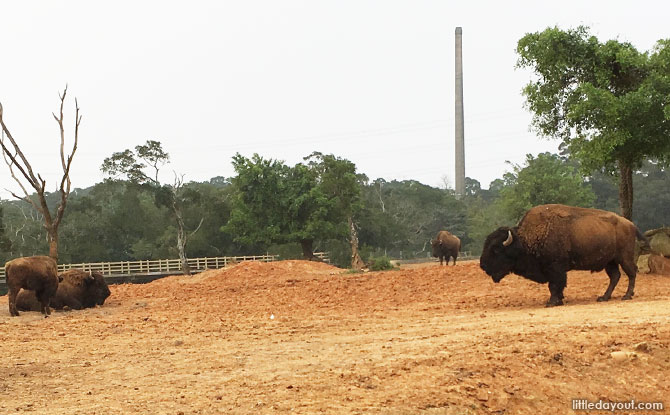 To see the carnivorous creatures, we took a special bus that brought us within close proximity of free-roaming lions, tigers and bears including the Taiwan black bear. The animals looked like they were enjoying a lazy afternoon "people watching" from their favoured spots!
We ended our day at Leofoo Village Theme Park pedaling leisurely along an elevated track circling the top of the primate sanctuary.
Judging by how much our child missed the fun that she had, it was worthwhile spending a day of our six-day holiday to Taipei at Leofoo Village Theme Park.
Here are a few tips to maximise your experience: Book your tickets via Klook to enjoy good savings, arrive early at the theme park so you'll have time for all the different activities, and if possible, schedule your visit on a weekday to avoid the crowd. (We went on a weekday and didn't have to waste much time queueing for rides.) Have fun!