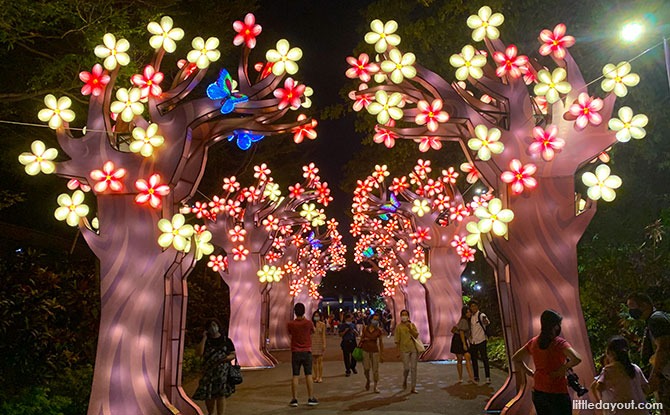 Gardens by the Bay will light up with lanterns from 18 September to 4 October to mark Mid Autumn Festival 2020. This year, the glowing lantern sets focus on the themes of family reunion and unity – themes which are especially meaningful for 2020.
The Mid Autumn Festival lanterns at Gardens by the Bay 2020 carries on a tradition which has been established over the last few years. However, one difference with this year's Mid Autumn Festival celebrations is it has fewer and more "socially distanced" lantern sets compared with preceding years. Additionally, in place of onsite activities, there will be online programmes.
---
Mid Autumn Festival Lanterns at Gardens by the Bay 2020
There will be six lantern sets at Gardens by the Bay for 2020.
---
-- Story continues below --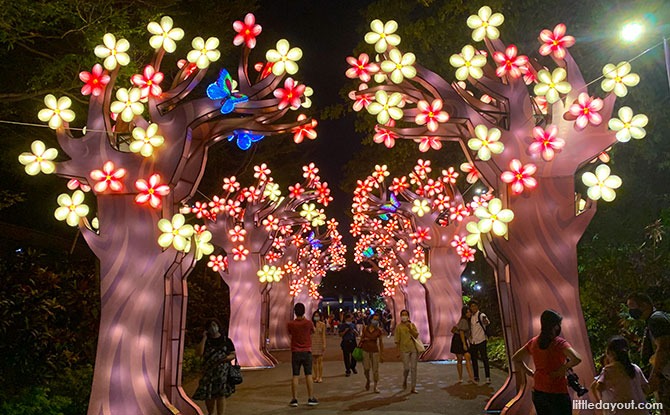 Apricot Grove at the Golden Garden pays tribute to Singapore's healthcare workers with a glowing, floral lantern display. It is based on the Chinese tale of Dong Feng, a skill medical practitioner from the Three Kingdoms period.
Look closely and you will notice that the lantern set features apricot flowers in various stages of bloom.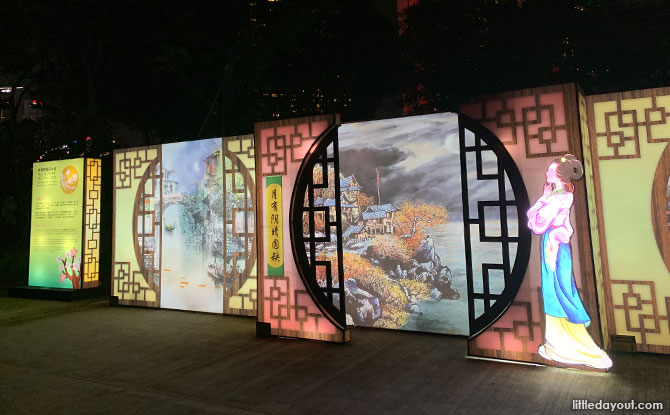 Water Song is based on the famous poem by Su Shi where he expresses his longing for his family as he contemplates the moon. It feature five framed scenes and can be found at the Garden's Planet sculpture – better known as the Floating Baby.
Royal Family's Walk consists of lanterns made from Hanji, traditional Korean paper. First displayed at the 2019 Seoul Lantern Festival, it depicts a royal procession from the Joseon Dynasty. The lantern set is presented in partnership with the Embassy of the Republic of Korea and Seoul Tourism Organization. View it at the Supertree Grove.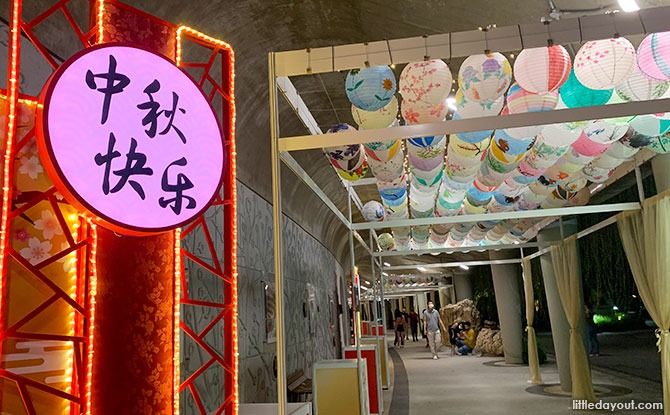 The Colonnade of Lights features 1,500 paper lanterns decorated by members of the community as well as Gardens by the Bay's senior workers.
Another lantern display is Illuminations of Joy at The Colonnade which features animal-shaped designs inspired by traditional cellophane lanterns.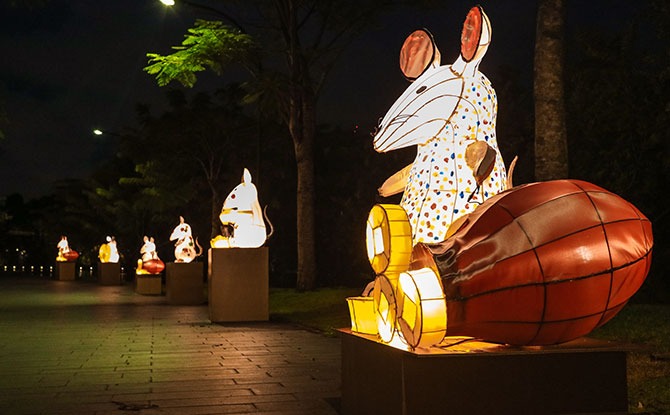 Prosperity Rats brings back ten rat lanterns that were earlier displayed for Chinese New Year. They are located in the vicinity of BayFront Plaza.
Here's a useful map of the various lanterns at Gardens by the Bay 2020.
---
Online Performances & Activities
This year, instead of live onsite performance, the public can join in online programmes held in conjunction with Mid Autumn Festival 2020 at Gardens by the Bay.
This includes a virtual preview of the Gardens' 2020 lanterns and performances by artistes like flautist Rit Xu, and Chinese dance duo, Li Ruimin and Zheng Long.
Other online activities lined up include craft activities, quizzes and a snow skin mooncake-making demonstration. Full details can be found at the Gardens by the Bay website.
---
Mid Autumn Festival 2020 Lanterns & Activities at Gardens by the Bay 2020
When: 18 September to 4 October 2020
Lanterns will be lighted up from 7 pm to 10 pm at the Gardens.
Online activities will be available on the Gardens by the Bay's website