Okay, we admit it. We are fans.
And if you have ever watched the show, you are probably a fan too. After all, what's there not to like about the crazy, zany show, Mister Maker.
For those who have not seen it before, Mister Maker is television show for preschoolers on BBC's CeeBebies. In each episode, Mister Maker, aka Phil Gallagher, presents fun and creative "makes" that the audience can try at home.
We love the endless flow of creative ideas and Mister Maker's whacky style (where can we get that waistcoat?).
---
-- Story continues below --
This June 2016, Mister Maker will be in Singapore for Mister Maker and the Shapes Live on Stage.
From 10 to 12 June 2016, this live show will be at D'Marquee at Downtown East and you can join him, along with the four Shapes, Circle, Square, Rectangle and Triangle, for a rollicking good time.
If the TV show is anything to go by, expect high energy, crazy fun and oodles of creativity.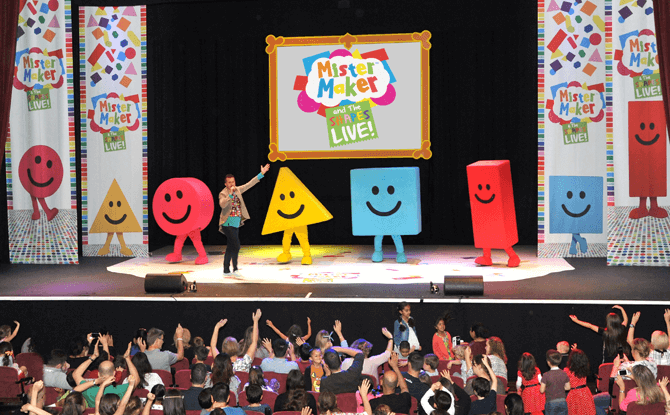 Before he arrives here in Singapore, we took the opportunity to ask Mister Maker about crafty "makes", the upcoming show and that multi-coloured waistcoat!
---
Interview with Mister Maker, Phil Gallagher
Little Day Out: What do you enjoy about being Mister Maker?
Mister Maker: It sounds a cliché, but being Mister Maker is my dream job. I always wanted to be a children's television presenter – from an early age – and to be one now on a show that encourages fun and creativity, is a dream come true. I am also passionate about live theatre for children – so to answer your question, being able to travel the world and bring our live show to children and grown-ups everywhere is an honour and a privilege. I hope everyone enjoys the show and that they are inspired to go home to sing, dance and make things!
Where do you get the inspiration for all the amazing crafts you do?
I think the most important thing is to start collecting your own 'doodle drawers' of arty materials for a rainy day. This can be just an old shoe box that you fill up with materials that might be useful one day…and they can give you arty inspiration!
After having made so many crafts over the years, do you have a favourite? Why?
When I dipped a tennis ball in a painty mixture and then bounced it against a canvas, it created one of the messiest makes we have ever made on the show! As we always say on Mister Maker – remember to put on an apron and ask a grown up before you try that one!
I also love making Pompom Bugs – I used to make them with my Grandfather when I was a child.
Do you have a favourite among the Shapes? Why?
I could never choose a favourite – I love them all! But I am most like Rectangle…very tall and always bouncing around!
Seeing that you have circles all over your waistcoat, do the other Shapes ever get jealous?
Ha ha – good question! That's a good idea actually – maybe next year I could wear a waistcoat with triangles or squares or rectangles on?
How did the idea for a live stage version of Mister Maker come about?
I have always wanted to produce a dedicated Mister Maker theatre show, bringing the fun from the TV programme onto (quite literally) a bigger stage! It is so exciting to travel… One of the things that makes me most proud is that wherever we perform our live show, children and grown-ups give us such a warm and excited response. It is heart-warming to hear the reactions of the crowd and we are so thankful for their support.
What can the audience expect at the upcoming live show in Singapore? Will they be able to crafts along with you?
The show includes a lot of the things that make live theatre exciting – singing, dancing & audience interaction. Mini Makers and grown-ups will be asked to join us on stage to get arty and play games…plus there is a big make that everyone in the audience can help Mister Maker with. That's the great thing about a live show…anything can happen! We wanted to create a live show that all ages would enjoy.
Based on your previous visits to Singapore, if you had to come up with a Singapore-inspired craft idea, what would that be?
How about a Formula One racing car, driving through the streets of Singapore at night? That might be a good idea for the show!