Experience a winter playground at the Ice Magic: The Great Fantasy on Ice from 1 December 2022 to 1 January 2023. This pop-up snow and wintery escape offers a chance to escape the heat and humidity of the tropics to experience ice and snow activities in Singapore.
Ice Magic: The Great Fantasy on Ice is a 2,400 square meter space set up at the Bayfront Event Space, next to Marina Bay Sands. It will be housed in an indoor tentage, the tallest tent to be erected in Singapore at 11.5 metres.
The snow experience is divided into Snow and Ice sections. Visitors will need to wrap up in winter coats and put on winter boots to experience the winter playground. Gloves and a wintery hat to keep the ears warm are also recommended.
---
What to Expect at Ice Magic: The Great Fantasy on Ice
Snow Section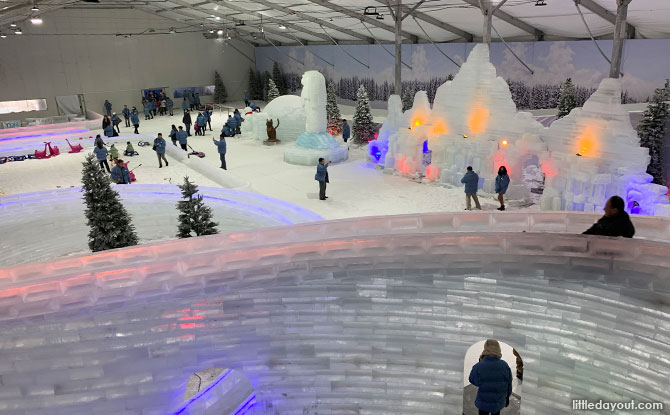 ---
-- Story continues below --
You know that the Snow section at Ice Magic: The Great Fantasy on Ice means serious business because they are using the same snow-making machines used in the Beijing Winter Olympics 2022 to pump out the snow for visitors.
For 20 days prior to the opening of Ice Magic: The Great Fantasy on Ice, the snow machines were hard at work making crispy white snow.
This allows visitors to be able to experience snowfall of fresh snow each day. To complete the wintery experience. Don't be surprised if the kids end up having a snow fight or making snow angels on the ground.
There is a 70-metre snow slope at the snow section. This is the longest snow slope to ever be built in Singapore. Visitors can pick up an inflatable tube and make their way to the top of the slope to swoosh their way down.
There is also an igloo that you can head inside, as well as ice sculptures that you can pose with.
---
Ice Section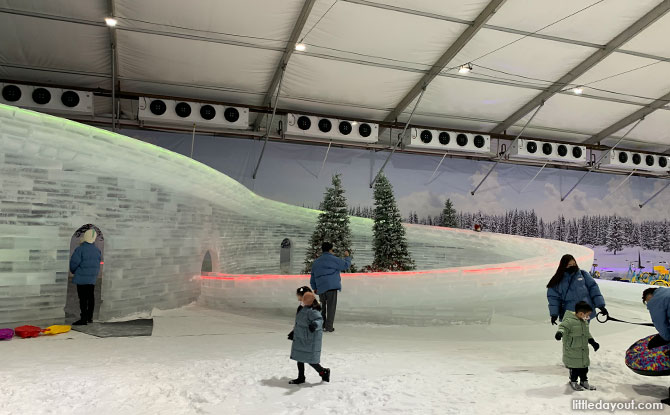 When you are done with the fluffy stuff, you can head over to the Ice Section on the other half of the tent. This gives visitors a chance to try out various ice-based activities that they would unusually not be able to experience in Singapore.
Give Ice Bowling a try. Or go all out with the Winter Olympic sport of Ice Curling.
For more fun, enter the 260 square metre ice cycling rink and saddle up onto one of the bicycles specially designed for cycling on ice. There are single and tandem bikes available for a slippery experience.
The highlight of the Ice Section at Ice Magic: The Great Fantasy on Ice is a 4.5 metre tall figure of eight Ice Slide. This will be constructed completely out of ice.
---
Ice Bar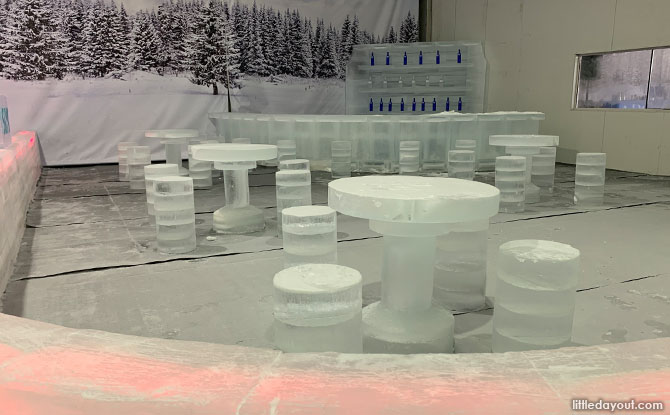 Worked up a thirst from all the fun around the snow and ice playground? Visitors who are old enough can head over to the Ice Bar. The beverages are served outside the "cold area" but you can take it in to the Ice Bar area to have a cold beer or a warm cup of beverage in the wintery area.
---
Chocolate Origin Pop-Up Cafe & Rosti
Chocolate Origin, the presenting sponsor of Ice Magic 2022: The Great Fantasy on Ice will be operating a pop-up café and will be holding a "secret-code" mini-game for guests to win prizes with every entry.
There is also a food eating area where you can get some warm food like rosti to help "defrost" after spending time playing in the wintery cold.
---
Snow and Ice at Marina Bay: A Winter Playground at the Bayfront Event Space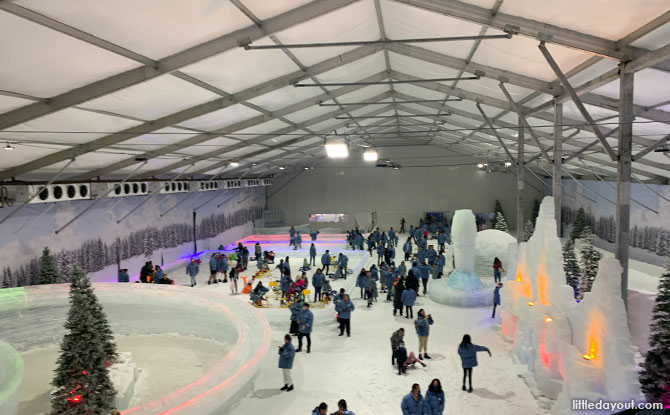 Ice Magic: The Great Fantasy on Ice is organised by Apollo Entertainment Media and Trident Consultancy.
Chairman of Apollo Entertainment Media, Mr Guo said, "Ice Magic is our chance to bring winter to Singaporeans who have never had the chance to experience it for themselves. To be able to do this over the festive season is an amazing opportunity, getting to bring joy to people as they celebrate the year and it's also a nice way to bookend the pandemic we've all struggled through the past few years. Helping Singaporeans to experience snow for the first time ever is something we're all looking forward to."
---
Ice Magic: The Great Fantasy Ticket Prices
Tickets to Ice Magic: The Great Fantasy on Ice are available now. Tickets (excluding booking fees) are priced at:
Adults – $45
Child (2 to 12 years old) – $35
Local Students – $40
Senior Citizen (55 & above) – $25
Family Bundle (2A + 2C) – $110
Family Bundle (2A + 2C) – $140
Ice Magic: The Great Fantasy on Ice is open from 10 am to 10 pm, 1 December 2023 to 1 January 2023.
Do expect very long queues especially on weekends and public holidays.
It is a part of The Great Bay Fiesta, held in conjunction with Marina Bay Singapore Countdown 2023.