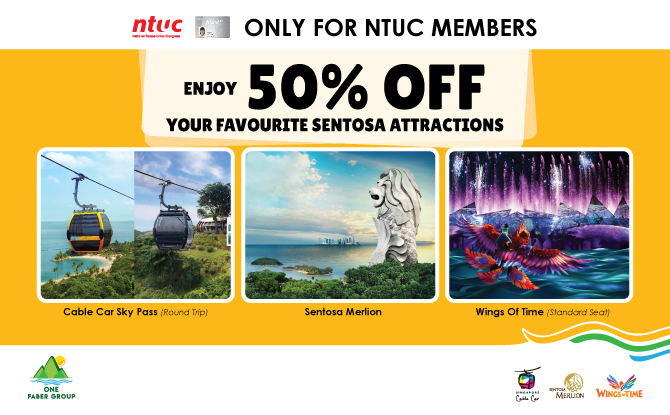 With picture-perfect beaches, family-friendly attractions and thrilling experiences, it is no wonder that Sentosa is Singapore's favourite getaway. Whether you are looking to spend a day with the family or trooping out with the whole clan, Sentosa and Faber Peak at Mount Faber offers a myriad of experiences that everyone can enjoy.
Even for the seasoned local, there are plenty of ways to experience Singapore's leisure island anew. Here are some experiences that offer a unique, bird's eye perspective on Sentosa, plus some sweet deals that will allow you to enjoy some of the most prominent attractions on Sentosa at half the price with your NTUC Card.
Fly to Sentosa, Arrive in Style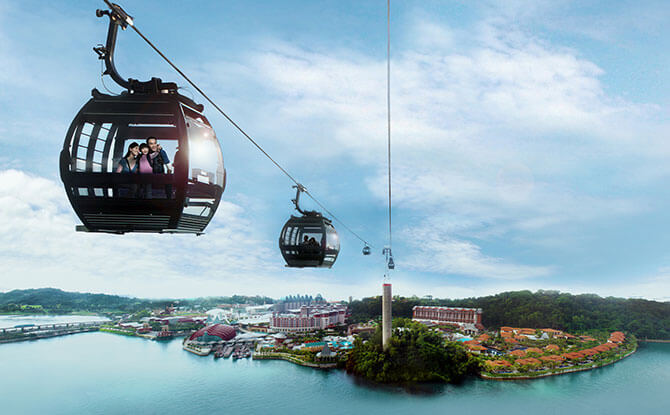 There are many ways to get to Sentosa – by car, monorail and even on foot. However, the most fun way has to be flying in – on a cable car.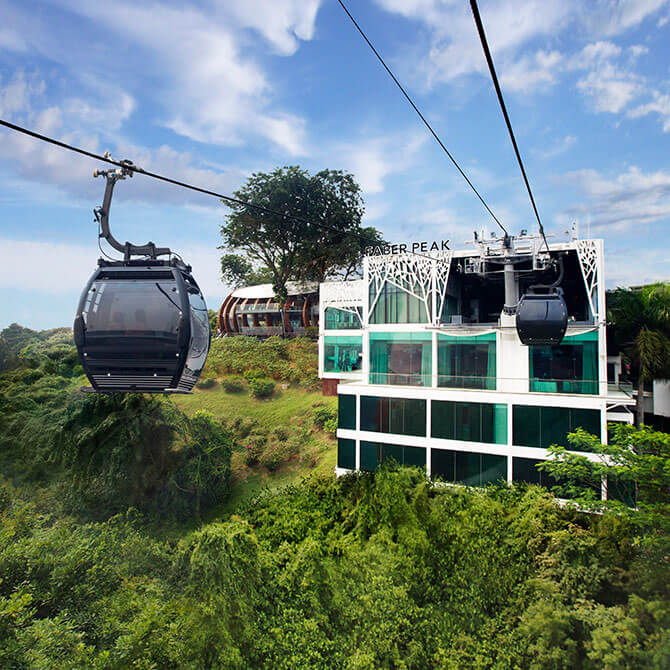 Taking a cable car ride to Sentosa is an adventure in itself. The Singapore Cable Car Sky Network consists of 2 cable car lines – the Mount Faber Line and the Sentosa Line.
---
-- Story continues below --
The Singapore Cable Car boasts super-comfortable, glass-walled cabins which unveil spectacular 360-degree views as you soar towards Sentosa from Mount Faber. During the 15-minute ride to Sentosa on the Mount Faber Line, you will be treated to panoramas of Keppel Harbour as you fly over the cruise ships below. From the cable car cabin, you can also see the dolphins at Resorts World Sentosa and take in a unique bird's eye view of Mount Faber's natural greenery!
Over at the Sentosa Line, the Singapore Cable Car station at Imbiah Lookout is the perfect starting point to begin your wonderful day at Sentosa. The cable cars will fly you to over 20 attractions such as Sentosa Merlion, Resorts World Sentosa, Madame Tussauds and many more. It also brings you directly to Siloso Beach where you can have fun building sandcastles or take a quick dip in the water!
The Cable Car Sky Pass includes both lines and free entry into Sentosa with no separate admission charges.
Get to Know a Singapore Icon, Inside Out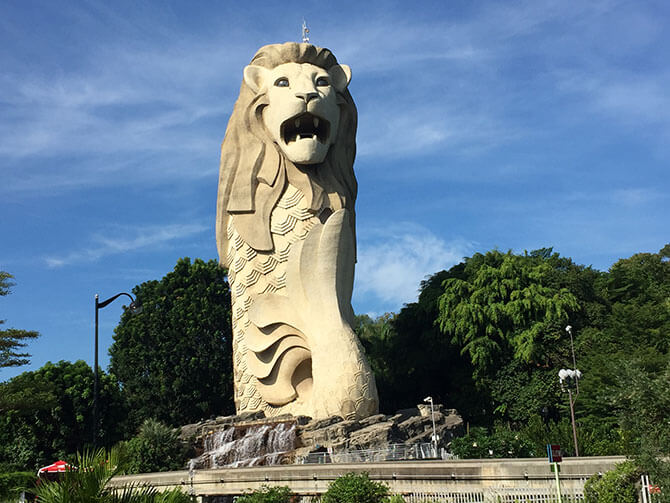 Just a stone's throw away from the cable car station at Imbiah Lookout stands Singapore's Guardian of Prosperity, the Sentosa Merlion.
At 37 metres tall, it is hard to miss the larger-than-life Singapore icon. Posing for a picture in front of the towering Merlion is a must-do but did you know you can also pose for pictures inside the iconic half-lion-half-fish?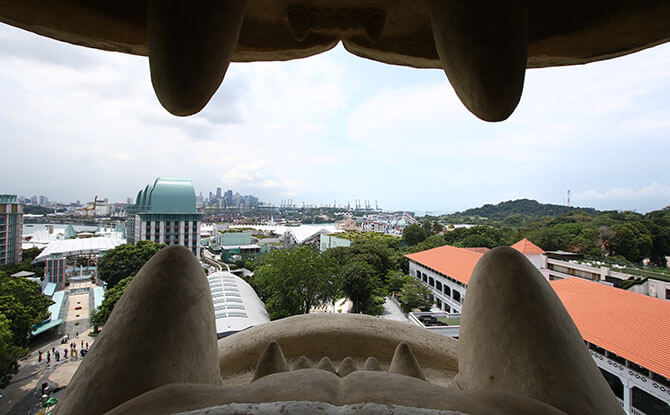 There are two viewing galleries in the Sentosa Merlion – the Mouth Viewing Deck Gallery, nine-storeys up, and the Merlion Head Gallery at the very top. Both offer fantastic views of Sentosa and skyline of the Lion City in the distance.
Getting to the viewing galleries is part of the fun.
Inside the mythical creature, you will be treated to its origin story and learn about the symbolic meanings hidden within the Sentosa Merlion.
With the Sentosa Merlion being the largest and tallest Merlion in Singapore – and the only one you can enter – it is definitely worth a visit. And, if you need to catch your breath after the visit to the top, take a break for some refreshments at the Merlion Café, conveniently located at the base of the Sentosa Merlion.
Fly Through Time with a Timeless Tale of Friendship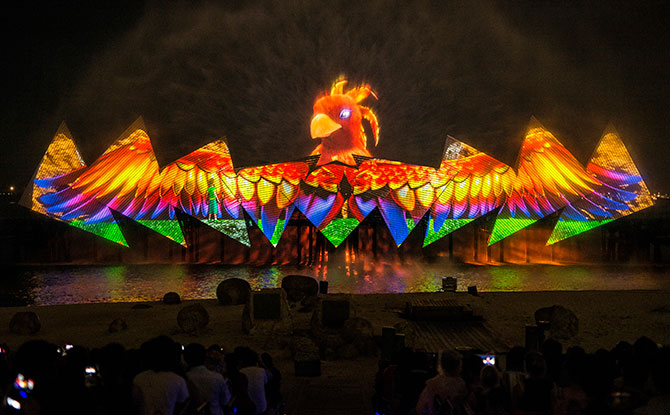 As night descends on Sentosa, it is time to head over to Wings of Time on Siloso Beach. This award-winning, multi-sensory presentation makes use of giant water jets, lasers, fire effects and spectacular music set against the backdrop of the majestic open sea.
Wings of Time tells the story of Shahbaz, a mystical pre-historic bird, and his friends as they travel across beautiful landscapes and journey through the mysteries of time. Little ones will be enthralled by the storytelling, choreography and artistry of the show – and really now, who doesn't love fireworks?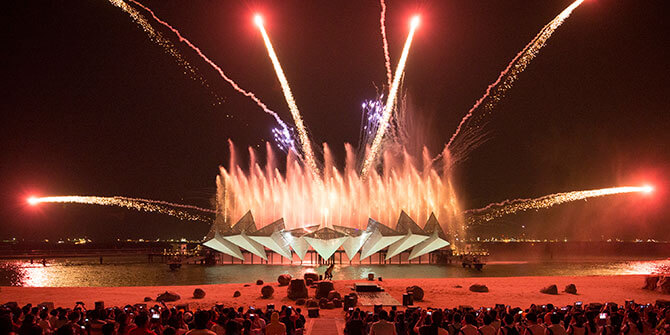 With two Wings of Time shows daily – at 7.40 pm and 8.40 pm – there is plenty of time to have dinner at the Good Old Days restaurant or to grab some snacks from the Show Bites stand outside the show venue. And did you know that if you are an NTUC Member, you will get to enjoy 10% off at the above F&B outlets with a minimum spend?
Watching Wings of Time is a spectacular way to round off a lovely day out at Sentosa!
Enjoy a Sweet Deal – NTUC Members Get a 50% Discount
NTUC Members, this year-end season, you can look forward to a great deal with 50% savings on admission to the Singapore Cable Car, Sentosa Merlion and Wings of Time.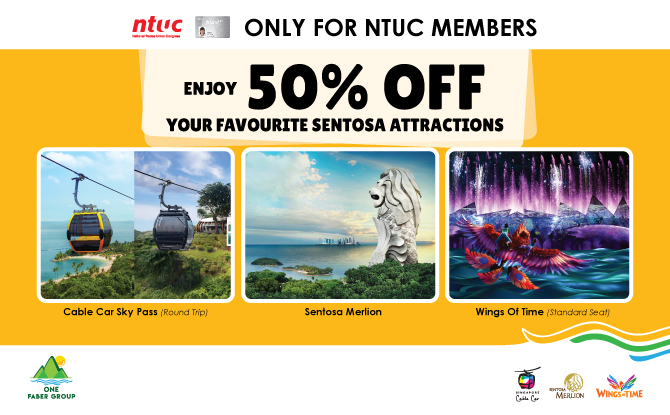 From 1 October to 31 December 2018, all you have to do to is flash your NTUC card at the Singapore Cable Car, Wings of Time and Sentosa Ticketing Counters in order to enjoy a 50% discount on the Cable Car Sky Pass (Round Trip) and tickets for the Sentosa Merlion and Wings of Time (Standard Seat).
The discounted tickets for NTUC Members can also be purchased online at www.1fabergroup.com/NTUC.
NTUC Member Promotional Price
(50% Off the Regular Price)
Cable Car Sky Pass (Round Trip)
Adult: $17.50

(U.P. $35)


Child: $12.50

(U.P. $25)

Sentosa Merlion
Adult: $9

(U.P. $18)


Child: $7.50

(U.P. $15)


Senior: $7.50

(U.P. $15)

Wings of Time (Standard Seat)
$9 

(U.P. $18)
With such a great offer available and loads of savings to be enjoyed, be sure to make plans with your friends and family to experience Sentosa from a bird's eye perspective during the year-end period.
This feature is brought to you by One Faber Group in collaboration with NTUC.