Hokkaido Marche Gourmet Hall is a Japanese food court in the basement of Orchard Central. Located beside Japanese mega discount store, Don Don Donki, Hokkaido Marche Gourmet Hall offers hungry diners a taste of Hokkaido, Japan, without having to leave Orchard Road.
Hokkaido Marche Gourmet Hall
Hokkaido Marche Gourmet Hall contains seven food stalls brought in from Sapporo, Hakodate and Asahikawa. Here are the various food options you can find there.
---
Kaisen Natsume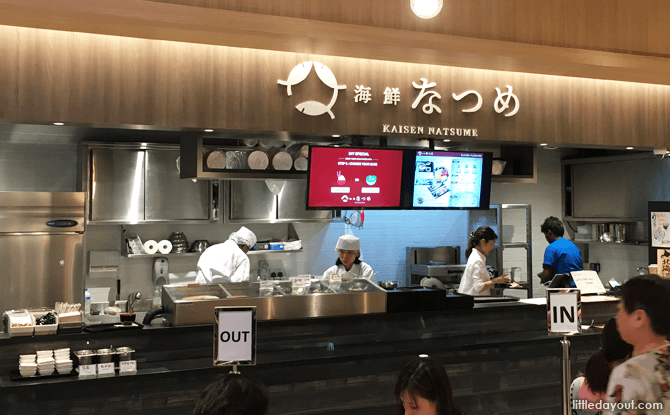 At Kaisen Natsume, you also have the option of customising your own kaisen don seafood bowl. A kaisen don with two types of fish costs just $8.50, four choices of fish costs $15.50 and five choices of fish costs $18.50. You can also select between a base of sushi rice or salad and top up with any other add-ons you desire.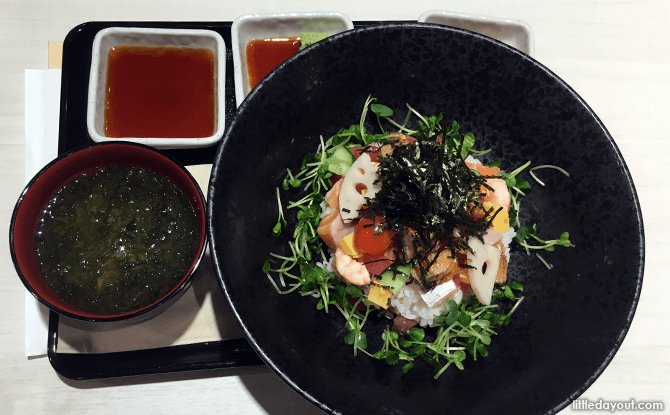 Alternatively, if you don't want to think so hard to get your food, a regular kaisen don will cost $16.50 and daily specials from $13.50.
---
-- Story continues below --
---
Donburi Maruya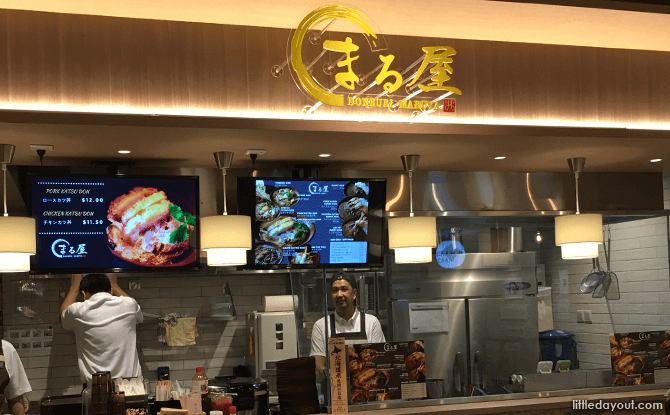 Donburi Maruya offers Japanese rice dishes such as Oyako Don ($8.50), Pork Katsu Don ($12), Chicken Katsu Don ($11.50) and Ebi Fry Don ($13.50). For those who like Japanese curry, there are also the options of Pork Katsu Curry Don ($12.50), Chicken Katsu Don ($12) and Ebi Fry Curry Rice ($14.50).
---
Yakitori Tsuyoshi
Specialising grilled skewers of meat and Hokkaido Buta-don (grilled pork rice bowl) is Yakitori Tsuyoshi. A Matsu lunch box with chicken, pork and meatball with rice will cost you $6.60. The Hokkaido Buta-don starts from $9.50 and there are the options of adding a poached egg or cheese for an additional $1 and $2 respectively.
---
Ajisai Noodle Japan
Hailing from Hakodate, Ajisai Noodle Japan is one of two ramen stalls at the Hokkaido Marche Gourmet Hall. In addition to Shio ramen, other ramen variations at this ramen stall include Seafood Ramen ($19.50), White Miso Ramen ($14.50) and Red Miso Ramen ($14.50). There is also a Yasai Ramen ($13.50) with salt-flavoured vegetable soup.
---
Soba Maruki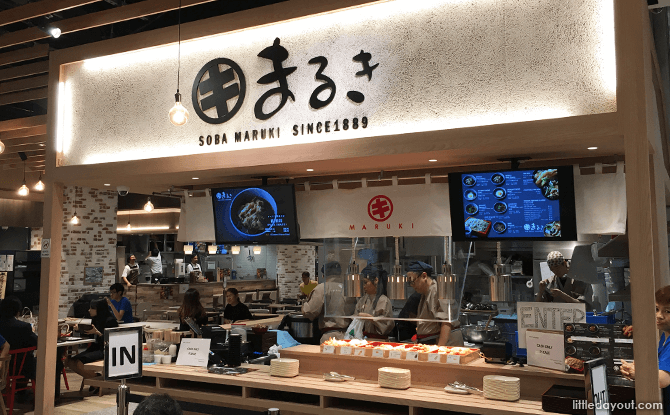 Choose from soba or udon noodles at Soba Maruki. Topped them off with either pork, yam or seaweed. Alternatively, get a hot or cold serve of noodles and choose from a selection of tempura toppings of your liking. Soba Maruki also sells ten-don rice bowls too.
---
Sapporo Ramen Shirakaba
Sapporo Ramen Shirakaba sells ramen in three varieties of broth – pork, miso or salt flavoured. The ramen here comes in with either chopped pork or char siu slices. There are also spicy options available. You can also choose to sit at the counter and help yourself to the water and free egg that comes with every order.
---
Dot Café & Bar
"Where is the drinks stall?" you may be wondering. Dot Café & Bar is it.
Situated at the entrance of Hokkaido Marche Gourmet Hall, you can get soft drinks from $2 to green tea (hot or cold) at $2.50. A cappuccino will cost you $4 and a matcha green tea latte, $4.50. Dot Café & Bar also offers sweet desserts. These include Hokkaido Cheesecake ($6) and Bocca soft serve ice cream in a waffle cone ($4.80).