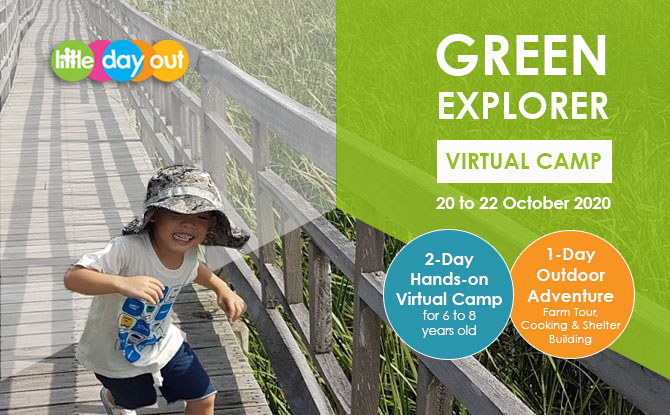 School's out, but Little Day Out virtual camps are back in! Our two-day Green Explorer Virtual Camp and one-day Green Explorer Adventure in October will bring our little explorers to an urban farm, learn outdoor cooking, build a terrarium, make a clay animal, learn the science behind plants and even taste a science experiment!
Little Day Out's "Green Explorer" Camp will bring children 6 to 8 years old on a journey centred around nature and a fully hands-on adventure. Prepare for a very immersive camp and outdoor adventure that will keep them joyfully engaged for three days in October.
---
Two Days of Real Learning at a Virtual Camp for Autumn Break in October, with an Outdoor Adventure!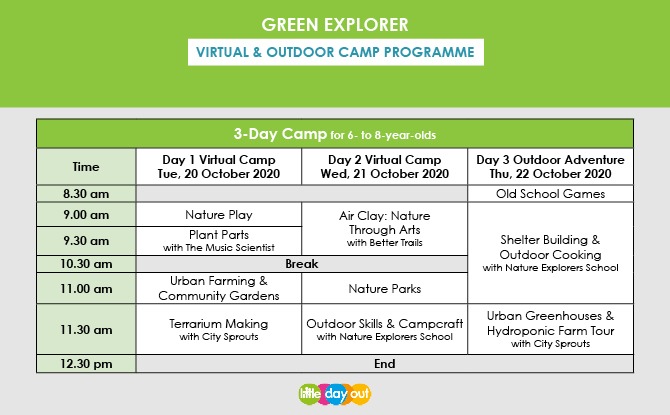 The virtual components of our Green Explorer Camp will be held on 20 and 21 October 2020, while the Green Explorer Adventure will be held on 22 October at Sprout Hub. As usual, our virtual camp will be packed with games, learning and hands-on activities.
The goal of our camp is to develop a greater sense of awareness for nature in children, have them understand the structure of plants and celebrate the uses of nature in food, shelter and the ecosystem.
Together with wonderful partners City Sprouts, Nature Explorers School, The Music Scientist and Better Trails, Little Day Out will be bringing the campers into the roots of nature and get hands-on planting, crafting, tasting and creating.
The World of Plants
On the first day of Green Explorer Camp, The Music Scientist will be introducing campers to the world of plants, their shoots, roots and their functions. The Music Scientist provides holistic learning experiences by making science fun through eye-catching visuals, songs, experiments and demonstrations. With purposeful original compositions and choreography, campers will learn science facts easily through Music and Movement.
Urban Farming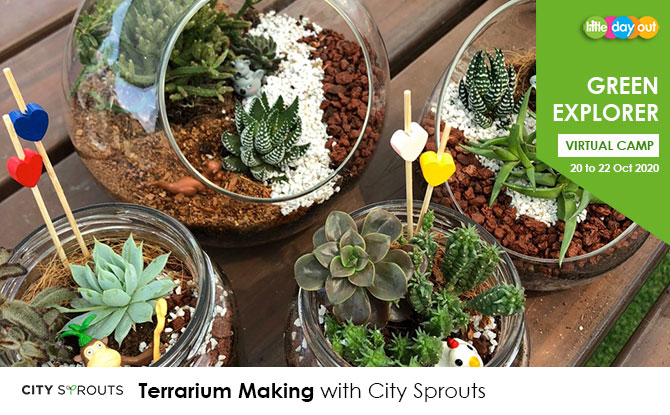 After learning about plants, campers will learn about caring for succulents, urban farming in Singapore, why growing our own food is so important and create their own personalised terrariums. This reinforces the concept of an ecosystem and the elements to successful plant growth. City Sprouts is a family of farmers, engineers and educators with one mission – to sow the seeds that sprout multi-generational relationships and that urban rejuvenation can coexist with the love for nature.
Learning about the Environment through Clay Crafting
Campers will get their hands busy on the second day of virtual camp learning how to minimise their impact on the environment coupled with making a clay animal with Better Trails. The air clay craft session will enable the children to observe nature and learn to use their keen sense of observation in crafting. Better Trails is a social enterprise founded to promote the ethical use and responsible enjoyment of the outdoors through environmental education and outdoor recreation.
Outdoor Skills & Campcraft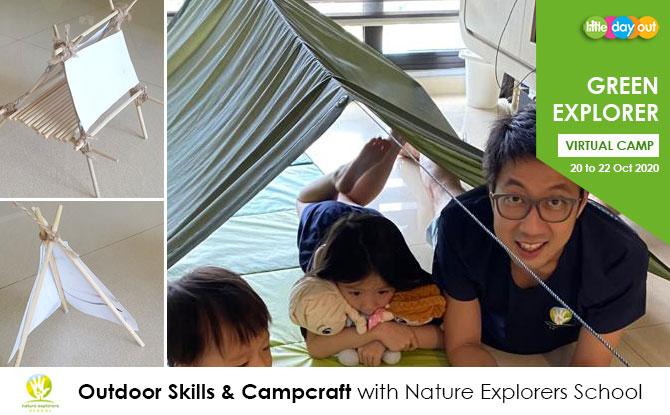 Following which, Nature Explorers School will be honing outdoor skills and campcraft with a lesson on teepee tent as well as constructing an A frame. The skills will be useful for both indoor and outdoor scenarios. Nature Explorers School provides Forest School classes and leverages the natural curiosity of children to provide a holistic education.
Sign Up and Get a Fun Camp Kit
Camp fees are inclusive of a terrarium-making kit, butterfly pea experimental kit and air clay and acrylic paint kit as well as delivery of the kits.
Get a preview of past virtual camps here and our recent outing here.
Sign up for Green Explorer Camp now!
---
Green Explorer Adventure – Fun Outdoors for the Autumn Break at Sprout Hub, City Sprouts' Urban Farm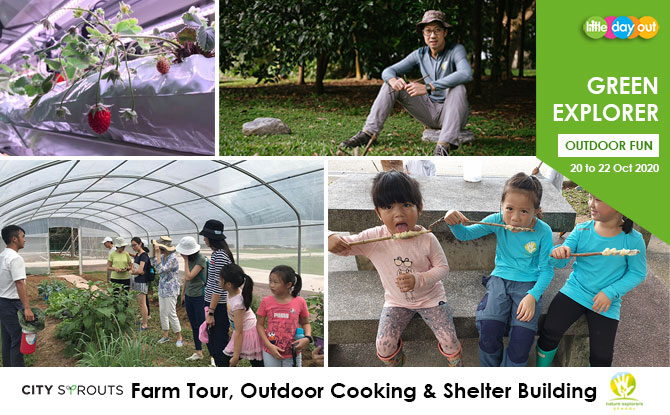 Eager to have some fun in the sun? Join us for our Green Explorer Outing at Sprout Hub, an urban farm at Henderson Road on 22 October 2020.
Participants will go on an urban farm tour at City Sprouts' Sprout Hub, play "old school" games, learn to cook outdoors and build a sturdy shelter with Nature Explorers School.
City Sprouts will be hosting this Little Day Out. Is growing food possible in the city? Sign up for a chance to understand more about local food production, see Singapore's first plot-share urban farm up close, spot a Silkie chicken and even a strawberry hydroponic farm. The children will also hear from experienced urban farmers on how to keep their homegrown greens healthy. This lesser known spot in the heart of the city will be a discovery you wouldn't want to miss!
Apart from the urban farm tour, Nature Explorers School will be facilitating outdoor cooking and shelter building in a green setting. Did you know you can "bake" bread on a stick over a fire? Adventurers will also be making their damper bread and roasting marshmallows outdoors. (No wildlife will be harmed in this process.) They will get to enjoy their snacks in the comforts of their own DIY shelter.
What is an adventure without games? Participants of the Green Explorer Outing will be introduced to some "old school" games and learn to enjoy their time off screens. By playing with sticks, "stones" and "home-made" skipping ropes, it will be a quick blast to the past when children learnt to socialise with simple games.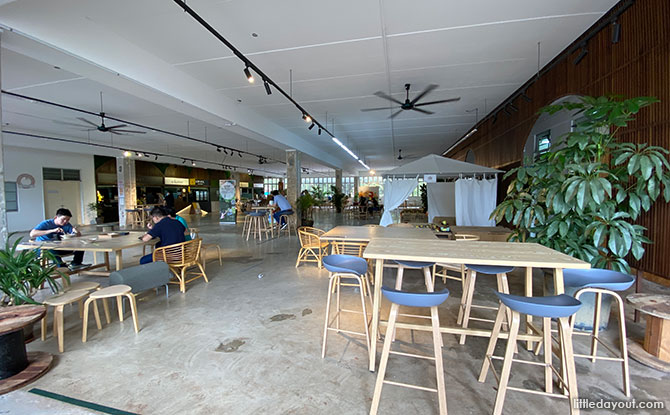 Parents can drop your little ones off for this half-day adventure and chill out at the Sprout Hub café onsite offering locally roasted single blends and sumptuous lunches, or visit the urban farm at your own pace.
Due to social distancing restrictions, spots for the Green Explorer Adventure are very limited. Register quick!
---

2-Day Green Explorer Virtual Camp
Dates: 20 to 21 October 2020, Tuesday to Wednesday
Session Times: 9 am to 10.30 am, 11 am to 12.30 pm
Where: Online via Zoom
Ages: 6 to 8 years old
Fee: $130
Camp fee is inclusive of activity kits including a butterfly pea experimental kit, terrarium kit and air clay kit as well as delivery of these kits.
Sign up for Green Explorer Camp here!
1-Day Green Explorer Adventure
Date: 22 October 2020, Thursday
Session Time: 8.30 am to 12.30 pm
Where: Sprout Hub, 102 Henderson Road, S159562
Fee: $130
Get a gift of a book from the Nature Playtime Series written by Sophia Huang when you sign up for the Green Explorer Adventure. The books from this series feature seeds, flowers, leaves of plants and include information and craft activity pages to interest children in playing and learning outdoors. 
Sign up for Green Explorer Adventure here!
Get a $10 discount when you sign up for BOTH the Green Explorer Camp and Green Explorer Adventure here.
---
Stay in Touch for Future Little Day Out Camps
If you would like to participate in future Little Day Out camps, do fill in the form below so we can get in touch with you!