After an exciting and enriching week of virtual online camps in September, we headed out for two exciting outings – a Nature Discovery Walk at Pearl's Hill City Park and Orienteering as a Sport at the grounds of Phoenix Park!
---
Nature Discovery Walk at Pearl's Hill City Park
Led by Better Trails, we spend a morning getting acquainted with the lush, green Pearl's Hill City Park.
Our engaging guide shared many stories about the flora and fauna of the park. This was an interesting way to be introduced to different types of plants and kids were especially happy when they got to discuss and learn about the different creatures that lived in the area.
We had never known that such a wide variety of plants could be found at this hidden city park. It was a new experience for many of us and we left with a new appreciation for flora such as the crepe ginger plant and the casuarina's fruit!
We also discovered answers to interesting questions like "How did Pearl's Hill get its name?" (you can find out the answer here!) and were reminded to take the time to notice the variety of flowers, plants and trees present in our beautiful garden city.
---
Heritage Tour At The Secret Bunker
From Pearl's Hill, we headed down to the Former Combined Operations Room Exhibition with our guide Mr George Matthews, an ex-police officer. The exhibition room held special significance for Mr Matthews as his first posting was at the Command Operations Room where he was stood guard at the entrance on eight-hour shifts.
He was able to share many personal stories and facts about the Former Combined Operations Room. For example, we learnt that this was where major crises, such as the 1969 racial riots, were managed.
We were very excited as we discovered more about the hidden bunker and the different rooms that were within the bomb-proof bunker. The room that intrigued many was the one which had information panels about the riots of the past. This made us reflect about the importance of keeping the peace in Singapore.
Another interesting location was the map room. This was where a staff officer and his team would receive and plot out all the information received from various sources.
Together, the Nature Discovery Walk at Pearl's Hill City Park and Heritage Tour was an enriching and educational way to spend the morning. It was a good opportunity to appreciate nature and learn not to take for granted the safety and security of our country.
---
Orienteering for Kids: Navigating Around Phoenix Park
In the afternoon, Osportz conducted a thrilling orienteering outing that brought us around the grounds of Phoenix Park. This family-bonding adventure required us to navigate to different pit stops marked out on the map as quickly as possible.
The outing started off with an introduction to the unique sport of orienteering.
We learnt about "sequence orienteering". This involved visiting different checkpoints within a course in the right order and within the shortest time. The checkpoints were marked by emojis which meant we had to go on a unique "emoji hunt".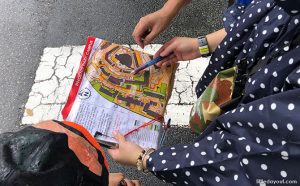 After being familiarised with the equipment used in orienteering, we were off, navigating with a map and around a series of locations at Phoenix Park.
There was also a fun challenge to look out for specific spots where photos were taken. This kept everyone on the look out for uniquely-shaped windows and other distinctive features!
Even though it poured halfway through the outing, this did not dampen the fun! Instead, everyone took it in their stride as part of the challenge.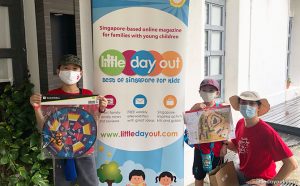 The first team to complete the entire course got a prize along with some hearty congratulations.
The outings where a great opportunity to spend time in the outdoors, learning from Mother Nature and picking up new skills. We look forward to more outings to come.
---