As a child, my mother would find means and ways for us to ingest our daily vegetables. One of the ways that left a lasting impression on me was the healthy snack, named 'ants on a log'.
No Ants Were Harmed In The Making of This Healthy Snack for Kids
Rest assured, this snack for kids does not call for either real ants nor a real log. However, the visual combination of raisins gleefully sitting on a peanut butter-coated raw celery stick has stuck in my mind ever since childhood – much like super-sticky peanut butter.
Essentially, to make this visually arresting snack, raisins are used as 'ants' and a peanut butter coated celery stick represents the log.
Substitute As You See Fit
However, as my children are not big (nor small) fans of raw celery sticks, I chose to substitute the celery with raw cucumber. And, they absolutely loved it.
---
-- Story continues below --
You can save your preparation time and turn this into a fun food activity by making your kids do up the snack on their own. A win-win solution, hey!
Here's how you make this tantalising snack.
Ants on a Log
Ingredients:
Raw celery or cucumber sticks
Peanut butter (you can opt for the sugarless version for a healthy choice)
Raisins
A butter knife or plastic knife (whichever is age appropriate for your child)
Method:
Cut up the raw celery or cucumber in thick sticks, resembling logs. Put them in one compartment or one side of the plate.
Dish out some peanut butter and portion out some raisins, to be placed on the same plate.
Hand the plate to your child and watch as they wow you as they construction their 'ants on a log' masterpiece. Join in the fun and make your very own too!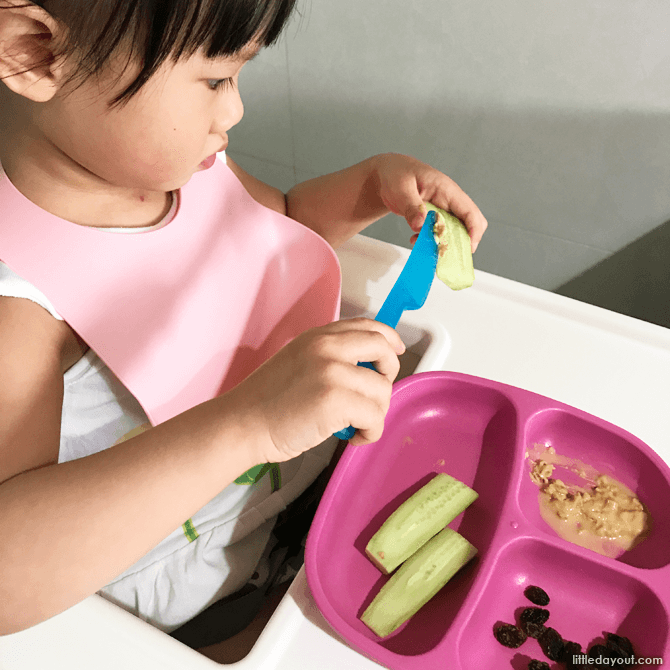 This super easy and healthy snack-activity will definitely win over small tummies and big hearts. Enjoy!