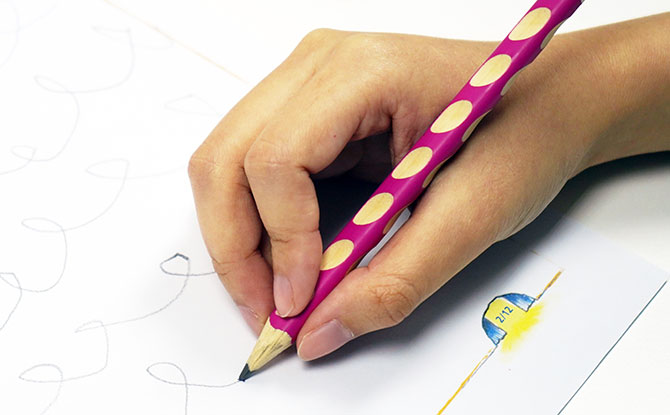 Why is handwriting important in this digital era – you may ask? These days, typing is commonplace and communication can take the form of a sound bite or video recording. And with the progress of artificial intelligence, only the brain needs to work – right?
While the advent of technology has encouraged the fingers to work less, handwriting skills are vital. They are a basic measure of focus, according to Titus Lim, an Occupational Therapist and Handwriting Specialist.
Scroll to the Bottom to Find Out How You Can
Win a Fun Family Playcation
---
Why Handwriting Skills are Important in the Digital Era
To be able to write is more than just moving your fingers. It is an organisation of thoughts with attention to penmanship, kerning, punctuation and a firm grasp on language. Simply put, handwriting is a very demanding task.
In our education system, national exams are handwritten. When preschoolers enter primary school, they are expected to write, copy and form sentences. That is where the ability to grasp a writing tool like a pencil or pen is important.
---
-- Story continues below --
Pre-writing and Writing Developmental Milestones
Did you know that developing handwriting skills starts from 3 to 4 years of age? As your child grows older, there are different development milestones that you can use to measure their progress.
Pre-writing skills
12 to 18 months: Imitate spontaneous scribbling with a thick marker, or a giant pencil
19 to 24 months: Imitate vertical and horizontal strokes and circles
2.5 to 3 years: Accurately copy vertical, horizontal lines and circles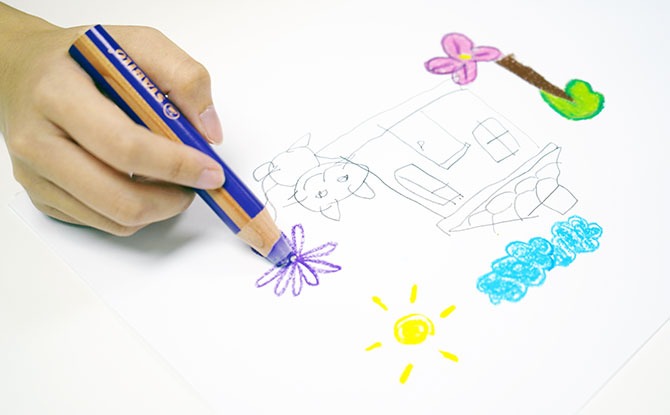 4 to 5 years: Copy cross, square, triangle and "x", begin forming letters in his/her name
5 years: Hand dominance established for fine motor skills
Writing skills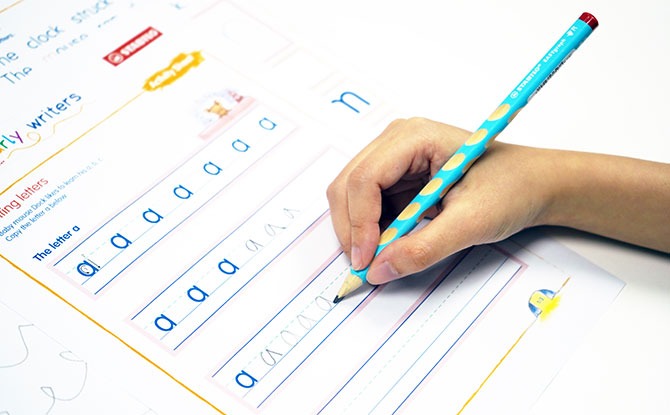 6 years: Copy or write name, write the alphabet without omitting letters and write in upper and lowercase
7 years: No longer reverse letters of the alphabet, use appropriate capital letters and punctuation in complete sentences.
In addition, you can use the following guide to determine if your child is using the appropriate handgrip for his or her age.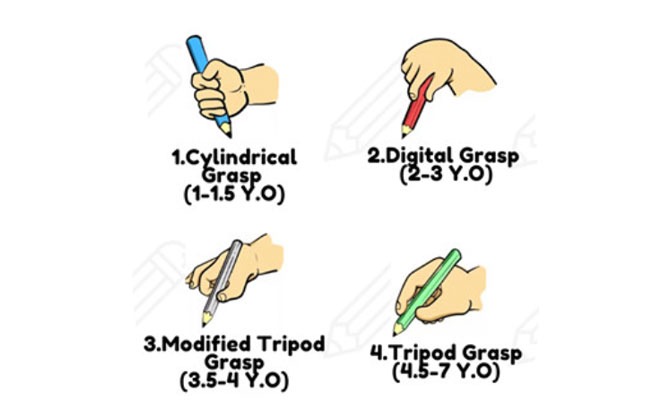 These are just general guides and children may differ in the rate of their gross motor skills development. However, if it appears that some milestones have not met yet, occupational therapy can help, if necessary.
---
How to Encourage Good Handwriting and Penmanship
So how can we nurture good writing habits from a young age? We get some advice from Titus.
Pre-writing Skills
With pre-schoolers, there are various ways to encourage fine motor skills, the foundation of pre-writing skills.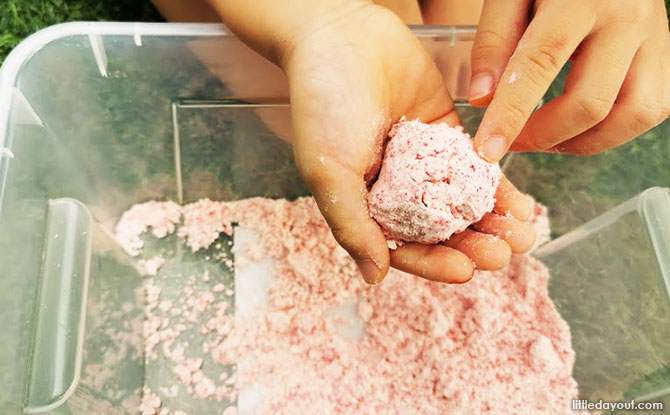 Playing with playdough, plasticine and small objects such as LEGO pieces and coins are good ways to practise finger control. Manipulating small objects, even tiny pieces of fruit are great for strengthening the pincer grip.
Drawing or doodling is good practice at the pre-writing stage too. Choose large pencils such as the giant-sized STABILO Woody 3-in-1 Colored Pencils which a bigger grip surface for little hands. These make it easier for them to hold and have fun drawing and colouring.
Encouraging Good Handwriting in Kids
After mastering pre-writing skills, Titus has the following suggestions to hone your child's writing skills.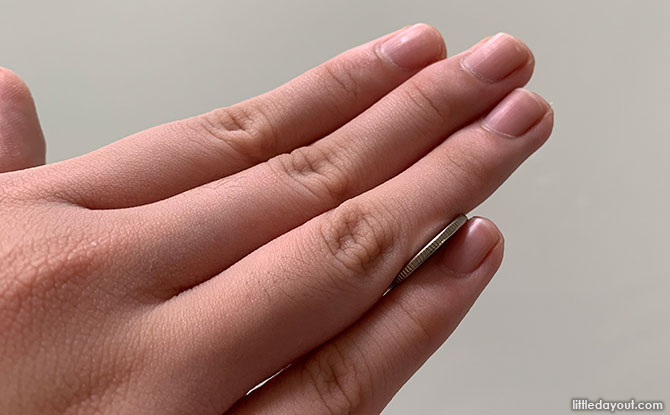 Get him or her to hold a 20-cent coin using the ring finger and little finger. This isolates the fingers and leaves the rest of the fingers to grip a pencil.
To encourage the correct slant, you can also put an elastic band on the wrist while holding the pencil shaft. This helps in applying the right pressure on the paper.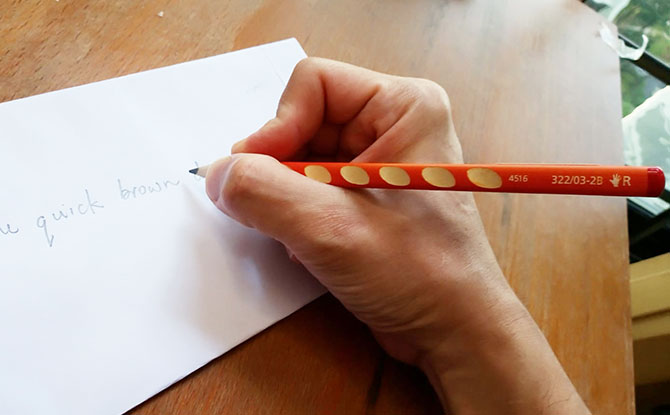 Titus also recommends a handy tool – the STABILO EASYgraph pencil. It guides the child where to place the fingers on the markings naturally.
Encourage some copy work too. This aids the child in observing the correct way of writing letters and words neatly. It is also a way of learning new words. There are many fun handwriting books available so the task doesn't have to be a tedious one.
Finally, get your child to start a journal or diary. Write about any events or outings, an unforgettable encounter. This helps with handwriting practice as well as story-writing in advanced grades.
---
STABILO's Stationery Helps with School Readiness
STABILO has a range of writing instruments specifically designed to help your child at the pre-writing and early writing stages. It helps to correct any issues early on and inculcates the correct grip from an early age.
STABILO EASYgraph as a first learning pencil for early writers. It has grips along the entire length of the pencil which serves as both a visual cue and an easy grip for young children. This helps the child to form a natural grip on the triangular pencil.
Older children ages 6 and above will love the STABILO EASYergo. This stylish mechanical pencil even comes in a version for left-handers and will find pride of place in the pencil case even as your child heads to primary school.
To purchase STABILO stationery to help with handwriting prowess, visit the STABILO shop on Shopee or Lazada.
This feature is brought to you by STABILO.