We enjoy a nicely done cheeseburger and, nowadays, there are many different options available including Shake Shack and Five Guys. However, one of our local favourites when it comes to a burger on the more premium side but is Hammee's. And now, Hammee's has introduced a new Classic Beef Cheeseburger v2.0.
Located on the second floor of Commonwealth Crescent Market and Food Centre, Hammee's has been around since late 2018. We first gave it a try a year ago and just so happened to be planning a visit when we saw that it was going to be launching a new Classic Beef Cheeseburger v2.0.
Hammee's Cheeseburger V2.0
The new Hammee's cheeseburger v2.0 featured an "upgraded" beef patty, source from Huber's Butchery. These new beef patties are never frozen. According to the signboard at Hammee's, "Our beef patties are never frozen, fresh hand formed every single day and contains no growth hormones."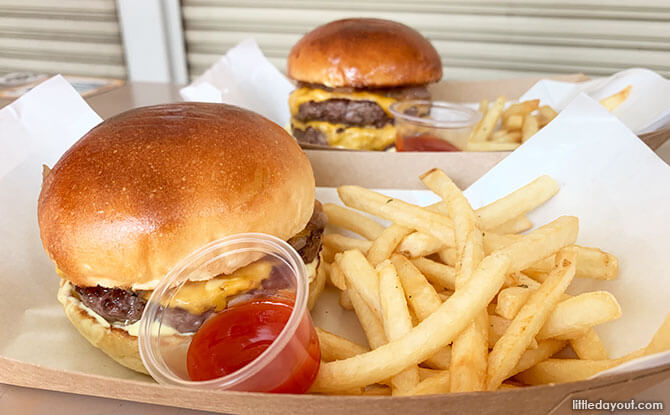 The Classic Beef Cheeseburger v2.0 comes with toasted burger buns, slow caramalised onions, American cheese, the handmade beef patty, chopped pickled jalapenos and homemade burger sauce. It is served with a side of fries.
For the time being, it is available for $6 as a single or $8 for a double.
According to Hammee's Instagram page, because they have chosen to make use of these premium patties, they will have to increase the price by an additional $1 for the single and $1.50 for the double. This price increase will take place from 18 March 2020 onwards even though the new patties will already in use from 5 March onwards.
Biting In
We tried the new Hammee's cheeseburger 2.0 and it was nice with a juicy patty, just as we remembered it. Even with the increase in price, we think it still is reasonably priced for a quality product. At least, we can find a seat at the hawker centre, compared to some of the other new burger places. Plus, we don't mind supporting our local food stall owners.
For those who don't want the beef cheeseburger, the chicken burger is still available.
Perhaps, the only complaint we have is the wait time. Although we arrived very early, just after the shutters were raised, we still had to wait half-an-hour for our burgers to be ready. So, if you planning to head down, be mentally prepared to wait for your burgers.