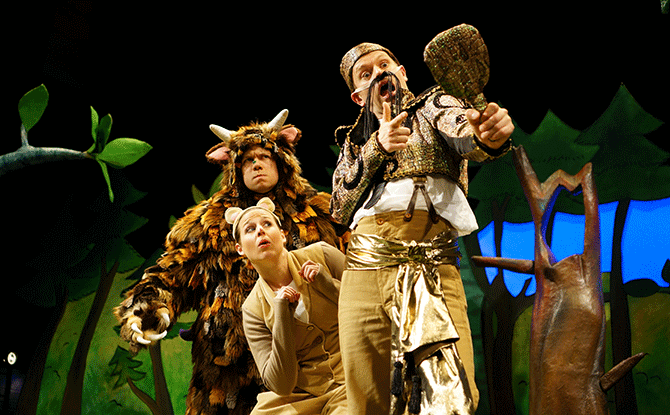 Our reviewer, Carolyn, heads to KidsFest 2018 to watch The Gruffalo – Live on Stage. Read her review of The Gruffalo at KidsFest 2018 below.
What happens when you are someone's idea of a meal? Or when your imagined monster is actually real? Adapt to survive!
A Timeless Classic
The Gruffalo is a simple, appealing adventure perfect for the family. It was the very first time my family has caught it, although we had heard so much about this production. It was already promising to be value for time as the kids kept laughing aloud at the trailers on YouTube. So off to Victoria Theatre we went for the opening show!
Familiarity breeds love in The Gruffalo coming to Singapore once again.
---
-- Story continues below --
Produced by Tall Stories (UK) and presented under KidsFest 2018, this musical adaptation of writer Julia Donaldson and illustrator Axel Scheffler's picturebook was entertaining for adults and children at different levels. No wonder it has become an annual staple at KidsFest! The kids loved the brave little mouse with its imaginative survival skills to learn not to be afraid of the Deep Dark Wood!
Humour and Adventure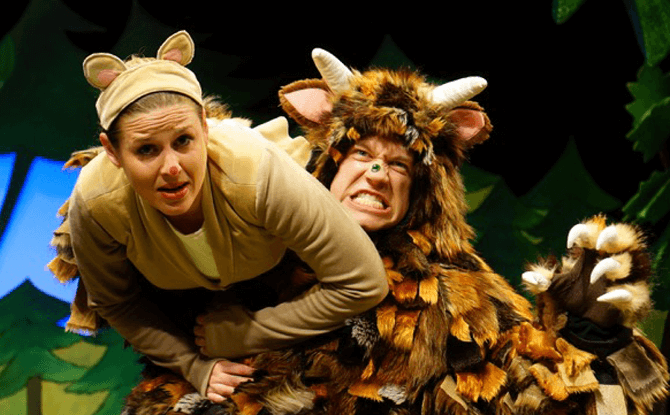 Revolving around Mouse's quest for food, this stage production crams clever choreography, humour and adventure into an hour-long whimsical performance. It was a joy to journey with Mouse (Lauran Scott-Berry) in its search for a Nut, encountering a crafty Fox, an odd general Owl and a vain dancing Snake (Alastair Chisholm) and finally The Gruffalo/Storyteller (Neil Jennings) in the Deep Dark Wood.
And oh what a magical wood, with its whispering wind, moving trees, leaves that transform into butterflies, a woolly cap that turns into a bunny, and twinkling fairy lights in a log pile!
We had wondered if the Victoria Theatre may be too big for what may be a more intimate theatre production but the forest-themed set up was just right. The stage was beautifully set up for the Mouse and the rapt audience to get lost in the three-dimensional Deep Dark Wood with its vibrant shades of greens and browns.
Venture Into The Deep, Dark Woods With The Gruffalo At KidsFest 2018
I was concerned that my seven-year-old or even my self-assured five-year-old may find it too kiddish. No way. They were entranced and drawn deeper into the wood as the story grew, to appreciate the show in different ways. Clearly, the thrilled faces of other older children who must have grown up with The Gruffalo says it all! The acting and pacing of the cast of three in this highly energetic singing and dance romp was seamless with spontaneous reactions and worked the crowd for timely interactions.
The cute Mouse with a Nut Map on hand is instantly appealing to the young theatre-goers. The narrative is structured along a series of encounters with different woodland creatures in characteristically colourful costumes and distinctive quirks but with a common goal: to have the juicy Mouse for lunch, tea or dinner. When Mouse asked Fox and The Storyteller what they would be having for lunch, both added  "kangaroo" rather unexpectedly to the menu list, an improvised nod perhaps to this touring production's previous stop at the Sydney Opera House just last December.
While the rhymes in the picturebook went well into the musical script, the catchy songs by a team of lyricists and composers from JollyGoodTunes fleshed out each character and its unique quirks. "Gr…gr..gr…Guffalo!" was especially jaunty and singable, which made it rather endearing, although still scary with its "terrible tusks and terrible claws, terrible teeth and terrible jaws".
Ultimately, we were all happy to get lost along the way in a funny fantastic journey into the Deep Dark Wood. The success of good children's theatre is simply appealing to audiences young and old, whether through actively engaging the imagination, clever direction, "more than great" acting (quote my son), and instantly hummable melodies. All in good physical, visual and musical fun.
Ideal for ages three and up but wonderfully accessible to audiences across ages.
There were simple pre-and-post-show activities in the Victoria Theatre foyer to complete the experience such as face/hand painting, colouring animal cutouts and free KidsFest balloons with goodie bags. And for new and old fans of the writer, more books to buy from the festival bookstore pop-up by Closetful of Books!
We only wished there were some snacks for sale too. Some Roasted Fox, Owl Ice Cream, Scrambled Snake or Gruffalo Crumble, would have been delightful, to top off the event!
KidsFest Singapore 2018
KidsFest 2018 kicks off the children's theatre season in Singapore with six delightful shows over four weeks at two venues. From 24 January to 11 February, young audiences will be delighted as shows such as The Gruffalo, The Gruffalo's Child, The Ugly Duckling, Hairy Maclary and Friends, What the Ladybird Heard and Erth's Dinosaur Zoo take to the stage at Victoria Theatre and KC Arts Centre – Home of SRT. 
Visit the KidsFest Singapore 2018 website for more information.
Little Day Out is proud to be the Official Media Partner of KidsFest Singapore 2018.