If you are wondering "where to eat" at Great World City, which has been rebranded as Great World, we've got some suggestions for you! We recently went on a Great World food adventure around the newly renovated mall and checked out some of the Great World restaurants and dining spots. Here are some spots that are great if you are with family and friends and looking to fill up hungry tummies.
---
Where to Eat: Great World Food & Restaurants
Malaysia Chiak!
The sister brand of Malaysia Boleh!, Malaysia Chiak! brings together a curated list of  popular stores found at the Malaysia street food chain. The dishes here are named after the towns they are from, so you'll be surrounded by stores selling Penang Char Kway Teow, Damansara chilli pan mee and Klang bak kut teh.
---
-- Story continues below --
We had the Petaling Street famous clay pot chicken rice which had chicken, Chinese sausages and Salted Fish. Upon mixing, the bits of crispy rice from the bottom was not overly burnt and added to the overall texture of the dish. This Great World food outlet is open for breakfast, so early risers can head over for a bite to start your day!
---
London Fat Duck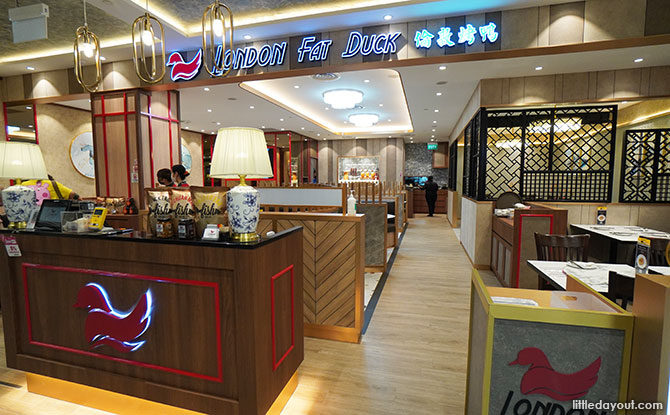 Since they first opened in Scotts Square, London Fat Duck has been establishing outlets around our little island. Boasting the "wagyu of ducks" or Irish duck, their Signature London Roast Duck is a must-try if you dine at its new Great World restaurant outlet.
Served with plum sauce and chilli, this crispy roast duck is great for sharing. Although some critics are still unconvinced that there is such a thing as "wagyu duck", we admit that the meat was delicious and of good quality. We do appreciate the spacious seating area at this Great World City outlet and see it being a great place for any type of big group meals.
---
Pittarino at &JOY Dining Hall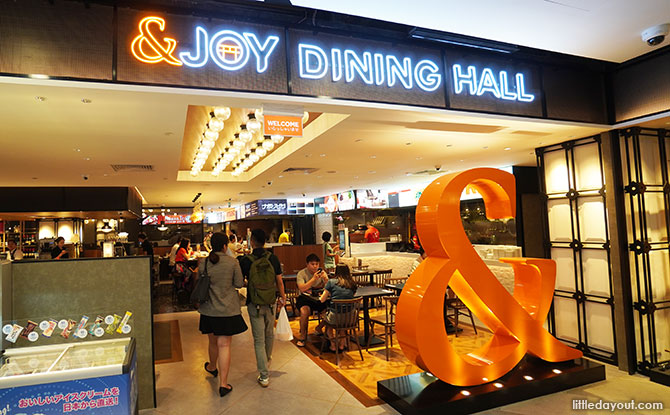 Offering a variety of Japanese speciality cuisines, &JOYDining Hall Outlet is a great place to head to if you're looking for Japanese Food. We had freshly baked, hand-stretched Neapolitan pizza from Pittarino, which is a Japanese phrase that means "just right".
We also had the Teriyaki Chicken and Scallion pizza which we enjoyed a lot. The cheese was stringy, and the crust was baked to a nice crisp. There was also a runny egg in the middle of a ring of spring onions and seaweed. Even though we found the pizza base at Pittarino rather chewy compared to other pizza bases that we've tried, we still quite enjoyed its unique texture.
Other dining options at the Great World &JOY Dining Hall include Ichiban Boshi, RAMEN KIOU and ROMAN.TEI.
---
Okinawan Diner Nirai-Kanai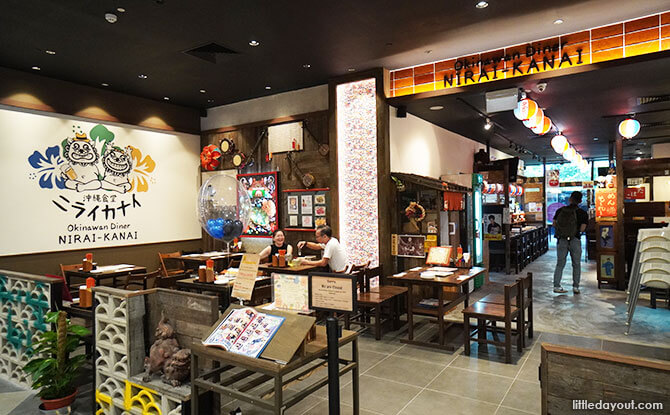 The only Okinawan diner in Singapore, Nirai-Kanai restaurant used to be located at Liang Court and has now taken residence in Great World. The dishes they serve are a little different from the usual Japanese dishes like sushi and sashimi but instead carry more stewed and fried items.
The item we sample was the Stir-Fried Bitter Gourd with Pork, Okinawan Bean Curd and Okinawan Egg. It is a classic Okinawan dish. Those with an appreciation for bittergourd will enjoy the well-executed, simple dish with its contrasting textures and taste.
---
Crystal Jade Hong Kong Kitchen
This familiar restaurant is a great place to dine with family and friends. Signature Cantonese dishes that they offer range from dim sum, congee and sizzling wok specialities.
The item that we tried was the shrimp dim sum, or har gao, which came in black and white variations. The skin was very delicate and wrapped a juicy shrimp nicely. Although there wasn't much of a difference in taste with the regular white har gao and the black squid ink har gao skin, we were glad that the potions were satisfying.
---
So Pho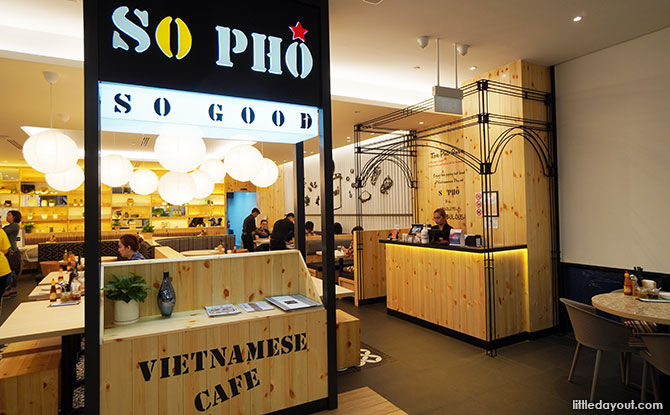 If cravings for a comforting bowl of pho hits, there's bound to be a So Pho somewhere nearby. Great World has an outlet and we tried the So Pho Special Flame Seared Marbled Sirloin Beef with Beef Balls Noodle Soup.
The Sirloin beef was flavourful and had a slight melt-in-your-mouth texture. The springy noodles and broth were as we remembered it. Other sides we've tried before at So Pho was their Fresh Summer Rolls and Hue Prawn Sugarcane Skewers which are also available on their menu.
---
Elemen Classic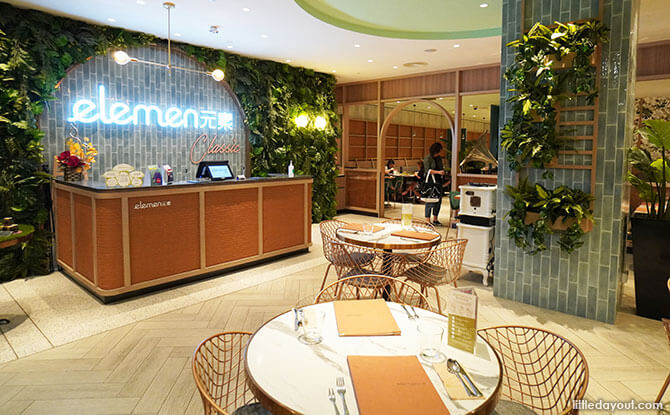 This casual dining Great World restaurant offers wholesome and creative meatless recipes that make use of natural ingredients. There are several other Elemen restaurants in Singapore at locations such as Millenia Walk and Harbourfront, but the "Classic" outlet offers more dishes with high-end ingredients such as truffle.
We sampled a vegetarian dish of stir-fried brown rice with king oyster mushrooms and asparagus. Although the rice was a little dry, we enjoyed the thoughtful presentation of the dish which came topped with edible flowers.
We also had the pastel purple sweet potato latte which had taro bits at the bottom. It was creamy and not too sweet. We liked it.
---
Tambuah Mas Indonesian Restaurant
Helmed by native Indonesian chefs, Tambuah Mas Indonesian Restaurant serves authentic Indonesian cuisine dishes. At this Great World restaurant, we had the signature Tauhu Telor, which is an original family recipe that dates generations back.
The golden tower of beancurd is fried in egg batter and drizzled with homemade spicy-sweet dark sauce. Not only is it impressive to the eyes but the light crispy batter was seasoned well. The texture was similar to that of it being air-fried and because it wasn't too heavily doused in sauce, this dish is excellent for pairing with other heavier dishes.
---
Jones The Grocer
If you've never had food at Jones The Grocer, you're missing out for sure. Not just a great place to pick up fresh good quality produce, you'll find a whole range of delicious dishes that will keep tummies filled from breakfast to dinner.
We had "The Ultimate Mr. Jones", which is a wagyu beef burger with smoked beef bacon, mixed leaves, cheddar in between two brioche buns. It came with skin-on fries and bois boudran sauce on the side. One bite of the burger and the well-seasoned meaty patty along with the tang from the pickles and saltiness from the cheese creates a burst of umami flavours in your mouth. The fries were well-seasoned, making the experience a very memorable burger meal that we will keep in mind on our next visit to Great World City.
There are other food and dining establishments at Great World including The Blue Ginger, The Dark Gallery, Kuriya Dining, Din Tai Fung, Tim Ho Wan, PS Café and Hotogisu Ramen. Many different Great World food options to check out on your next visit to the mall. Visit the mall website here.
Media Invite.