In the Little Stories series, we will be sharing about places around Singapore and little-known spots that we have come across. For this first in the series, we will be sharing about the gravestone of Mrs Jane Buyers at Lower Seletar Reservoir, not far from Rower's Bay.
Rower's Bay is a picturesque spot that can be found along the eastern edge of Lower Seletar Reservoir. While many may be familiar with the node and amenities at the corner of Yishun Dam and Seletar West Link, few will be aware of the gravestone of Jane Buyers at the other end of the park.
---
Gravestone of Jane Buyers at Lower Seletar Reservoir, Rower's Bay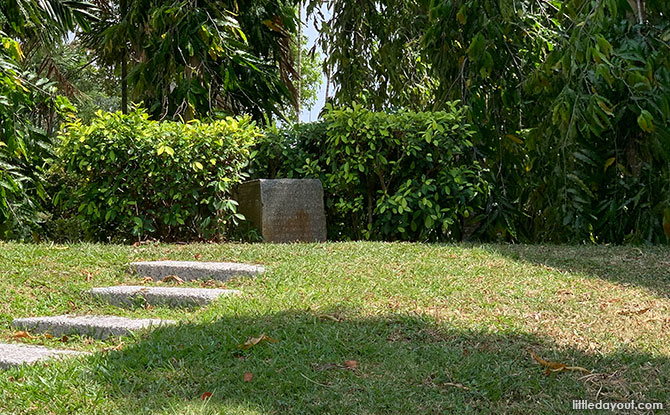 The gravestone is located along Seletar Club Road, close to the Lower Seletar Pumping Station. It can be found on a raised mound between the public toilet and the perimeter of Seletar Country Club.
---
-- Story continues below --
The inscription on the gravestone reads,
"Sacred to the memory of Jane, the beloved wife of JC Buyers, shipbuilder who died on the 14th June 1867, aged 42. Also their sons John and James who died in infancy."
---
The Buyers
Jane Buyers was the wife of John Craig Buyers who was originally from Sheerness, Scotland. He worked in Singapore from 1863 to 1885 as a shipbuilder. Together, J. C. Buyers and Daniel Robb had a small ship-repairing dock, which opened in August 1866, on the west side of Pulau Brani.
J.C. Buyers eventually returned to Scotland in 1885.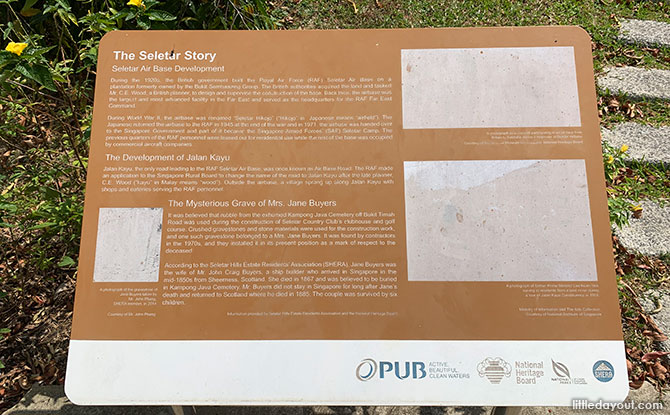 According to a informational signboard by the gravestone, it is believed that Jane Buyers was originally buried at the Kampong Java Cemetery, off Bukit Timah Road.
When the cemetery was exhumed, rubble from the cemetery was used to construct Seletar Country Club. Contractors found the gravestone in the 1970s and placed it aside as a mark of respect.
The gravestone is of historic significance as it is amongst the oldest that can be found in Singapore. It provides a connection back into the lives of those who came to Singapore the 19th century, albeit in an unusual location.