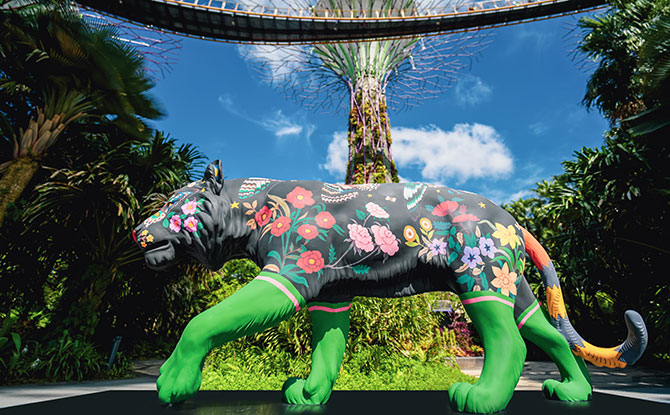 Go on a hunt for tigers around Singapore – life-sized tiger sculptures, that is – as part of the WWF-Singapore's AR-mazing Tiger Trail, an effort to raise awareness of tiger conservation and other environmental issues.
WWF-Singapore's AR-mazing Tiger Trail features 33 tiger sculptures site at different locations around Singapore.
Each tiger sculpture has been turned into an artwork by a local or international artist. The art represents perspectives on how climate change, poaching and deforestation are affecting tigers in the wild.
The WWF-Singapore's AR-mazing Tiger Trail is divided into three mission trails. On each mission trail, you have to locate the sculptures and activate either a quiz or an AR filter at the sculpture. Find all the tigers to complete a mission to unlock mission badges.
---
-- Story continues below --
Get more details and register for the WWF-Singapore's AR-mazing Tiger Trail.
---
Tigers at Gardens by the Bay
The largest cluster of tiger sculptures can be found at Gardens by the Bay. They can found on a trail that stretches from Canopy area outside Flower Dome to close to The Meadow. Among these tigers is one which has been decorated by Rolling Stones guitarist Ronnie Wood.
As part of a community engagement experience at Gardens by the Bay, the public can pick up a free Tiger Trail Passport from the event information signboards located at the Gardens' Main Entrance and Canopy to embark on a mini adventure trail around the Supertree Grove.
They can learn about the Gardens as they search for the tigers, and collect emboss stamp designs at each tiger sculpture. They can enjoy discounts at any participating merchant in the Gardens upon presentation of the Tiger Trail Passport.
The exhibition of tiger sculptures is free and will be ongoing till 9 April 2022.