Enjoy viewing Cherry Blossoms at Gardens by the Bay's Flower Dome from 16 March till 8 April 2018 at Gardens by the Bay's Cherry Blossom Festival. This year, the display of Cherry Blossoms is complement with different activities taking place around Gardens by the Bay.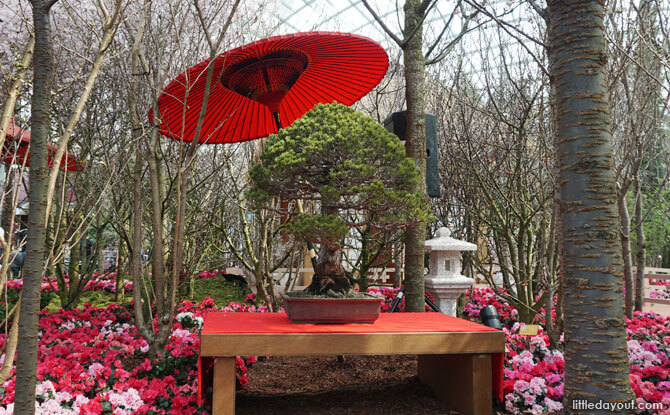 Here are five things to know about Garden by the Bay's Sakura Matsuri.
23 Varieties of Cherry Blossoms
This year's floral display showcases 23 varieties of Cherry Blossom brought in from Japan and Europe. These include the romantic weeping, Prunus "Snow Fountain" and favourites such as the Prunus "Accolade". In addition, Gardens by the Bay's Cherry Blossom Festival includes, for the first time, sakura bonsai.
---
-- Story continues below --
Sakura Matsuri Programmes at the Flower Dome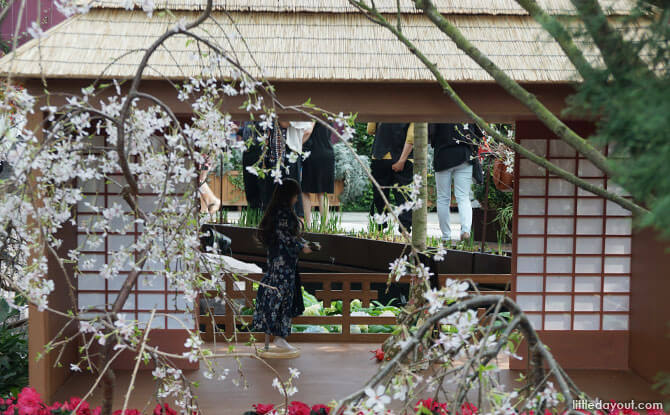 On selected days, there will be a series of performances and demonstrations at the Flower Dome and The Canopy. These mainly take place on 17 and 18 March and include Japanese Drum performances, a Kimono Parade and Kendo Demonstration.
Visitors can also look forward to a Japanese Tea Ceremony demonstration presented by The Japanese Association, Singapore on 17, 18, 31 March and 1, 7 and 8 April at 10 am, 11 am, 12 pm, 1 pm in the Flower Dome.
Programmes are free, but admission charges to the Flower Dome apply.
Anime Garden (17, 18 March)
On the first weekend of Gardens by the Bay's Cherry Blossom Festival, 17 and 18 March, there will be Anime Garden, an event held at Supertree Grove, The Canopy and the Flower Dome in conjunction with Sakura Matsuri. Anime Garden includes Pokemon Game Booths, which will be open from 3.30 pm to 11 pm, and a Pikachu Mascot Parade &Dance and Meet & Greet amongst other activities. Check the Gardens by the Bay website for latest timings and details.
Sakura Japan Fair (30 March to 8 April)
From 30 March to 8 April 2018, visitors to Gardens by the Bay's Cherry Blossom Festival can enjoy a specially curated Japanese fair organised in partnership with JTB Pte Ltd. It will feature different food & beverage options, performances and workshops covering topics such as Bento-making, Sake Appreciation and Baking. Visitors will be able to rent yukatas to wear and stroll about under the Sakura trees!
Learn About Sakura at Gardens by the Bay's Cherry Blossom Festival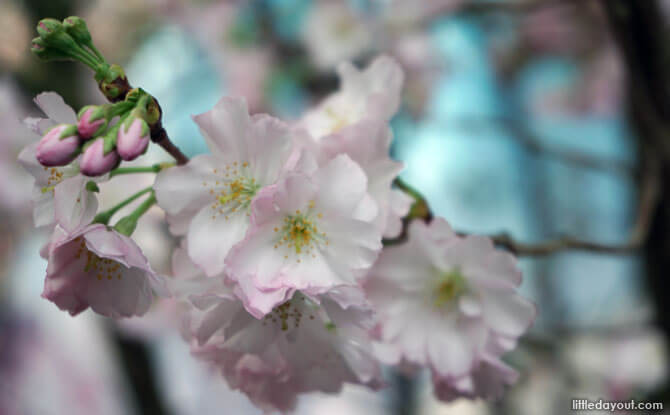 Visitors to the Flower Dome can also learn more about the cherry blossoms by picking up a Sakura Matsuri Garden Trail map or joining daily "ASK Me!" tours. The tours will be conducted daily at 11 am and 3 pm (2 pm – 5 pm on 24, 25, 31 March and 1 April). The tours last 15 minutes and are available on a first-come-first-served basis.