Sakura Matsuri at Gardens by the Bay brings pretty cherry blossoms to the Flower Dome. Step inside the cooled conservatory to make-believe you are in Japan, enjoying hanami or the viewing of the pretty cherry blossoms.
Sakura Matsuri, which means Cherry Blossom Festival, takes place at Gardens by the Bay from 16 March to 8 April 2018. During this period, visitors to the Flower Dome can experience the pink blooms which captivate Japan and other parts of the world (such as Washington) during this time of the year.
Viewing the Sakura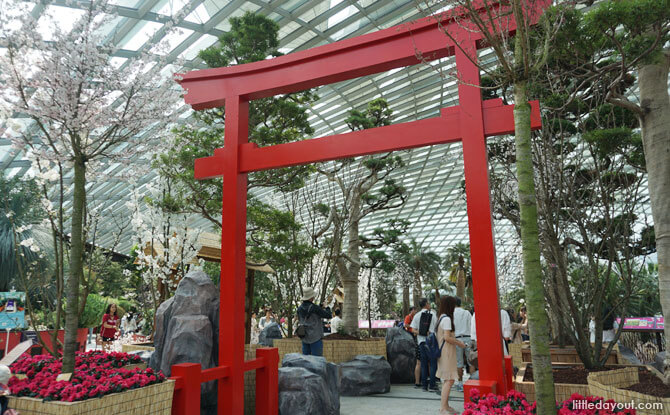 Upon entering Gardens by the Bay's Flower Dome, a red torii gate greets visitors. Step through the torii gate to get a view of the sakura trees at the Flower Field below.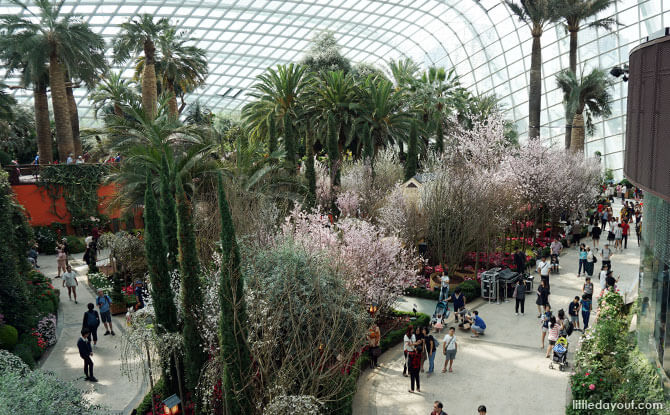 The cherry blossom trees line the paths around the Flower Field floral display area.
---
-- Story continues below --
These cherry blossoms at Gardens by the Bay come in different colours and varieties. These include the pale pink Prunus 'Accolade' and the white, five-petal Yoshino Cherry.
A Touch of Japan
Sakura Matsuri 2018 at the Gardens by the Bay Flower Dome also features decorative Japanese-themed display items. These provide a backdrop for visitors to take photographs around the floral display.
At the centre of the Flower Field is a traditional Japanese tea house.
Rickshaws stand as if waiting for their pullers to return from a break.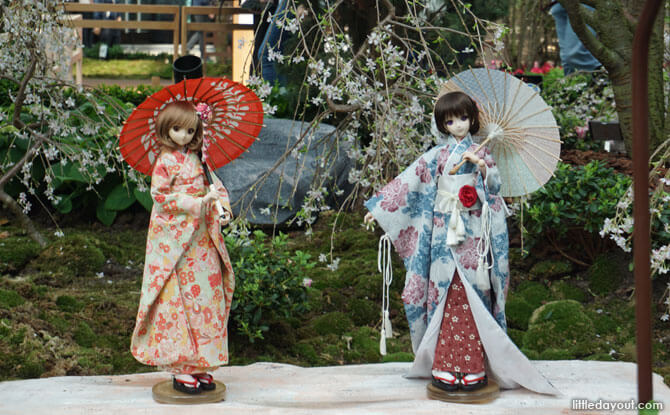 Another feature of the display at Sakura Matsuri at Gardens by the Bay is the Japanese resin dolls standing amongst the cherry blossoms. These lifelike dolls are dressed in traditional kimonos and are found at different locations throughout the Flower Field.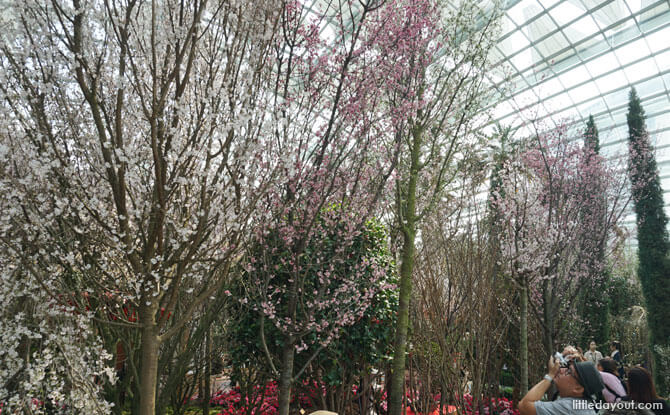 The cherry blossoms trees can be found in different stages of development. Some are still developing buds, but most are already in bloom, providing stunning opportunities for photos around the display area.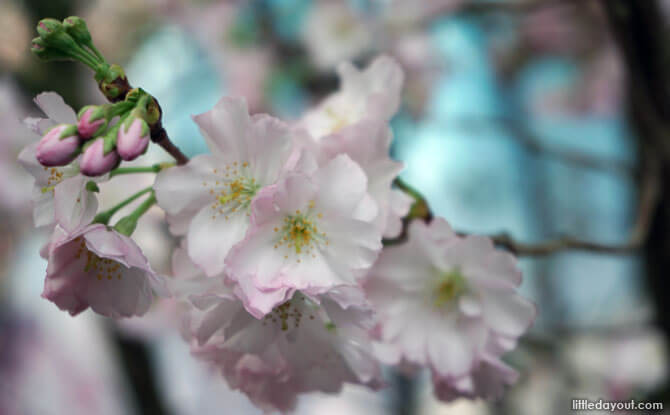 In addition to the cherry blossom displays, various programmes will be held between 17 March and 8 April 2018 within the Flower Dome. These programmes are free, but admission charges to the Flower Dome apply.
Sakura Matsuri 2018
Dates: 16 March to 8 April 2018
Venue: Flower Dome, Gardens by the Bay