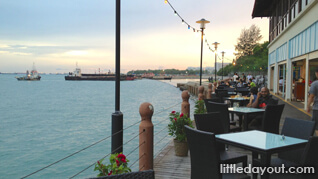 There is something about kicking back by the sea and leaving behind the scramble of the city. Dig into hearty good food, chat with old friends, and squintily watch your kids play nearby with the backdrop of the sparkling waters at waterfront dining spots.
If you're lucky, perhaps your meal is accompanied by a glorious sunset, dipping into the horizon of the sea. You know, slow down a little and enjoy the moment with people who matter.
Waterfront Dining
Here's Little Day Out's picks of the top family-friendly spots for waterfront dining, from hidden gems to the uproarious favourites.
Bistro@Changi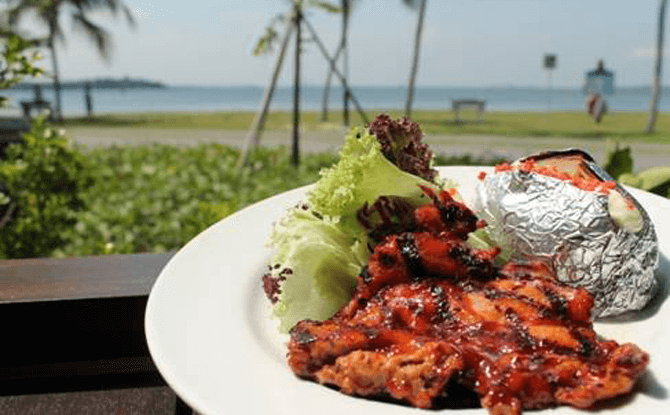 A chill, breezy dining spot with nary a care in the world, Bistro@Changi serves up hearty food like grilled chicken chop, fish and chips, pastas and seasonal seafood.
According to the bistro, seafood is delivered fresh by boat from the kelongs near Pulau Ubin; the catch of the day is always a nice surprise.
Located at Changi Beach Carpark 1 beside bicycle rental shop The Changi Pitstop, you and your tykes can kick back at the al fresco cafe after a good bike workout at one of the oldest coastal parks in Singapore. Watch the airplanes land and play 'guess the airline' with your kids, as the jumbo jets go really low. There's free parking after 5pm.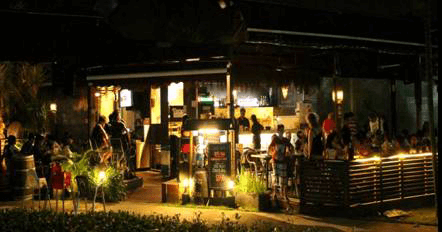 At night, the place transforms into a cosy spot under the stars – especially bustling during the weekends – with a decent selection of beers, ciders, and cocktails.
Belly View Cafe & Gurame
Belly good view – that's the reason for this cafe's cheeky name.
When we asked the lady boss of Belly View Cafe, she said, "There, look up!"
Look up we did (and gawk for a long while too), as we saw belly after belly of airplanes soaring above us. Our little ones had a good time counting the number and colours of the planes coasting past every now and then. Hey, and there's pretty decent zi char here to boot.
Right around the corner from Belly at the National Service Resort and Country Club is Gurame Indonesian Restaurant, a pretty pricey spot with a choice of indoor or al fresco dining. Come sunset, you get a beautiful view of the sea with your dinner.
Quayside Isle
Here are some of the family-friendly dining options at Quayside Isle, which is home to a slew of restaurants and retail shops along the Sentosa waterfront. Parking is free from 12 pm to 2.30pm on weekdays.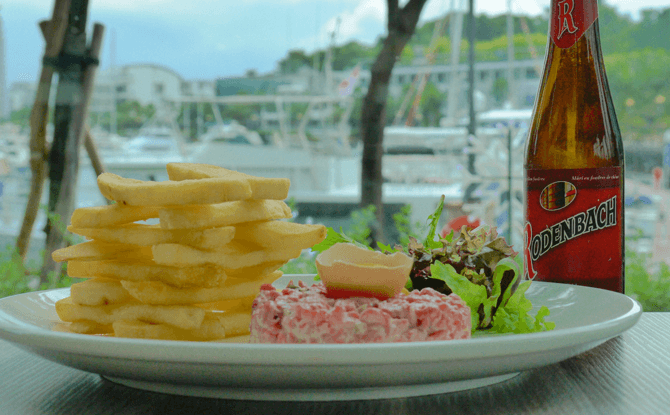 Brussels Sprouts' (#01-01) third outlet at Sentosa Cove is a tranquil, relaxed affair overlooking the marina. Away from the hustle and bustle of the city, the restaurant is a nice place for group gatherings and a family day out.
Of course, there is Belgian mussels and beer for mum and dad; the little ones can pick something off the kids' menu, keep themselves busy with the toys out on the lawn, or just doodle on the activity sheets at the table.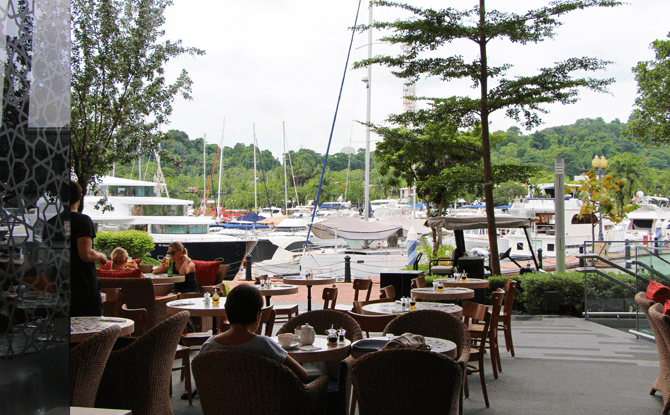 Go Mediterranean at Miska Cafe (#01-07), where fresh ingredients top the list and homemade sauces and dressings accompany a selection of draught beers, cocktails and non-alcoholic thirst quenchers.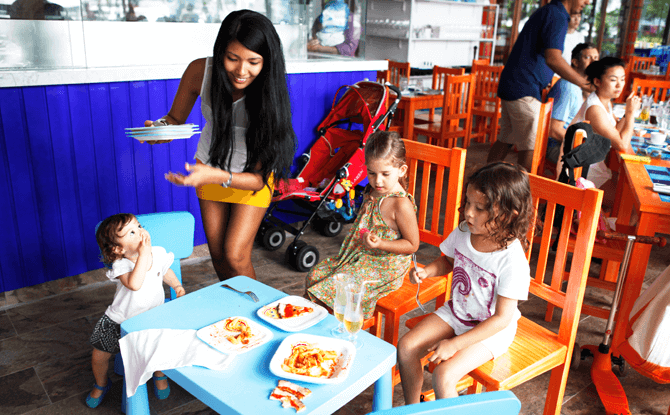 Let your hair down at Solepomodoro Trattoria-Pizzeria (#01-14), a cosy and casual restaurant which touts the mood of the waterfront taverns of Southern Italy. Italian classic rule the menu here: Pizzas, pastas, and grills. Don't forget to get a peek at the wood-fired pizza oven – one of few in Singapore – which was custom-built in Italy by a company who made ovens for the famous Pizzerie in Milan, Rome and Naples.
Kith (#01-08) is the sweet spot for coffee, with its own house blend and selection of espresso-based drinks. For food, there is all-day breakfast (till 5pm), salads, sandwiches and pastas, as well as a kids' menu.
Kith's third outlet at Quayside Isle also boasts a collab with high-end furnishing store XTR – just so you know you're sitting on some pretty swanky furniture. Sweet.
See our earlier review of Quayside Isle here.
Punggol Settlement
Watch the ships slide by along the waterfront dining destination that is Punggol Settlement, which used to be Punggol Jetty, a hot dining spot for seafood in the 1970s. The lazy vibe of the hot afternoons transforms into a cool, bustling foodie haven as the inky-black sea accompanies diners with a glistening spectacle of sparkling ships.
Newly-opened Horizon Bistronomy (#02-04) is a casual French restaurant with affordable prices and good food. Don't miss the umami explosion of the Chilled Crab Meat Angel Hair starter, the tender Duo Of Pork and the succulent Seared Kagoshima Wagyu Ribcap.
All hail the White Restaurant, better known as cult hit Sembawang Bai Mee Fen (white bee hoon). Yes, we were surprised, too, at the fancy new moniker given the obvious rebranding efforts. The famous bee hoon eatery, which boasts impossibly long queues at its first outlet in Sembawang, is now in Punggol Settlement. Blink at the modern, ivory-white interior furnishing!
Just The Place (#02-07) is a cosy bistro with European offerings on the menu – think pasta, grilled fish, steak tartare, truffle fries, and desserts like crepe, chocolate praline and creme brulee. Staff are friendly and helpful, and high chairs are easily available.
If you prefer something spicy, trot over to Trunk At Bay, a Thai restaurant next door to Just The Place.
Or take your pick of the many seafood restaurants at Punggol Settlement and dine al fresco right by the sea, which is kind of the point of the place. Or you could settle for air-conditioned indoor dining.
Old Hock Kee, now known as Ponggol Seafood, was a hot dining spot at Punggol Jetty in the 1970s. There is also House of Seafood and Jing Long Seafood, too.
See our earlier review on the fun and food at Punggol Settlement.
Privé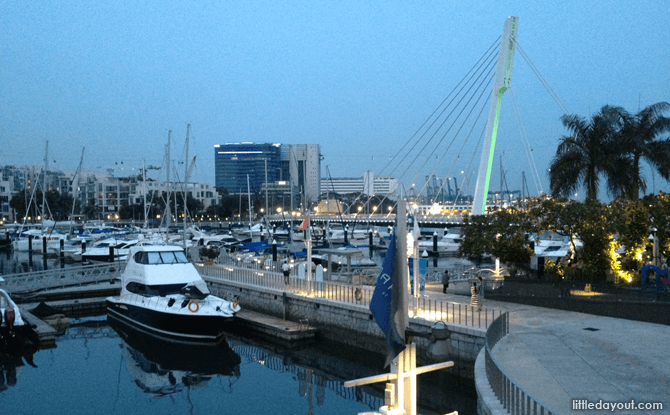 Privé at Keppel Bay offers a stunning view of the sea, with yachts bobbing close by.
Privé Cafe is a laid-back area with good breakfast offerings, while Privé Grill boasts the acclaimed Spanish-imported Josper grill for juicy steaks.
But it is the al fresco Privé Waterfront Bar, which serves up fresh oysters and cold bubbly, that the view is the best as you will be parked right next to the water.
SAF Yacht Club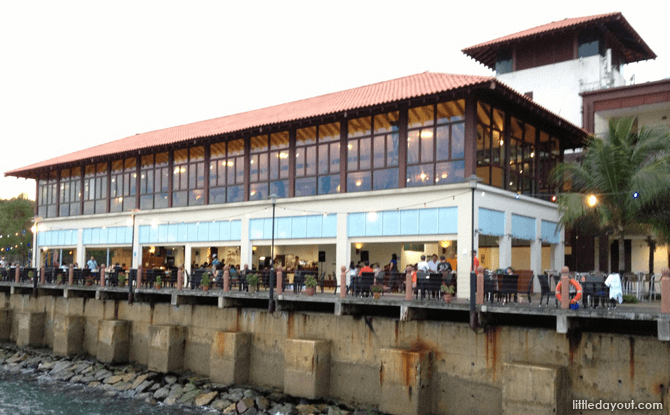 Grouper King Seafood Restaurant at SAF Yacht Club (Changi) is open to the public, situated right by the waterfront at the Boardwalk. And we really mean right by the straits, with great views of the sunset. With Changi Naval Base and Changi Airport located adjacent to the clubhouse, you can sometimes spot some battleships anchored at sea or planes flying overhead.
Raffles Marina Bistro
This dining spot at private club Raffles Marina is open to the public, with a good mix of Western dishes, and Asian food including local fare, Indian cuisine, and desserts. At Raffles Marina Bistro, there is a good view of the lagoon as you dine and enjoy the breeze in your hair. Can't decide? Their extensivemenu might sway you.
Canopy Cafe
Also part of another private club, Canopy Cafe at Marina Bay Golf Course is also open to the public. It's not exactly by the coastline, but you get good views of the marina and golf course on this cafe located on the second level, which also offers a variety of local and western dishes.