Telok Ayer is a ground-zero of the Singapore story. Its name means "water bay" and the area was once Singapore's waterfront, where migrants disembarked onto a tiny island far from home in search of work and opportunity. Nowadays, the district is an eclectic mix of history and modernity – a place digital businesses reside in historic shophouses; where traditions intermingle with hip establishments. This combination of old and new makes for a fair number of things to do around the Telok Ayer district.
Here are some things to do at Telok Ayer – perfect ideas for a bit of exploration.
Things to do at Telok Ayer
Thian Hock Keng Temple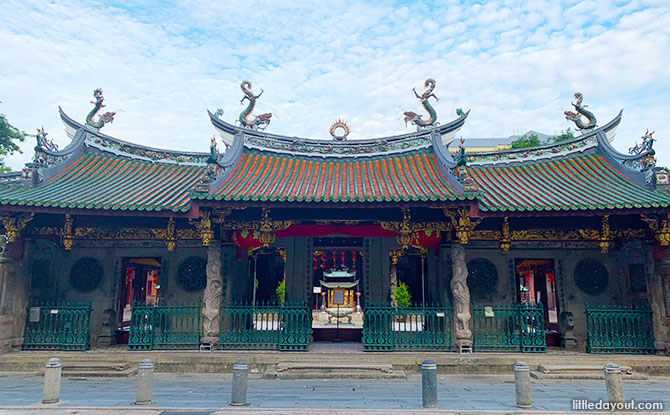 Thian Hock Keng temple was built in 1842 and is Singapore's oldest Hokkien temple. It was dedicated to the Goddess of the Sea and was where immigrants went to give thanks for a safe sea voyage. Nowadays, you can pay a visit to the temple or join special guided tours held around special occasions.
Nagore Dargah Indian Muslim Heritage Centre
A stone's throw away from Thian Hock Keng Temple is Nagore Dargah. It is a shrine built between 1828 and 1830 and dedicated to Shahul Hamid. It is now home to the Nagore Dargah Heritage Centre, inside which you can learn about the heritage of the Indian Muslim community in Singapore.
Appreciate the Heritage Buildings around Telok Ayer
Telok Ayer is filled with historic buildings. Information panels at the front of historic buildings tell of their significance and pedigree. It is interesting to pause and imagine the many lives that once made their way around Telok Ayer Street and Amoy Street as you walk around the district.
Go on a Mural Expedition
You will find buildings with colourful murals painted on them around Telok Ayer and the neighbouring Ang Siang Hill area. There are at least seven murals to be found in the vicinity. For those up to the challenge, see if you can find them all.
Well, Well, Well
The Telok Ayer district is also home to one of the few remaining wells in Singapore's Chinatown. It is located behind the row of shophouses along Amoy Street. Pay it a visit and be thankful that water now comes to us through a tap.
Have a Korean Feast
In need of a Korean food fix? There is no shortage of Korean food restaurants around Telok Ayer Street and Amoy Street. If you have hunger pangs, you can fill your tummies with Korean BBQ or yummy Korean chicken wings.
Amoy Street Food Centre
If your palette feels like something more local, there is the Amoy Street Food Centre. Fried Kway Teow, Lor Mee, Beef Noodles and Fish Soup are some of the hawker dishes the centre is known for. Stop by this two-storey foodie destination and tuck in!
Singapore Musical Box Museum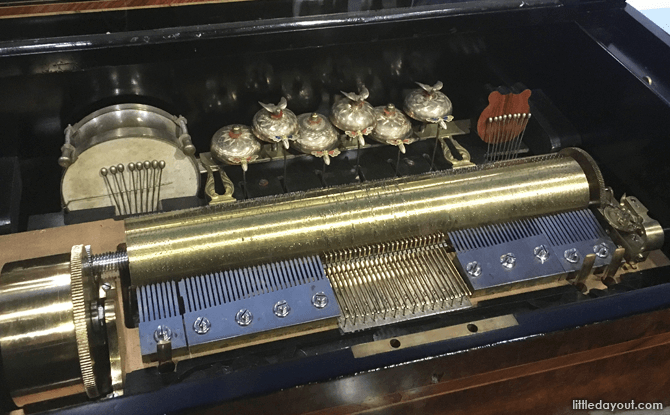 Discover the charming world of miniaturised music at the Singapore Musical Box Museum. The tour will enthral with stories about the marvellous micro-machines and inculcate an appreciation of the skill and craftsmanship that goes into the making of these intricate mechanical wonders.
Take a Green Break
In need of quiet break? Stop for a breather at one of two green spots around the Telok Ayer district.
Between Thian Hock Keng temple and Nagore Dargah is Telok Ayer Green, a tinyt park with sculptures that recall the area's past.
Telok Ayer Park, at the far end of Telok Ayer Street, is another green spot and also has a few sets of garden swings where you can rest your weary feet.
Have fun exploring!