Who doesn't remember the song "Hot cross buns, hot cross buns, warm and yummy, hot cross buns!"? Since everyone's home, we thought baking some hot cross buns for Easter would ward off the cabin fever, occupy the tiny hands, practise some scooping and pouring and learn some math too. We found the easiest hot cross buns recipe off King Arthur – which is mainly letting the mixer do the work and us waiting.
Get ready your ingredients!
Ingredients for Easy Hot Cross Buns: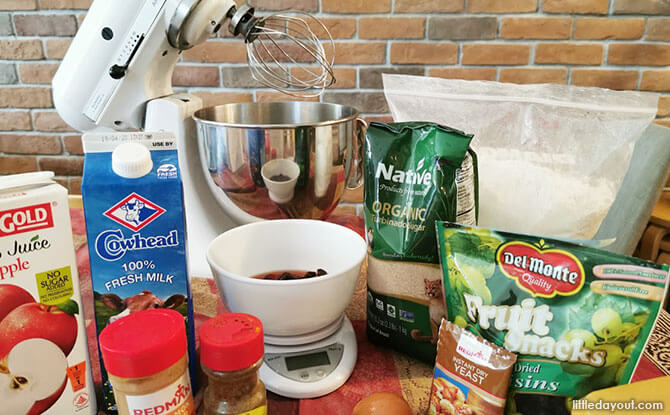 For the dough:
57g apple juice or rum
78g mixed dried fruit (we used frozen cranberries)
78g raisins
283g milk
2 large eggs, and 1 yolk (save the egg white)
85g butter or olive oil or coconut oil for vegan option
2tsp instant yeast
53g light brown sugar
1 tsp cinnamon
¼ tsp cloves or allspice
¼ tsp nutmeg
1 ¾ tsp salt
1 tbsp baking powder
539g All Purpose Flour
For the Egg Wash:
---
-- Story continues below --
Icing:
128g Confectioners' sugar
½ tsp vanilla extract
Pinch of salt
4 tsp milk
Instructions for Easy Hot Cross Buns
First, mix the rum or apply juice with dried fruit and raisins. Microwave briefly covered until fruit and liquid are very warm, or heat it over the stove shortly. Set aside to cool.
Then, mix in dough ingredients without fruit, knead mixture till dough is soft and elastic. You can use either a kitchen mixer or a bread machine. Then mix in the fruit. Kids will love measuring and pouring in the ingredients. It is also a good way to practise scoop and pour, measuring and learning about weight and fractions.
Let the dough rise for one hour, covered. It should become puffy.
Now it is time to shape! Punch down the dough and deflate it, give it a few kneads and then let it rest for 20 minutes.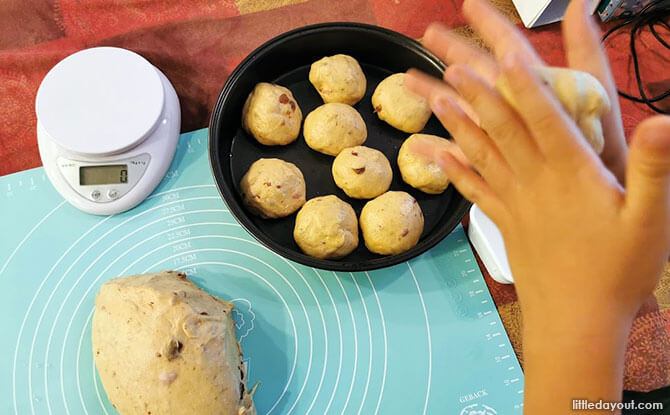 After 20 minutes, your little helper can help to divide the dough into 12 to 14 pieces. Then make them into buns. If the dough is too sticky, put some oil on your hands. Arrange them on a greased pan or pyrex container. Leave them to proof for another hour, until they are touching one another.
Meanwhile, sing the hot cross buns song and preheat the oven to 200°C.
Whisk together egg white and milk, brush it over the buns.
Load the oven with the buns, do be careful and ensure your child is standing far away from the oven. Bake until golden brown.
Cool them on a rack.
Mix together the icing ingredients and pipe crosses on the buns when they have cooled. Alternatively, you can roll the icing ingredients into strips and put them on the buns. This is an easier alternative for little hands.
Viola! Hot cross buns are done! Enjoy them!