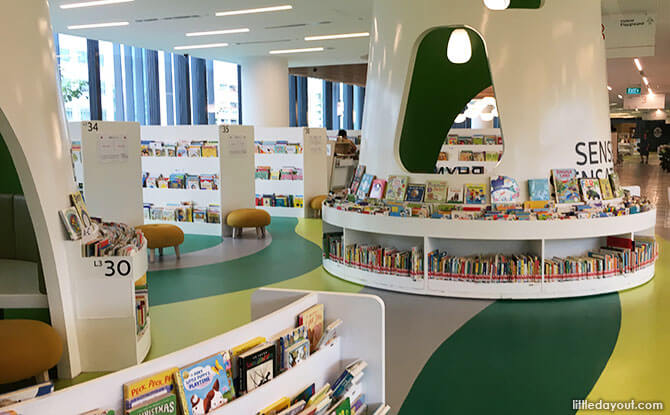 Early literacy libraries and spaces allow children to be introduced to the joy of books and reading from a young age. Incorporated into selected National Library Board (NLB) public libraries, these spaces within libraries for young children in Singapore are designed to increase the accessibility of books for children 6 years old and under.
Early literacy practices encompass more than reading alone – it includes skills such as playing talking, singing and writing. As children develop their abilities in these areas, they also develop their think skills and are able to express themselves better.
Within the NLB public libraries in Singapore, the various early literacy spaces have been designed to be conducive for little ones.
Features include shelves which are kept low and books are displayed with their covers facing forward for easier browsing. Books are organised by themes, making it easier for parents and children to zoom in on an area of interest.
For kids who are at a very young age, parents play an especially important role in stimulating the children's early literacy skills. Often best through parent-child activities, libraries for young children in Singapore cater to this by providing spaces for parents to read to their children and other resources stimulate an interest in books and reading.
NLB-organised activities for younger children include the Jiggle, Read & Rhyme sessions for 1 to 3 year olds and the Baby Lapsit Programme for parents with babies up to 12 months old.
Want to stir up your child's interest in books and develop his or her early literary skills? Here are where you can find some early literary spaces and libraries for young children in Singapore.
Early Literary Spaces and Libraries For Young Children in Singapore
---
Jurong Regional Library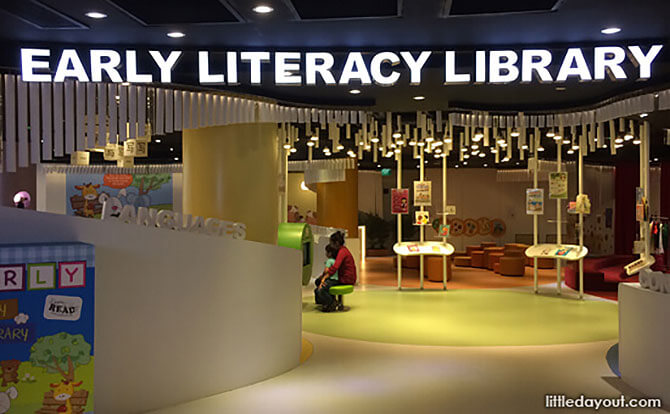 Singapore's first Early Literary Library was unveiled at Jurong Regional Library in April 2014. The early literacy section is located within the children's section in the basement of the library. Books are organised by themes and there are also various stations for kids to engage in early literacy activities.
---
Bukit Panjang Public Library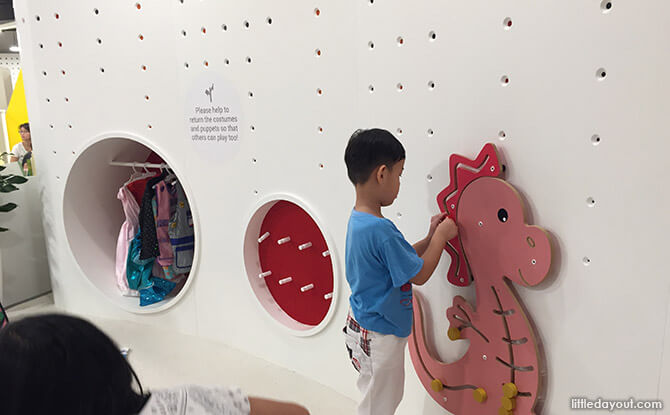 Revamped in 2017, Bukit Panjang Public Library now has a separate and dedicated children's wing. Inside the mountain-themed library for children, there are plenty of cosy seating areas and an early literacy area where kids can browse about for their favourite book.
---
Sembawang Public Library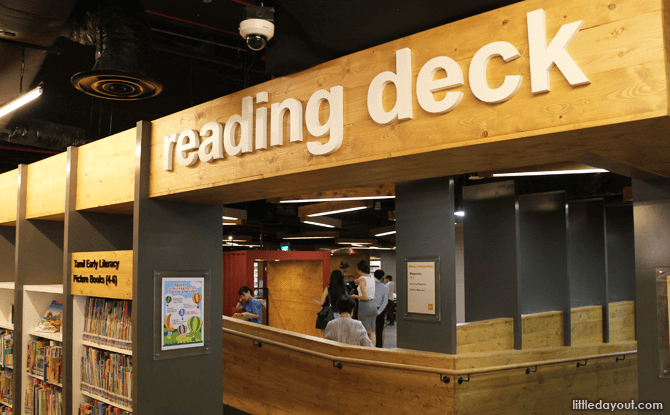 The nautical-themed Sembawang Public Library occupies the fifth floor of Sun Plaza Shopping Centre. The children's section of the library features low-seating and is broken up into three sub-areas, the Reading Deck event space, the Young Readers area for children 7 to 9 years old and an Early Literacy Collection for babies and toddlers.
---
Sengkang Public Library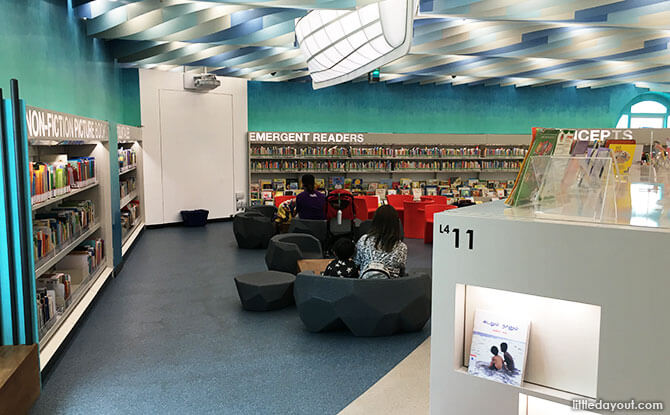 Reopened in 2017, the Sengkang Public Library is located on the third and fourth floor of Compass One. One of the improvements made to the library was the inclusion of an early literacy reading area designed to introduce young children to the joy of books.
---
Bedok Public Library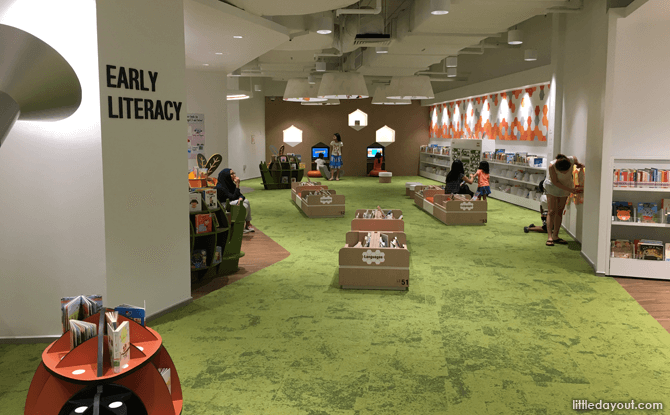 The Bedok Public Library feels like a truly multi-generational library. Not only does the library incorporate features for seniors such as a large-print collection, but it also has an early literary area with parent-toddler reading spaces and accessibility for prams. The early literacy area is marked by a gigantic watering can – in keeping with the garden theme of the entire library and the nurturing of young minds through literacy.
---
Tampines Regional Library
With a floor space of 10,900 square metres, Tampines Regional Library is massive. Its Early Literacy Library is located on level 3 and books are categorised into different themes. There are also little reading nooks and audio-visual materials for children between 4 to 6 years old at the library.
---
Yishun Public Library
Located in the Northpoint Shopping Centre, Yishun Public Library's Children's Zone not only has an Early Literacy section but also has a Story Circle for storytelling sessions.