Experience a Disney100 Light & Sound Show showcasing some of Disney's most beloved music, visit photo spots inspired by Disney characters and films, and shop for Disney merchandise and collectibles at Jewel Changi Airport.
The Disney100 experience at Jewel Changi Airport pays tribute to The Walt Disney Company's 100 years of storytelling. Disney fans will not want to miss out on this experience.
---
Disney100 Light & Sound Show at Jewel
Over the launch weekend from 12 to 15 January 2023, visitors will be entertained by a Disney100 new Light & Sound show. Don't be surprised if Disney's well-loved special friends make an appearance to meet visitors too. The specially choreographed six-minute Disney100 Light & Sound Show will take place at 7.30 pm.
Curated by internationally acclaimed Los Angeles based water feature design firm, WET. Disney fans can sing along to a medley of songs including When You Wish Upon A Star, A Whole New World, You've Got A Friend In Me and the theme soundtrack from Marvel Studios' Avengers: Endgame.
Jewel's marvellous Light & Sound show at the HSBC Rain Vortex will take on a Disney theme in conjunction with the activities.
After the launch weekend, visitors will be able to watch a shorter version of the Disney100 Light & Sound Show that will run from 16 January to 9 April 2023.
---
Disney100 photo spots
Walk through a Disney100 archway at the Shiseido Forest Valley and take photos in front of a 4-metre tall platinum statue of Mickey Mouse.
The North Entrance is also where visitors can take photos with well-loved and special friends during meet and greet sessions that will be held from 13 to 15 January 2023.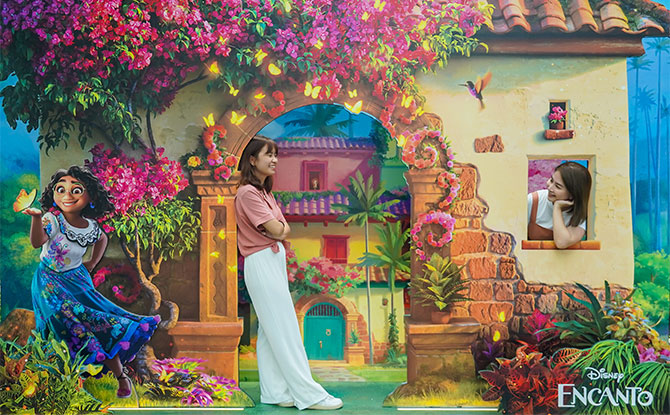 Visitors can also explore 10 Disney-themed photo spots on display at Jewel. Inspired by scenes from Disney, Pixar, Marvel and Star Wars movies and shows, these interactive photo spots at the Shiseido Forest Valley and Canopy Park will be available from 12 January to 9 April 2023.
The photo spots include iconic scenes such as Mickey Mouse in his debut film Steamboat Willy (1928). You may also be able to recognise other iconic scenes from films like Disney's Winnie The Pooh (1977), Lion King (1994) and Encanto (2021), Disney & Pixar's Toy Story (1995), Up (2009) and Inside Out (2015).
As a bonus, guests who visit Jewel dressed in outfits inspired by their favourite Disney characters will get free entry into the Canopy Park from 13 to 15 January 2023.
Further more, in collaboration with Singapore Tourism Board (STB), four other photo spots called "Little Wonders of Singapore" have also been created around Jewel as a showcase of different aspects of Singapore.
---
Disney merchandise on Sale at Jewel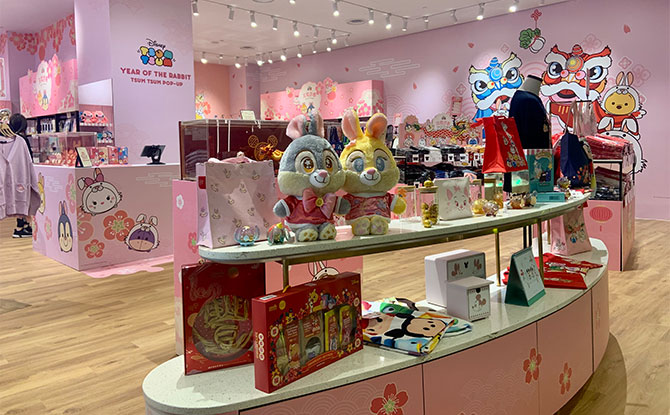 To welcome in the Year of the Rabbit, head over to the Disney-themed Year of the Rabbit Tsum Tsum pop-up store, at Jewel's Basement 1.
There will be merchandise such as toys, stationery, apparel, homeware and more will be available.
Shoppers can redeem a complimentary set of Year of the Rabbit Tsum Tsum red packets with a minimum $80 spend in a single receipt, while stocks last.
The Disney-themed pop-up store at Jewel will only be open to end February 2023. It will then be transformed into The Wonder Store, featuring Disney100-themed merchandise, with a wide assortment across Disney, Pixar, Marvel and Star Wars branded properties.
Several Jewel stores will also be retailing Disney-themed merchandise including apparel, footwear, jewellery, leather goods and stationery.
Shoppers also stand a chance to win an all-expense paid trip for four to Hong Kong Disneyland when they shop at Jewel Changi Airport or at 15 CapitaLand malls that are ushering in this Lunar New Year with Disney-themed "Year of The Rabbit" festivities.
---
Have Your Disney Moment at Jewel
James Fong, CEO of Jewel Changi Airport Development, says "Creating wonderful memories for all our visitors continues to be what drives us at Jewel. Disney inspires us to offer our guests more opportunities to bond with their friends, family and loved ones. We are proud to be bringing a touch of Disney's iconic stories and characters to travellers, fans and families in Singapore to create delightful memories together. We are also grateful for the support of the Singapore Tourism Board to present the unique range of Disney100 displays at Jewel.
"It is our wish that every guest to Jewel, both local residents and travellers alike, will enjoy themselves and find time to come back again during the year. Be Our Guest and Assemble at Jewel to create your special Disney moment soon!"