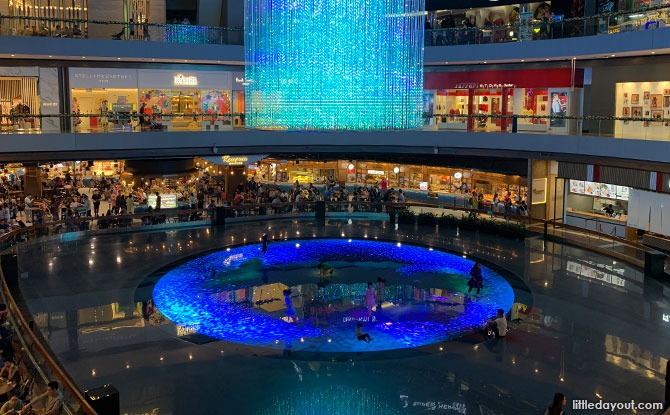 Created in collaboration with teamLab, Digital Light Canvas at Marina Bay Sands is a physical space where kids and adults can envelop themselves in an immersive playland.
---
Play at Digital Light Canvas, Marina Bay Sands
Marina Bay Sands' Digital Light Canvas occupies the space was once the skating rink. Now, the large circular location has turned over to dancing lights and changing images. Projected from above on to the floor, the digital artwork allows kids and adults to interact with them.
Kid play happily, chasing around the images, seemingly oblivious to the many people dining just a distance away at the Marina Bay Sands food court.
Flowers bloom in the wake of footsteps. Fish swim across those the "water" on the LED floor.
Suspended above Digital Light Canvas, crystal beads hang above, creating interesting shapes and formations.
teamLab is the Japanese art collective that is also behind Future World: Where Art Meets Science at ArtScience Museum. This space provides a preview of what you can expect at the interactive exhibition.
---
Digital Art by teamLab – Mini Light Show
Even if you don't want to enter into the Digital Light Canvas space, it is still interesting to stop by and have a look at the changing images.
One of the sequences is Strokes of Life, a four-minute set of images where calligraphic strokes create intriguing images.
Nature's Rhythm is a show with flocks of bird swooping through the light sculpture above.
This "light show" can be viewed from along the railing by the side of Digital Light Canvas or head up to Level 2 for a broader perspective of the light show.
From the outside, it is even possible to set off virtual fireworks which get displayed within Digital Light Canvas.
Those that do want to go into the interactive space can purchase tickets to enter.
Digital Light Canvas is located at basement 2 of The Shoppes at the north zone.