Running out of ideas for craft-hungry kids? Fret not! We've picked out the best websites offering unique craft ideas for kids, so you can skip the searching, and spend more time bonding.
Craft Ideas for Kids
Have you ever thought of helping your child make his or her own planet? How about a balloon car? Ready for a kiddy Jackson Pollock masterpiece or an underwater sea creature out of cardboard? You will find wonderfully creative craft ideas for kids in these carefully selected websites. Whether you are a parent looking for things to do on a wet day, or a kindergarten teacher sourcing for fun ideas for the class, we hope you enjoy this list!
Let's get started.
---
The Artful Parent has been featured in magazines and on many blogs and websites including The Huffington Post, Buzzfeed, Babble, and oprah.com. The site was also named one of the Top 50 Craft Blogs by Babble (Number 3 in the "for kids" category).
---
-- Story continues below --
It was started by art history and studio art graduate Jean Van't Hul who wants to "parent in a way that encourages creative expression, imagination, joyfulness, and a love of learning,…" and welcome others to join her in her attempt.
We like the clean, artful design of the site – the easy navigation, clear categories, nice photography – and most importantly, the imaginative craft ideas that are easily achievable with kids. Also, we love how Jean has included "cooking with kids" and "science experiments" as arts and crafts activities, giving kids more outlets for creative expression.
---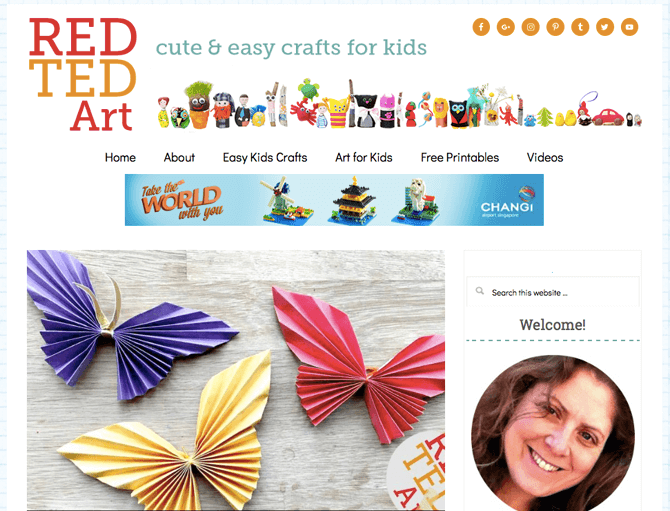 Red Ted Art is named after founder Maggy Woodley's son, Red Ted. On this award-winning blog (it was named Best Arts, Crafts and Design Blog 2016 by BiB), Maggy shares at least one new kids' craft, one kids' art project, and a more teen-focused how-to every week.
Navigating the site is not as easy as it is with The Artful Parent. It took us a while to find the craft categories, which are somewhere on the right side bar (you have to scroll down a few times to see it). But hey, there are instruction videos on Red Ted Art, which makes all the difference when it comes to more complex craft, such as origami art! On the flipside, you have to be a bit patient as the videos also cause the site to load more slowly.
Subscribe to Red Ted Art's Youtube channel, and you'll get to see a new craft video every Monday and Thursday.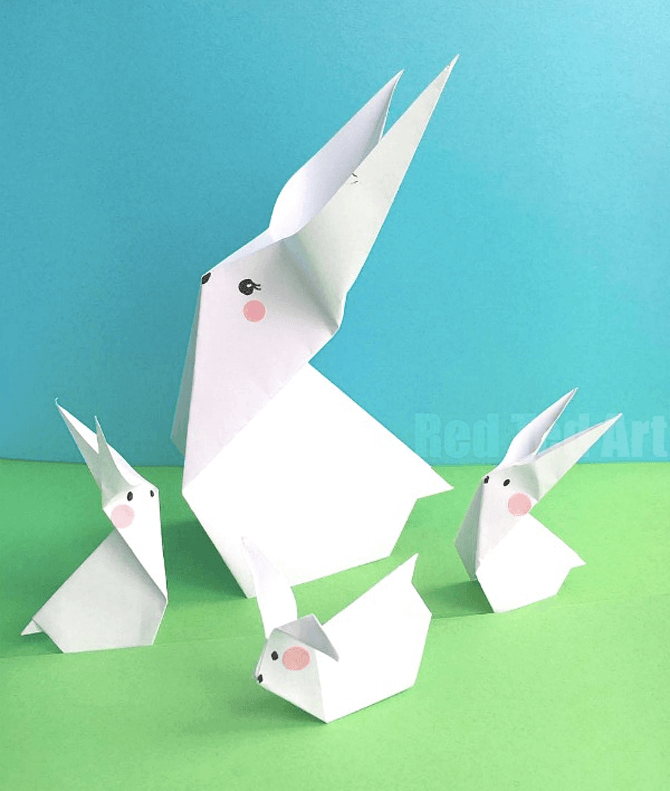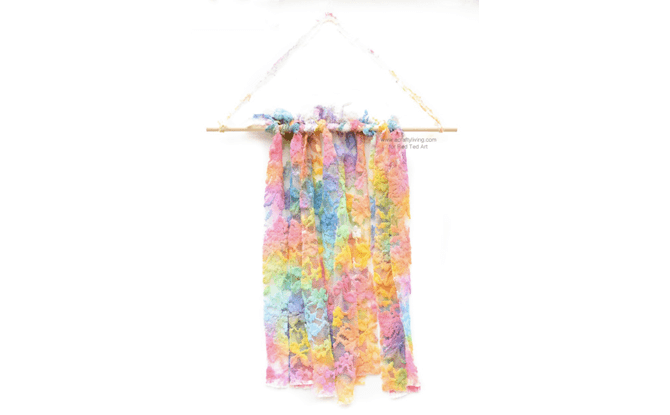 ---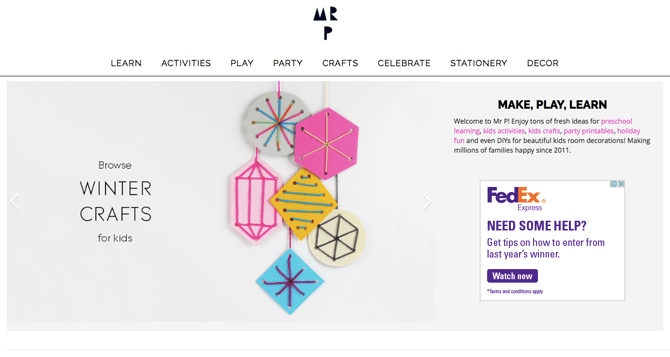 As its name suggests, Mr Printables is all about printable art and templates. The site offers loads of Monocle magazine-worthy craft ideas for kids that are just as appealing to adults.
Take for instance this cardboard sea creatures craft. To achieve the final product, print the templates provided and use them to cut out the shapes of the marine animals on cardboard. Then slot the corresponding pieces together to form the creatures – no glueing is needed. What ingenuity!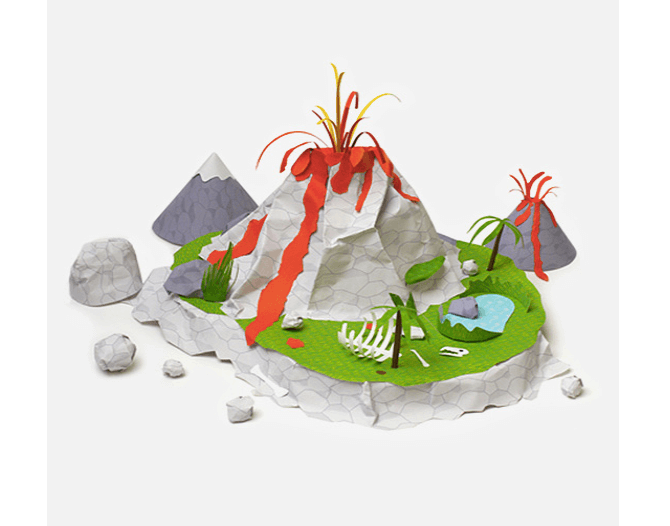 Another interesting project that Mr Printables has embarked on is My Paper World. Using coloured pattern templates from Mr Printables, kids can create any three-dimensional landscape that they can imagine. It'll be hours before they can tear themselves away from the world that they have made!
---
Tate Kids offers craft ideas for kids from a totally different perspective in its Tate Create section. It uses masterpieces from the Tate museum to inspire children to come up with fresh ideas for making art.
Unlike the other sites, there aren't hundreds of craft ideas here. But each one is loaded with intent and creatively angled. There is no spoon-feeding – just an introduction to an artwork found in the museum, followed by general guidelines for art creation.
We're amazed at how Tate Kids manages to bring supposedly highbrow art to kids' level, encouraging them to learn from great artists and express themselves boldly. It definitely adds a whole new dimension to kids' crafting experiences.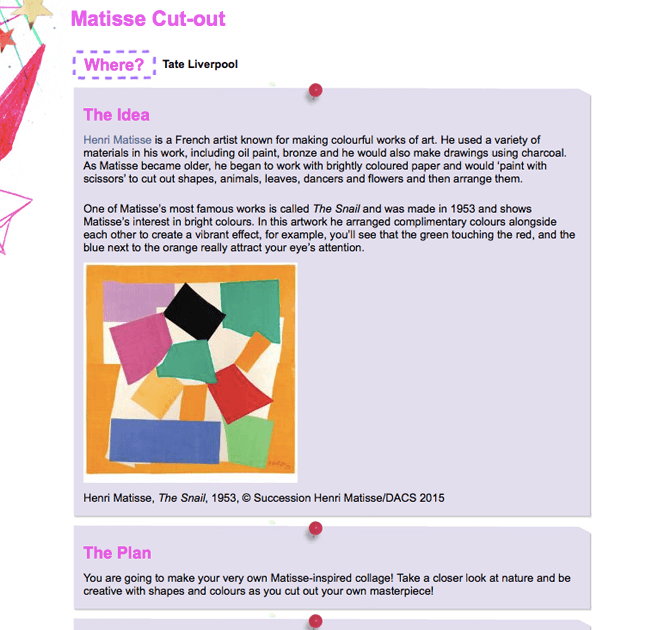 ---
PBS Parents approaches craft from an educational angle. Its Crafts for Kids section has craft ideas organised by learning needs, for example, Math, Science, and reading.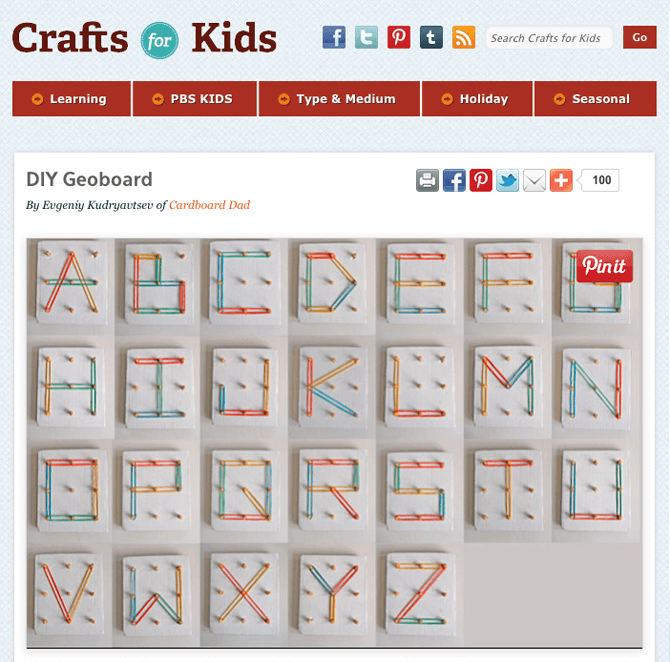 We ventured into the reading category, and found a wonderful DIY geoboard craft idea that is the perfect canvas for creating colourful letters.
Why this isn't in the science category, we do not know. But this nebula jar craft will definitely pique curiosity and open up a lively discussion with the kids about nebulas and how they are formed in outer space. Simply out of this world!
We also love how the site provides instructional videos for many of the crafts on top of the clear step-by-step guide with accompanying photographs. Plus, the videos don't slow the site down.
---
Sweet Paul is an online magazine by craft and food stylist Paul Lowe Einlyng, who was raised by his grandmother in Norway and incorporates her motto "fullkommenhet er kjedelig…" (which means "perfection is boring") and sheer joy of creating into everything he does, even after moving to New York to pursue his dreams.
Although Sweet Paul is not dedicated to kids, the magazine has a Kids section filled with more than 100 craft ideas for kids that are aesthetic as well as functional and fun.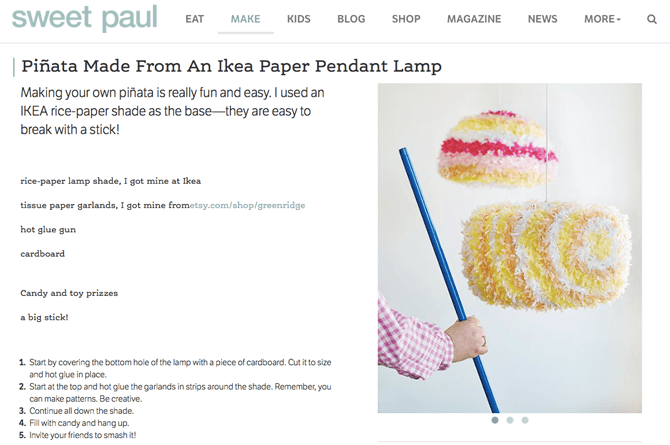 We were impressed by this idea of using an Ikea pendant lamp to make a piñata. And it looks so pretty too!
Doesn't this headdress look perfect for a jungle-themed party or a wild day out at the zoo?
With its visually stunning content and professional photography, this site is a delight to visit. The downside is that the instructions are only word-based. Without the aid of photographs, some of the steps may be a little hard to follow.
---
Click on the "things to do" tab of this Australian site, and you'll find an abundance of craft ideas for kids. On top of the usual toilet roll, paper plate, and egg carton crafts, Kidspot has a good collection of dress up ideas.
Isn't this bunny tail just so cute and perfect for Easter? It looks easy to make too, except that the instructions do not come with pictures.
Boys may like to dress up as badass Australian convicts. This costume is relatively easy to make, with the help of the accompanying written instructions and video.
Overall, this is an easy-to-navigate site, with clear video instructions or photographs detailing the various steps available for many of the crafts. It loads a bit slowly though, perhaps due to the size of the video files.
---
This is an obvious marketing site for Disney, but well, most kids love Disney characters and would have watched the shows and bought the merchandise anyway. So if you can get past the in-your-face "product placement", this site is a treasure chest of interesting craft ideas for kids based on their favourite princesses, mice, monsters, and more!
Disney Family's Youtube channel is rather up-to-date with new videos. You can expect at least one video per week when you subscribe to the channel.
---
On to another top-banking Disney franchise: Star Wars. The Creativity category of the Star Wars site is a dream come true for Star Wars fans. While it may not be a kid-centric site, most of the craft ideas can be actualised by older children.
Now doesn't this Death Star glitter globe just make you want to pledge your allegiance to the dark side?
Kids can have fun doing a little scavenging to find the perfect little rocks for this cute Jawa picture frame craft. And even more fun putting all the elements that they have found together to create the final product!
There may not be many craft ideas on this site, but they're uniquely Star Wars. Enough said.
---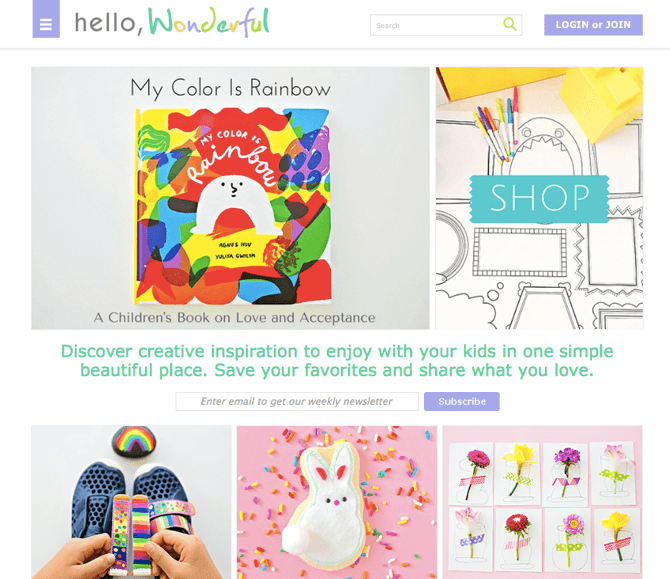 On Hello Wonderful, you'll find some of the prettiest craft ideas for kids, most of which are conceived by inhouse Mumtributors while others are sourced from other sites. Even humble toilet paper roll crafts look so good here! (Check out this shark paper tube craft!)
You can expect a wide variety of inspiration, from DIY kinetic toys to cardboard structures and colourful bakes on Hello Wonderful. However, there are no categories for the craft ideas. Instead, you'll have to scroll and browse, or search for what's on your mind.
---
Make and Takes is a popular parenting site founded by Marie LeBaron, who is in the Nielsen Online Power Mom 50 list and has contributed content to multiple sites including Martha Stewart, Baby Center, and PBS Parents.
The site is full of fun things families can learn, make, or enjoy. The Kids Crafts section houses a variety of ideas to keep children's hands busy and minds creative. Check out these two craft ideas for kids:
---
As Parents.com puts it, it is "here to help moms and dads raise happy, healthy kids – and have a lot of fun along the way". Therefore, it's not surprising that its Arts & Crafts section contains some of the most fun-looking craft projects for kids.
How about making some groovy tie-dye t-shirts with the kids? They'll be amazed at the colourful effects that they can achieve with just fabric dyes and rubber bands. And proud to wear their self-made shirt out!
The budding entomologist in the house will love this bug-keeper pendant. Bug-averse kids can choose to put their favourite tiny items inside the capsule for display.
The Parents.com Arts & Crafts page looks lively and inviting. Firstly, as you scroll through it, you'll be tempted to click on a craft idea ever so often. And when you actually do so, the crafts don't disappoint. Definitely a keeper.
---
Lastly, let's not forget the grand dame of picture-perfect home and craft ideas, Martha Stewart. Under the site's DIY tab, you'll find a Kids' Craft section brimming with beautiful ideas.
Be forewarned that unless your child is a Martha-wannabe, the crafts will probably not turn out looking like what are pictured on the site. But try them out anyway.
We recommend using Martha Stewart's craft ideas as an inspiration catalyst for your own creations. The instructions, with no accompanying videos or photographs, are not so easy to follow anyway. So when in doubt, feel free to use your own methodology to arrive at your own artistic conclusion. After all, there's no right or wrong in creativity.