If you ask Vietnamese locals in Da Nang where to shop, Con Market and Big C Supercenter are two places that are often recommended. In Da Nang, these two shops are conveniently located across the street from one another and they both offer a different experiences for those who wish to shop like a local.
Con Market
The Vietnamese version of our Singapore wet market, Con Market is a great place to go if one wishes to experience shopping like a local. Con Market is where locals frequent in the evening after work or visit to get groceries during festive seasons.
Con Market is separated into three levels. The first level is mostly dedicated to edible produce such as fruits, vegetables, meats and also dried produce such as spices and dried foods.
You will find local dishes such as banh mi (Vietnamese-style baguette), banh xeo (crispy pancake), and mi quang (Vietnamese turmeric noodles) at Con Market for a meal. There are also local desserts such as Chè Ba Màu (Three Colour Dessert with beans and jelly, covered with slightly sweetened coconut milk), which are sold in tall plastic cups at a low price.
---
-- Story continues below --
Other than food, one can also find freshly cut flowers at an affordable price, wearables such as watches, jewellery, shoes and even household items such cutlery at wholesale prices.
On the second and third level, one can find apparel, handicrafts and t-shirts with catchy phrases, great if you want to purchase some budget souvenirs. If you wish to pick up a traditional Vietnamese costume (áo dài) or a conical hat as souvenir, you can do so here too.
It's not all cheap and fast fashion pieces that are sold here as there are also tailors that offer custom clothes services and vendors that sell cloth of higher quality.
Families travelling with younger children may find it inconvenient to get from one level to another due to accessibility being confined to a winding staircase. Nonetheless, it is a good opportunity to take in some local culture.
Big C Supercenter
Big C Vietnam is one of the largest shopping centre chains in Vietnam and has locations around the country. Most items in Big C are made in Vietnam.
If the heat at Da Nang gets too much for you to bear or if you just prefer to stay indoors in general, this is also a great place for you to get some shopping done – both groceries as well as souvenirs!
The mall has four levels, and is very much like a typical shopping mall found in the heartlands. The lower level has shops that sell fast food, clothes, and watches and there are also stores that sell budget, yet pretty, souvenirs such as magnets, vases, and keychains with the word "Vietnam", or iconic places that are associated with this country printed on the souvenirs.
On the second level, you will see a supermarket. After you put your bags in the locker for security purposes, you can start to explore the place with its large variety and products as low as S$0.30. Here, you are also able to see some cooked food such as sausages or sandwiches which you can buy to-go.
The third level is an upper floor of the supermarket and has commonly found products such as stationary, stuffed toys and simple household items such as batteries and plugs. There is also a cinema on the top most floor of the shopping centre.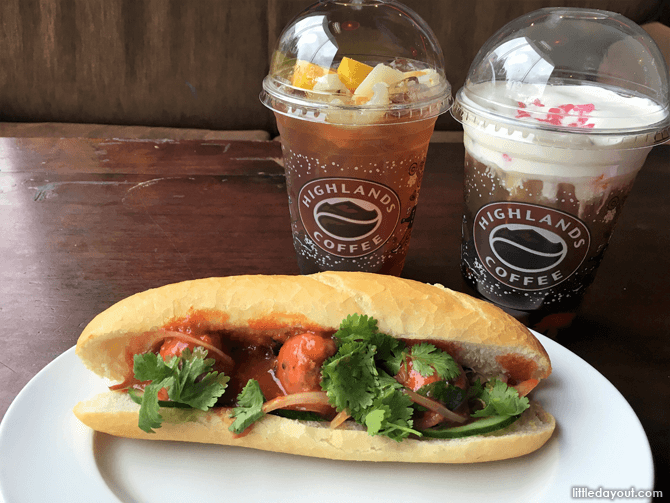 If, after walking, you get hungry, there are a variety of food places to try: an all you can eat steamboat, KFC, a local brand café, Highland Cafe and local brand fast food, just to name a few.
We visited Highland Café which had nice seats and appreciated the free Wi-Fi. They also served a really good and generous portion of Banh Mi alongside with some drinks at an affordable price.
Con Market
Address: 318 Ông Ích Khiêm, Hải Châu 2, Đà Nẵng, Vietnam
Big C
Address: 255-257 Hùng Vương, Vĩnh Trung, Thanh Khê, Đà Nẵng, Vietnam