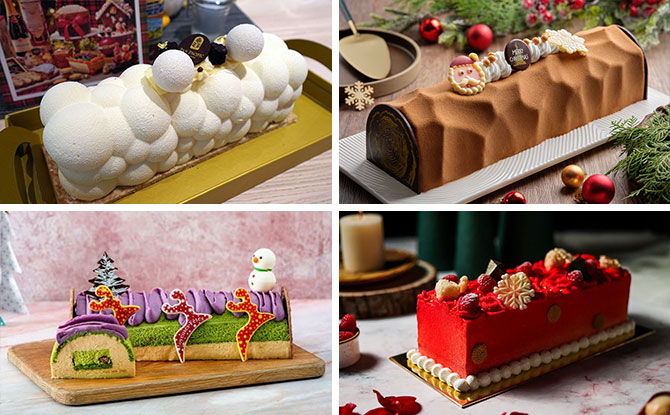 We're only a month away from Christmas! It's never too early to start preparing for the much needed Christmas cheer this year. Here is a list of Christmas 2020 log cakes that you can pre-order now!
---
Pan Pacific Singapore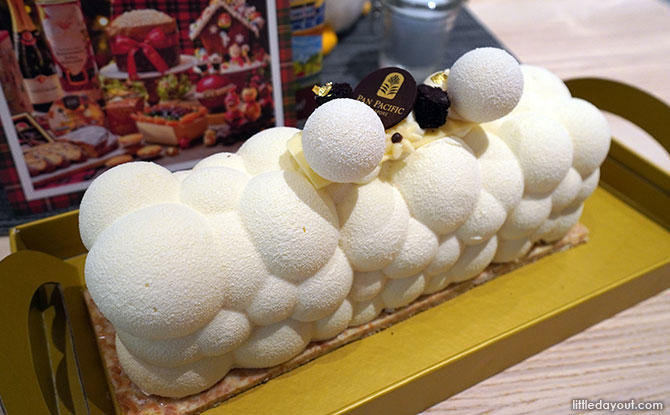 Pan Pacific Singapore has not one, not two but four different distinctive log cake flavours. Try their Coco Pineapple Log Cake made with pineapple cremeux, caramelised pineapple compote, coconut base and coconut sponge. Shaped like mounds of snow, this is a great centrepiece to decorate the Christmas table with.
Alternatively, try their Mao Shan Wang and Gula Melaka Log Cake which has chopped caramelised macadamia nuts sprinkled in pure Mao Shan Wang durian mousse, fluffy pandan sponge and gula melaka cream. The two other flavours are the Matcha Hazelnut Log Cake and the Chocolate Caramel Hazelnut Log Cake with a light dulcey-whipped ganache and a generous topping of hazelnut sea salt caramel sauce.
---
Holiday Inn Singapore Atrium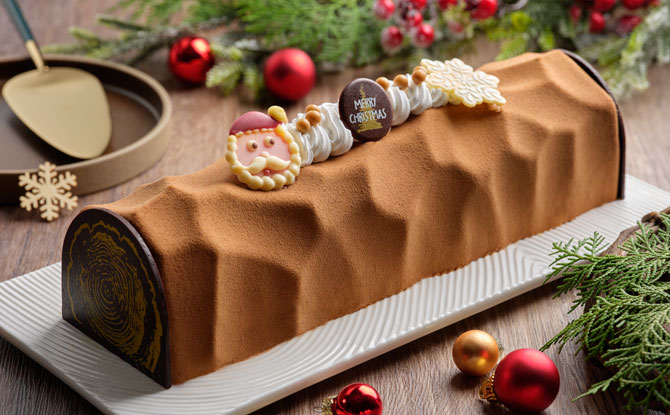 The Chocolate Banana Log Cake has been a favourite with diners of Atrium Restaurant for years during Christmas. As a special treat for the first time, Holiday Inn Singapore Atrium is bringing it out of their restaurant to homes for all to try! Fans of citrus fruits can also try the Dulcey Yuzu log cake which is enhanced with orange marmalade and almond sponge.
---
Gin Thye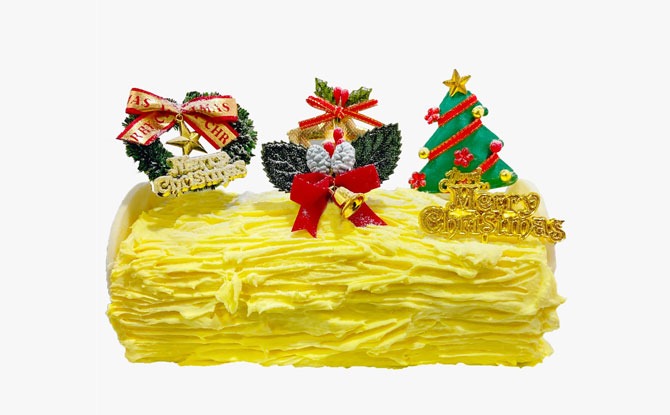 This homegrown brand has different flavours of log cakes including their Mao Shan Wang Durian Ice Cream Christmas Log Cake. Made with real Mao Shan Wang durian pulp and an Italian gelato-style filling, there are also mini Christmas decorations to top it off. Other new flavours from Gin Thye this year include the Orange Peel Chocolate Brownie Christmas Log and their Lychee Martini Alcohol Christmas Log Cake.
---
Swensens
Looking to light up the fireplace? Swensen's Confetti Fireplace log cake has a new Christmas exclusive flavour of "Cereal ice cream". The cake is coated in chocolate ganache and topped with chocolate 'firewood'. There is also another option of a classic mini Sticky Chewy Chocolate ice cream log cake.
---
Edith Patisserie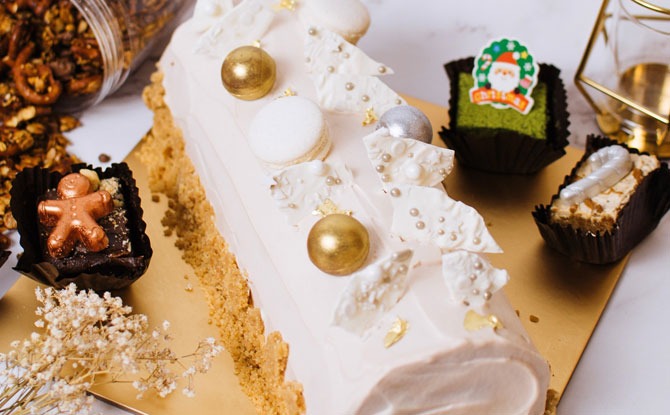 Christmas calls for log cakes and this year the team at Edith Patisserie is bringing back their ever-popular Pandan Coconut Gula Melaka flavour, featuring fluffy pandan sponge layered with salted coconut buttercream and hand-cooked gula melaka coconut filling. It is then decorated with white candy shards, gold-painted chocolate decorations and finished with buttery vanilla streusel crumbs for that glamorous looking celebration cake
---
Singapore Marriott Tang Plaza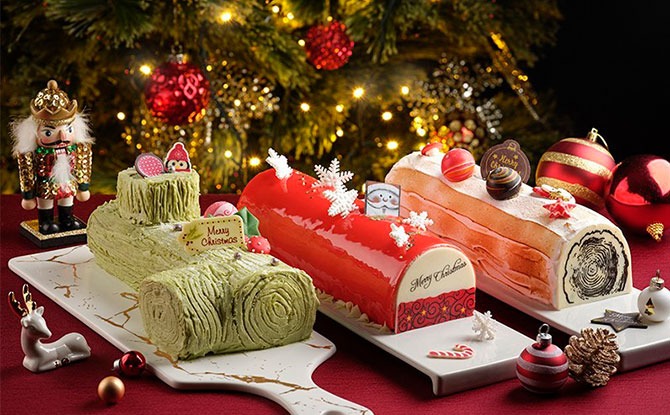 Come home to Christmas with a series of log cakes from Singapore Marriott Tang Plaza. Choose from three new log cake flavours: Pistachio Mango Log Cake, Strawberry Champagne Buche de Noel Log Cake and Coffee Mascarpone Buche de Noel Log Cake. If you're looking for some classics, you may also order their signature chocolate fudge log cake.
---
InterContinental Singapore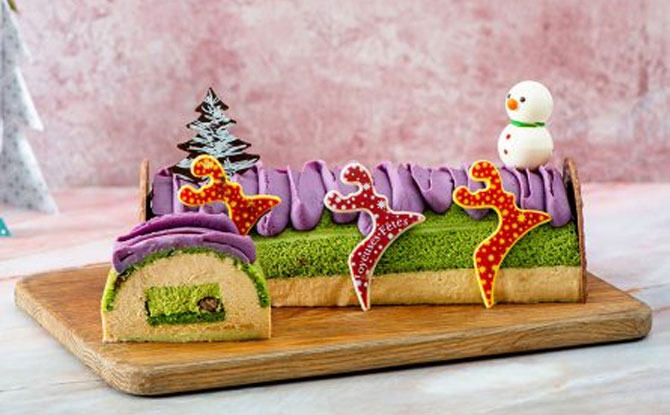 With flavours from chocolate, to fruits to tea-based log cakes, there's sure to be a flavour up your alley from InterContinental Singapore's selection of log cakes. A unique flavour we spotted is the Matcha Kinako Sweet Potato which is a combination of matcha, soybean powder and an earth sweet potato. You can also try the Mont Blanc Log which comes with a chestnut sponge, pear yuzu cremeux and candied chestnuts.
---
The Marmalade Pantry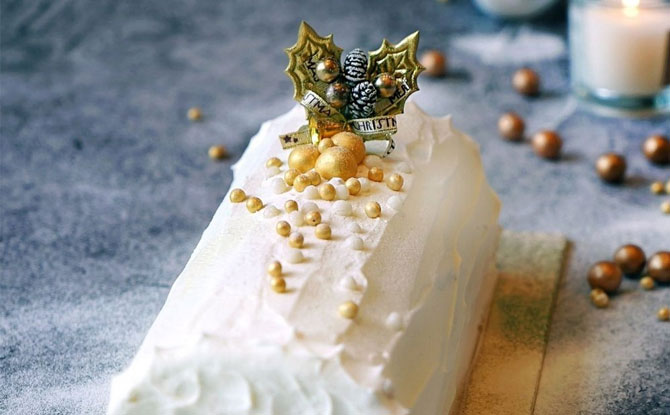 The Marmalade Pantry is releasing a Pandan Gula Melaka Log Cake for those who are looking for a log cake with a taste that is closer to home. This log cake layers of moist pandan sponge cake rolled with light buttercream and gula melaka infused coconut flakes, which enhances the fragrance and texture of the cake and then encased in fresh whipped cream. You also can't go wrong with their signature Truffle Chocolate Log Cake which is a chocolate sponge cake with chocolate creme around a chocolate flummery centre and coated with chocolate crumble.
---
Capitol Kempinski Hotel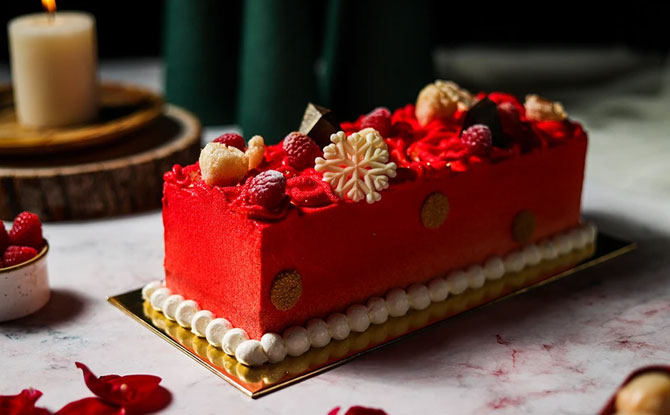 There are two log cakes offered by Capitol Kempinski Hotel this year. The First is their signature Lady in Red Log Cake which is a luscious fruity Genoise cake filled with raspberry, lychee and a hint of rose. For chocolate lovers, the Classic Chocolate Yule Log is a safe choice with its generous amount of fudge and cute mushroom and moss decorations.
---
Hotel Fort Canning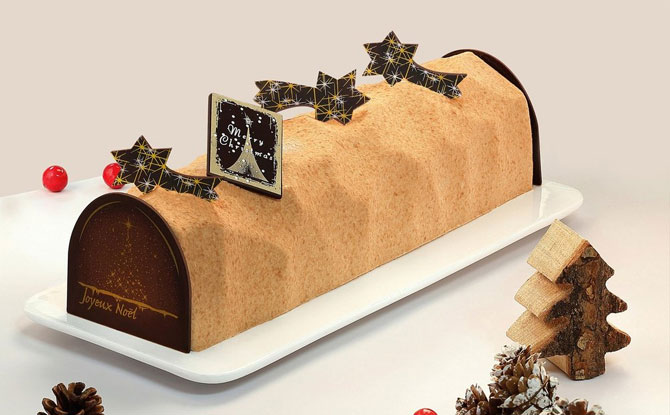 From Yuzu Passion Yule Log to Chestnut Pear Yule Log and Tanariva Raspberry Yule Log, spring a sweet surprise and some added Christmas cheer with Hotel Fort Canning's selection of Christmas log cakes. You can also opt for their Classic Christmas Log made with chocolate buttercream, chocolate ganache, chocolate sponge and crispy cocoa pearls.
---
Four Seasons Hotel Singapore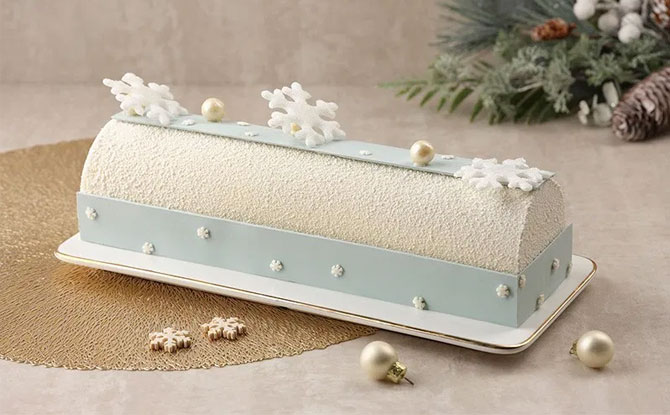 Get a Raspberry Litchi Rose Yule Log or a Manjari Chocolate Hazelnut Royaltine and Amarena Cherry Yule Log from Four Seasons Hotel. The Raspberry Litchi Rose Yule Log is a new flavour this year and comes with a burst of framboise, flora and a hint of familiar Litchi.