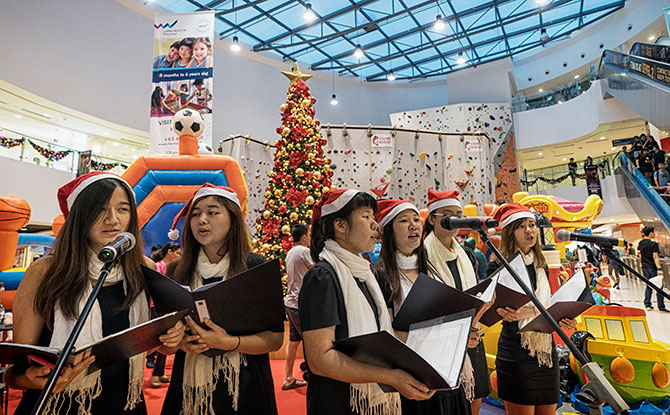 Nothing quite signals the arrival of the Christmas season like the sound of carols in the air. For those who are looking forward to listening to Christmas carolling in Singapore 2018, here are some places where you can enjoy the sweet sound of music during the festive year-end season.
Christmas Carolling in Singapore 2018
1. Christmas Wonderland
Enjoy Christmas carolling in Singapore 2018 at Christmas Wonderland. The festive entertainment takes place at the Cassa Armonica gazebo, under the lights of the luminarie. This year, Christmas Wonderland commences from 30 November 2018 and you can be sure to expect plenty of music and song from choirs and performing groups at this year-end carnival and market.
When: Schedule to be announced
2. Gardens by the Bay
Celebrate Christmas at Gardens by the Bay. There will be a mass carolling programme held on 21 December 2018 from 8 to 8.45 pm at the Golden Garden where there will also be a 21-metre tall Christmas tree. Live performances will also be held at The Canopy on 23 and 24 December at 2.30 pm, 4 pm and 5 pm, and on Christmas Eve at 3 pm and 4 pm.
---
-- Story continues below --
When: 21, 23 and 24 Dec
3. Marina Square
From 17 to 23 December 2018, you can look forward to Christmas Carolling in Singapore 2018 at Marina Square's Central Atrium. The line-up of groups that will be performing includes The Vocal Consort, KJC Society and Ministry of Bells. Opening the season of song at Marina Square will be the adorable pre-schoolers from MindChamps Preschool Marina Square.
When: 17 to 23 December.
17 Dec, 1 pm – MindChamps Preschool.
Mon to Fri, 7 pm, Sat & Sun, 5.30 pm & 7 pm.
4. The Centrepoint
Enjoy the sound of carols in Singapore in December 2018 at The Centrepoint. There will be Christmas carolling performances on 15 and 16 December 2018 as well as a special Christmas Brass Band performance on 14 December.
When:
Christmas Brass Band – 14 Dec, 12 pm to 1 pm, 6 pm to 7 pm
Christmas Carolling – 15 & 16 Dec, 12 pm to 1 pm, 6 pm to 7 pm
5. Waterway Point
Students from Edvox Music School will be taking to the stage at The Cove, B2, with classic holiday tunes. Catch their performance on 16 December, 7.30 pm to 8 pm.
When: 16 Dec
6. Season of Giving at Singapore Sports Hub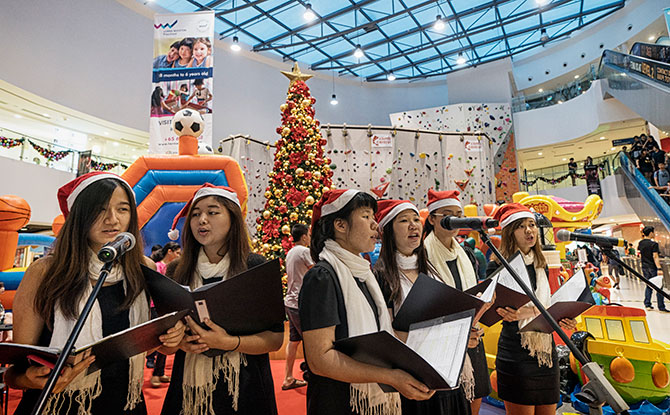 It is the Season of Giving at Singapore Sports Hub from 27 November 2018 to 1 January 2019. Get into the spirit of giving with Christmas carolling in Singapore 2018 at Kallang Wave Mall. There will be carolling performances held on the weekends from 15 to 23 December at 1 pm and 7 pm.
When: Weekends from 15 to 23 Dec
7. Garden Rhapsody – The Christmas Special
From 30 November to 31 December 2018, Garden Rhapsody, Gardens by the Bay's signature light and music show at the Supertrees, will feature favourite Christmas classics and the voices of local artists. This special edition of Garden Rhapsody will complement the festive atmosphere at Christmas Wonderland.
When: 30 Nov to 31 Dec
8. SSO Christmas Concert
The annual SSO Christmas Concert is back with renditions of Christmas favourites under the baton of conductor Joshua Tan. This year, guest singer Mandy Dickson will be joining in the celebration of Christmas in song at Victoria Concert Hall.
When: 14 to 16 December
9. Tanjong Pagar Centre
At 19 December, noon, singers from NUS Kent Ridge Hall Acapella and Choir will be bringing festive cheer to Tanjong Pagar Centre with classic Christmas tunes.
When: 19 December
More Stories on Christmas: