Celebrate Singapore's 56th birthday with the Gardens by the Bay and Mediacorp National Day Concert 2021 on 9 August, which will feature a line-up of star-studded performances set against the verdant backdrop of Gardens by the Bay's iconic attractions!
---
The Gardens by the Bay and Mediacorp National Day Concert & Virtual Experience
Hosted by Class 95 DJ Jean Danker, the one-hour programme promises a spectacular showcase of local talents in the creative industry, with a focus on next-generation stars. Look forward to performances by up-and-coming R&B musician Keyana, as well as a duet to Crowd Lu's '幾分之幾 You Complete Me' by heartthrob singer-actor Gavin Teo and second-generation rising star Chen Yixin.
Audiences can also anticipate a stellar performance by Kollywood music producer Shabir who will deliver his catchy tune, 'Singai Naadu Redux', and exuberant dance moves amidst the Dale Chihuly: Glass in Bloom exhibition glass sculptures in the Gardens.
Joining this impressive cast will be the legendary pop icon Rahimah Rahim, who will be belting out signature hits like 'Pesanan Buat Gadis' and 'Gadis Bunga' amongst the stunning blooms within Flower Dome.
Not to be missed is a key segment featuring popular Mediacorp actress Rebecca Lim, who will perform a rousing rendition of Corrine May's uplifting National Day Song, 'Song for Singapore'.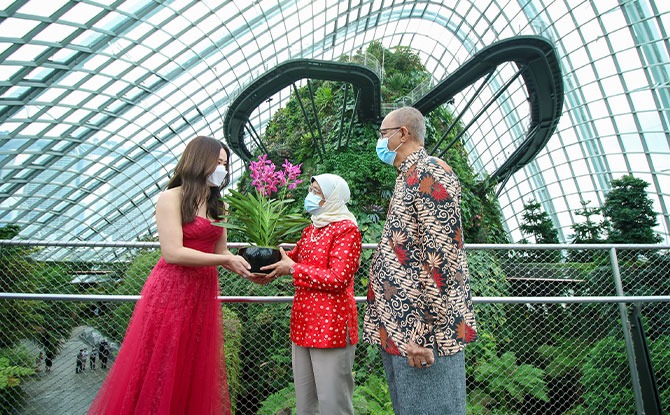 This segment will also include a special National Day greeting by Guest-of-Honour President, Halimah Yacob. This year's concert will be also be graced by Mr Mohamed Abdullah Alhabshee.
---
Stories by Members of the Community
In between the performances, viewers can hear inspiring stories of individuals and organisations who are making a positive impact in the community and contributing to a green and sustainable living environment. This will feature organisations such as The Social Kitchen, Brahm Centre, horticulturists and staff from Gardens by the Bay. There will even be a special cameo appearance by a family of otters at Marina Bay.
---
Where to watch

The Gardens by the Bay and Mediacorp National Day Concert Virtual Experience
Viewers can enjoy the performances from the comfort and safety of their homes or on the go via Mediacorp's multiple platforms on 9 August at 8 pm. For more information, visit the website here.