With Canberra MRT Station opening on 2 November 2019, we decided to pay a visit to the area and check out the Canberra playgrounds. Not Canberra Park, but the playgrounds within the vicinity of the new station.
Canberra MRT Station, Opens 2 November 2019
Canberra MRT Station is located between Sembawang MRT Station and Yishun MRT Station. The exterior of Canberra Station is designed to look like a ship – a nod to Canberra's nautical past. It has been fitted with green features which help to save operational costs.
The station is the second to be built on an existing MRT line. The first station was the Dover MRT Station which opened back in 2001.
The new MRT station, designated NS12, serves 17,000 households who live within a 10-minute walk from the station.
---
What's Around Canberra Station
Canberra Station sits alongside Canberra Link road. To the East is the Canberra estate while to the West is the Jalan Sendudok area private estate which leads out to Sembawang Road and Sembawang Shopping Centre (about a 15-minute or 1.3 km walk away).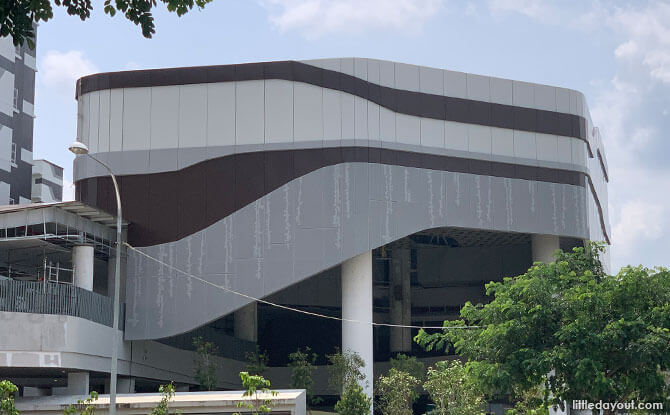 In the future, Canberra Plaza, a new generation neighbourhood centre next to the Canberra MRT station, will provide amenities which include "pockets of gardens, trails and water play park".
---
Canberra Playgrounds
Since we will have to wait a little while longer for the facilities at Canberra Plaza, we decided to venture around the heartland areas at Canberra Way and Canberra Street, known as Sembawang Neighbourhood 1, to explore some of the neighbourhood's playgrounds.
EastCrown@Canberra, at Block 129 has two sets of orange-and-grey playgrounds. The lower playground features bucket swings and is suitable for toddlers while the other for older kids.
Over at EastLawn@Canberra, in front of Block 108C, there is a green-and-brown playground, set in the midst of a neighbourhood park.
There is also a blue-coloured ship structure, a reference to Canberra's connection to ship-building.
Nearby, surrounded by the block of flats, is a modern-looking playground.
Closer to Canberra Plaza and Canberra MRT station, the flats at EastLink I and II @ Canberra are just starting to receive their residents.
EastLink I@Canberra's playground is not ready yet but it looks to be a pirate-themed playground, another nautical reference.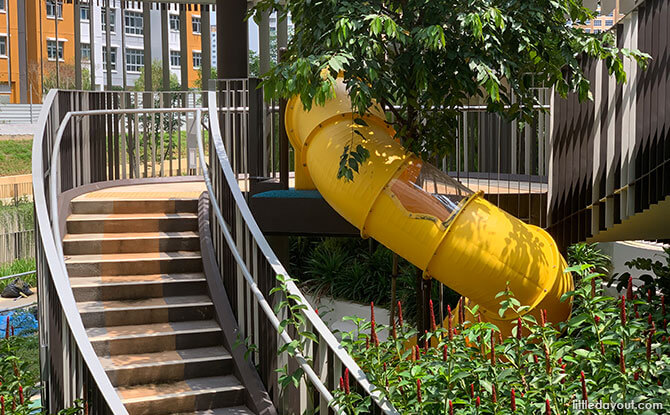 Similarly, EastLink II@Canberra's playground is not open yet. However, it appears to have some promise with elements such as a tube slide next to a lookout point.
Other playgrounds can be found throughout the Canberra neighbourhood.
On the other side of Canberra Link road is Jalan Sendudok Park.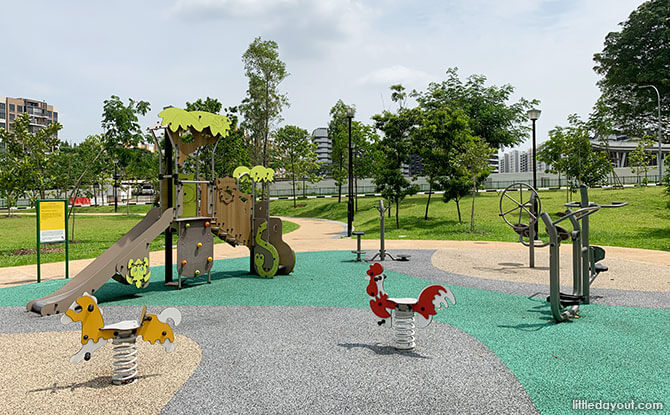 The quiet neighbourhood park has a small playground too.